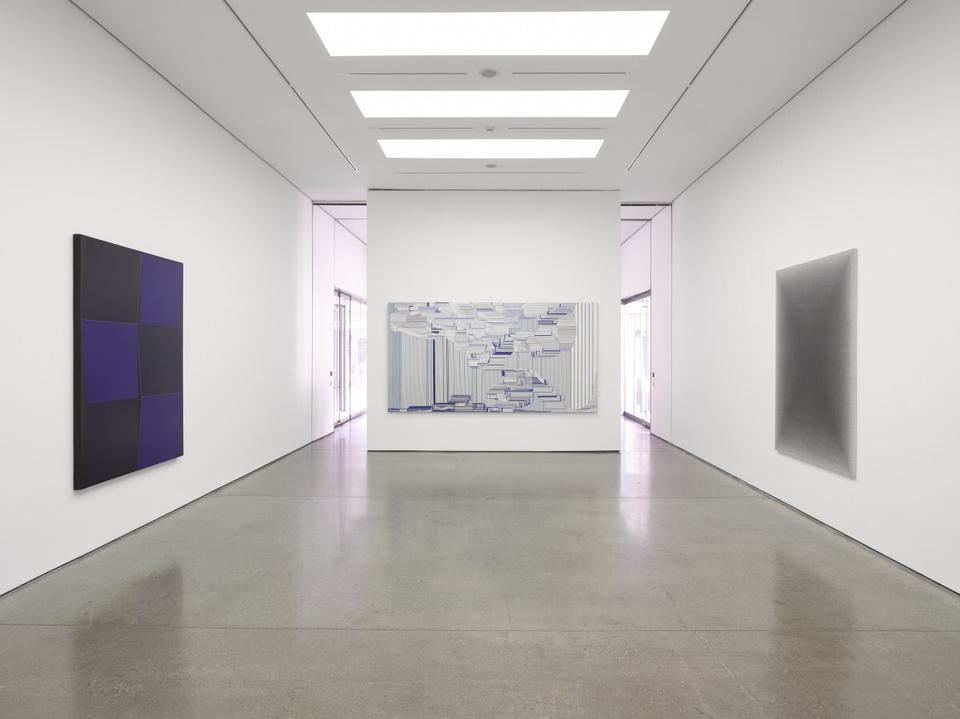 The world is yours, as well as ours
15 July – 17 September 2016
Dates
15 July – 17 September 2016
Location
25 – 26 Mason's Yard
London SW1Y 6BU

White Cube Mason's Yard presented 'The world is yours, as well as ours', a group exhibition that explores modes of abstraction in recent Chinese painting.
The history of abstraction in the West charts a clear trajectory, beginning with the advent of Modernism in the early part of the 20th century and the work of artists such as Kandinsky, Malevich and Mondrian. In China, however, abstraction is simply one of the many parallel styles available to contemporary Chinese artists – considered neither in opposition to, nor independent of an alternative figurative form of practice. The language of abstraction in China developed independently, through diverse influences including traditional calligraphic aesthetics, Taoist philosophy and as a challenge to dominant forms of painting promoted during the Cultural Revolution. An appreciation of abstract forms is deeply embedded in Taoist thought, while the arrangements of calligraphy, arguably the most abstract of traditional Chinese painting styles has, in part, shaped the discourse around contemporary abstraction. This exhibition brought together paintings by nine Chinese artists whose work, in different ways, contributes to this rich dialogue.

In the works of Jiang Zhi, from which the exhibition takes its title, the 'system errors' from a computer screen, where a data glitch causes a corrupted or fractured image, are rendered in large-scale to create complex patterns and forms. Hovering between representation and abstraction, the paintings' dynamic compositions and palette are meticulously translated freehand from screen to canvas.
Liu Wentao's paintings are made with densely applied graphite pencil lines, drawn in straight rows which, through marginal mathematical adjustment, interweave to produce compact, refracted surfaces. Exploring the dichotomy between the 'concrete' and the 'void', a central tenet of Taoism, Liu also takes inspiration from the minimalism of Agnes Martin and Ellsworth Kelly, whose work he encountered when he studied in the US.
Qian Jiahua's spatial compositions comprise solid blocks of colour, anchored with borders and lines that subtly disrupt the flatness of the image. Through a manipulation of line and through variations in hue, the rhythmic balance of angular forms and colour relationships in the paintings create a pliant, almost playful rigour, thereby challenging the two-dimensional nature of so much contemporary abstraction.
Echoing the structure of traditional Chinese calligraphy, where characters are formed around vertical columns, the monochromatic paintings of Qin Yifeng feature perpendicular stripes, interrupted by sinuous brush marks. The application of the fluid strokes is akin to calligraphy as well as to the spontaneity of gestural abstraction.
The paintings of Zhou Li take nature as their starting point, particularly the mountainous landscape of southern China. Zhou employs free-flowing lines of charcoal and washes of ink, overlaid with solid arcs and circles of white paint, in delicate, harmonious compositions, to create very personal, lyrical abstractions.
The congruent structures of Yu Youhan's 'Circle' paintings are an exploration of the harmonious unity expressed in Taoism (yin and yang) as well as, in Yu's words, 'a metaphor for both the fleeting moment and eternity'. A pioneering figure of the '85 New Wave' group, considered to be one of the first contemporary art movements in post-liberation China, Yu has repeatedly returned to abstraction as a metaphysical exploration of 'nothingness and being'.
Liang Quan refers to his mixed media collages, which incorporate rice paper and ink, as 'abstract diagrams of traditional Chinese landscape'. Following a period of study in San Francisco, Liang became interested in the work of Richard Diebenkorn with whom he shares an affinity, both of them working with geometric forms, spatial relationships and passages of 'empty space'. Also inspired by Zen Buddhism and meditation, this 'emptiness' in Liang's work is realised with intricate, subtle details, 'driving simplicity with complexity'.
Using the ancient techniques of Chinese lacquerwork, Su Xiaobai's monochrome paintings are informed by the traditions of Buddhist philosophy and its notion of 'everything is nothing, nothing is everything', as well as by Western abstraction, which Su first experienced while a student at the Kunstakademie Dusseldorf in the 1980s. The paintings have a sculptural quality, expanding in convex form from the painting surface, building layers of lacquer to produce a shimmering, opalescent surface.
The ink wash paintings of Tang Guo have their roots in ancient traditions. Using both the element of chance and a controlled brushstroke, the paintings are formed using colour gradations and a decentralised perspective, resulting in works that resonate with ideas of post-painterly abstraction.
Artists
Jiang Zhi was born in 1971 in Yuanqiang, Hunan Province and lives and works in Beijing. Exhibitions include 'If this is a Man' at the Times Museum, Guangzhou and the '9th Shanghai Biennale', Shanghai Art Museum, Shanghai.
Liang Quan was born in 1948 in Shanghai and lives and works in Shenzhen. Exhibitions include 'Amassing the Essence' at the Hive Center for Contemporary Art, Beijing and 'Yi Pai: 30 Years of Abstract Art in China' at La Caixa Forum, Barcelona.
Liu Wentao was born in 1973 in Qing Dao, Shan Dong Province and lives and works in Beijing. Exhibitions include 'Light and Shadow' at the Shanghai Art Museum, Shanghai and 'Inter-Vision: A Contemporary Exhibition across the Strait' at the National Taiwan Museum of Fine Arts, Taiwan.
Qian Jiahua was born in 1987 in Shanghai and lives and works in Hangzhou. Exhibitions include 'Infinite Divisibility' at Shanghai Gallery of Art and 'Free Diffusion' at Hive Center for Contemporary Art, Beijing.
Qin Yifeng was born in 1961 in Shanghai where he lives and works. Exhibitions include 'Line Field Art Works' at Eastlink Gallery, Beijing and 'Brave New World' at Zee Stone Gallery, Hong Kong.
Su Xiaobai was born in 1949 in Wuhan, Hubei Province and lives and works in Shanghai. Exhibitions include 'Grand Immensity' at the National Taiwan Museum of Fine Arts, Taiwan and 'The Dynasty of Colours' at the Langen Foundation, Neuss, Germany.
Tang Guo was born in 1955 in Wuxi, Jiangsu Province and lives and works in Nanjing. Exhibitions include 'Water and Earth' at Zhu Qizhan Art Museum, Shanghai and 'Strategy on Paper' at the Sifeng Art Museum, Nanjing.
Yu Youhan was born in 1943 in Shanghai where he lives and works. Exhibitions include 'Re-View' at the Long Museum, Shanghai and 'Voice of the Unseen: Chinese Independent Art 1979 to today', La Biennale di Venezia, Venice.
Zhou Li was born in 1969 in Hunan and lives and works in Shenzhen. Exhibitions include 'Too Loud a Solitude' at the Hive Center for Contemporary Art, Beijing and Catch, OCAT Center for Contemporary Art, Shenzhen. 
Image: Yu Youhan, Abstract 2007.12.1, 2007, ©Yu Youhan