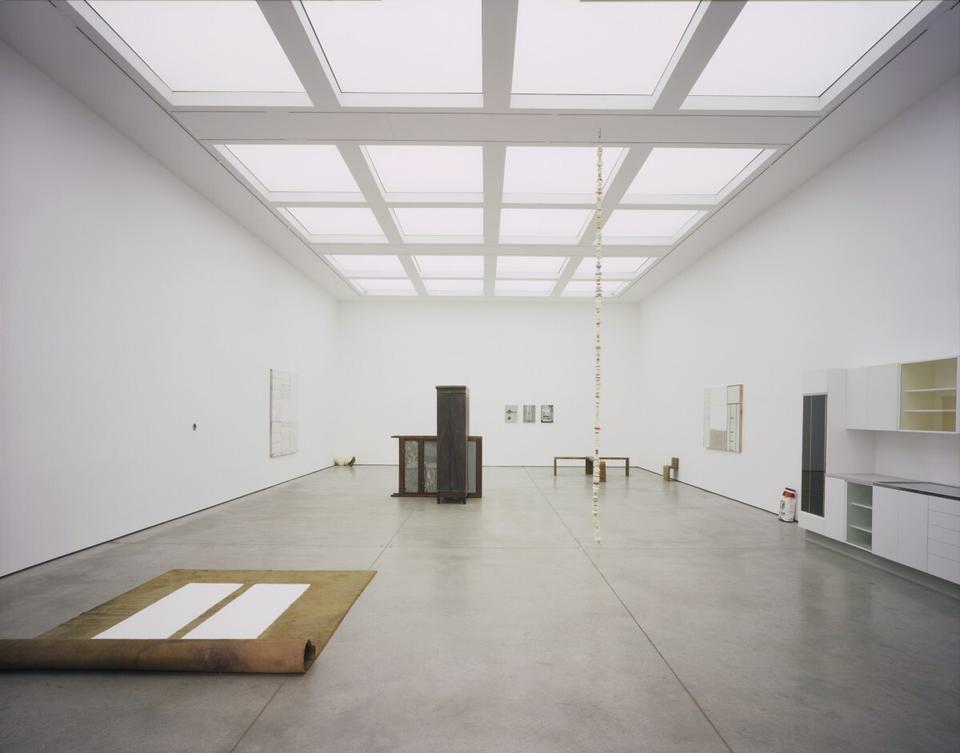 Dates
8 March – 13 April 2002
White Cube Hoxton Square presented The Unthought Known White Cube,a group show that brought together the work of internationally acclaimed artists Miroslaw Balka (Poland), Robert Gober (USA), Clay Ketter (USA/Sweden), Doris Salcedo (Colombia) and Luc Tuymans (Belgium). The title for the show derived from a term coined by the psychoanalyst Christopher Bollas in his book, The Shadow of the Object: Psychoanalysis of the Unthought Known, which describes how an individual's life or, by extension, a culture can be organised around a past event or experience that is so enigmatic or traumatic that it is repressed, denied and relegated to the depths of the unconscious. It is therefore 'unthought' - unacknowledged on a conscious level - yet is still in a deep way 'known' and formative.
All of the artists selected in the exhibition make work that, albeit in very different ways, deal with issues of memory and the trace of experience, whether it be historical, political, religious, domestic or sexual. In many cases, these histories are traumatic, making porous the boundary between personal and shared histories.

Miroslaw Balka's works are informed by his own Catholic upbringing as well as the historical memory and experience of Poland's fractured political history. For this show, Balka presented three sculptural works, including an endless column of used soap threaded onto a steel cord suspended from the gallery ceiling and a carpet filled with salt.
Doris Salcedo reworked familiar objects to bear witness to the recent violent political history of Colombia. Often her sculptures are based on a domestic piece of furniture that is then filled with materials such as concrete and glass, sculptures that are invested with a potent charge and aura of pain.
Robert Gober has described how an image might haunt him and how he lets it sit and breed in his mind. One such image is the disembodied leg, a composite image formed from various recalled experiences, such as seeing the cropped legs of men on an aeroplane or glimpsed beneath the toilet door in the men's room. The Unthought Known included Untitled, 1993-94, a floor-based corner sculpture consisting of a pair of splayed, truncated legs of sexual ambiguity giving birth to a single male leg, replete with body hair, a sock and a shoe. The work is perversely denatured and psychologically disquieting.
Luc Tuymans makes groups of paintings that are charged by particular subjects, usually related to European history whether it is the Holocaust, or the bloody history of Belgian colonialism in the Congo. His paintings often depict bleached-out images that seem to barely surface, resolving and dissolving before the eye, images that are as much felt as seen. The Unthought Known presented two works by Tuymans - a triptych entitled Ice I, Ice II and Ice III, and a work called Mrs. The Ice triptych is painted in a muted, flat palette of colours and depicts familiar objects - a door handle, a glove and a tray, fragmented images that through their dislocation and isolation seem muted carriers of something unspeakable.
Clay Ketter makes paintings and sculptures that explore the domestic traces left from removed cabinets and built-in furniture. His objects are impeccably executed in a glossy, muted palette, employing the language of abstraction to interrogate the modernist grid while at the same time investing it with the trace of a human presence and of a function now lost.
The artists in this exhibition share an interest in making strange or reworking familiar, everyday objects and materials that function as vestiges and carriers of memory. In some cases, selected objects are cast in other materials and it is often through their trace or imprint that the memories are enabled to surface, perhaps allowing a discharge or conversion of the experience. Whilst initially the artists included in the show appear to share a sensibility or mood, each particular contribution reveals the very distinct undercurrents and varied landscapes that reflect the particular concerns and highly specific contexts from which they emerge.