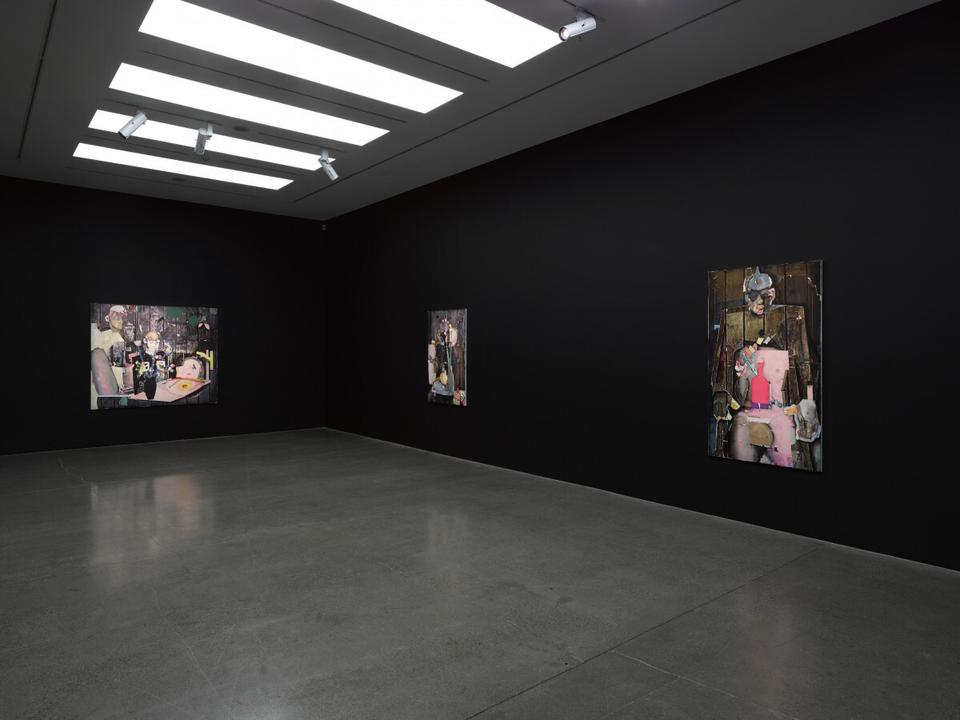 4 November 2016 – 14 January 2017
Dates
4 November 2016 – 14 January 2017
Location
25 – 26 Mason's Yard
London SW1Y 6BU

The '1914' paintings are inspired by German pacifist Ernst Friedrich's seminal anti-war book War Against War (1924). The first published work to show the devastating impact of automatic weapons on the human body, War Against War presents photographs of mutilated and wounded soldiers from World War I. In Plessen's works, limbs, heads and objects appear radically dislocated from their context as is the case with the work Untitled (smoking) (2015), where a dark head simultaneously emerges from and recedes into the painting's background. Devoid of features, the head is partially obscured by, and seemingly disconnected from, the limp grey hand that languidly holds a cigarette, as if these parts are held together not by the rules of physical form but by the necessity of the composition.
Plessen pushes beyond the traditional parameters of representation, employing multiple perspectives to suggest the free circulation of objects, not dictated by compositional rules or gravity. During the painting process, canvases are sometimes rotated 90 degrees, serving to disrupt the artist's relationship with the image, thereby allowing access to what he has described as 'a layer beyond that of coherent figuration or narration without having to cut out representations altogether'. (Interview with Katy Siegel, Rose Art Museum catalogue, Boston (2012), p.13)

Using oil and charcoal on canvas, the two dimensionality of the paintings is accentuated by condensing perspectives and obfuscating spatial relationships, as if the composition has been flattened under the pressure of weight. Figures and objects float against the dominant background of dark wood floor boards, presented vertically, as if the floor has tipped-up and our notion of ground has been dislodged.
The introduction of a pregnant female nude in these works, alluding to the pregnancy of his own wife with their fourth child, anchors the paintings in a life cycle. The theme of pregnancy and the subject of the pregnant nude also speaks of form and physicality, what Plessen describes as 'the skin of volume', which is the title of the exhibition. The depiction of the swelling belly can be seen as an analogy to physical volume within the composition, whereby tension is created by the exaggerated and compressed space of the picture plane. Like a skin stretched taut, the paint is almost transparent in parts revealing the blank canvas beneath.
A number of the works reference traditional art historical themes and motifs such as memento mori, vanitas and the myth of Narcissus. In Untitled (23) (2016), a pregnant nude is depicted in an archetypal odalisque pose: from above, a string of plaited DNA emerging from her belly. In Untitled (24) (2016), the female figure appears to move fluidly in and out of representation, seeming to grow and then dissolve within one composition. Originally a landscape format, by orientating the work in different ways Plessen introduces new dynamics and a new kind of abstraction which destabilises the relationships of object and subject, painting and viewer.