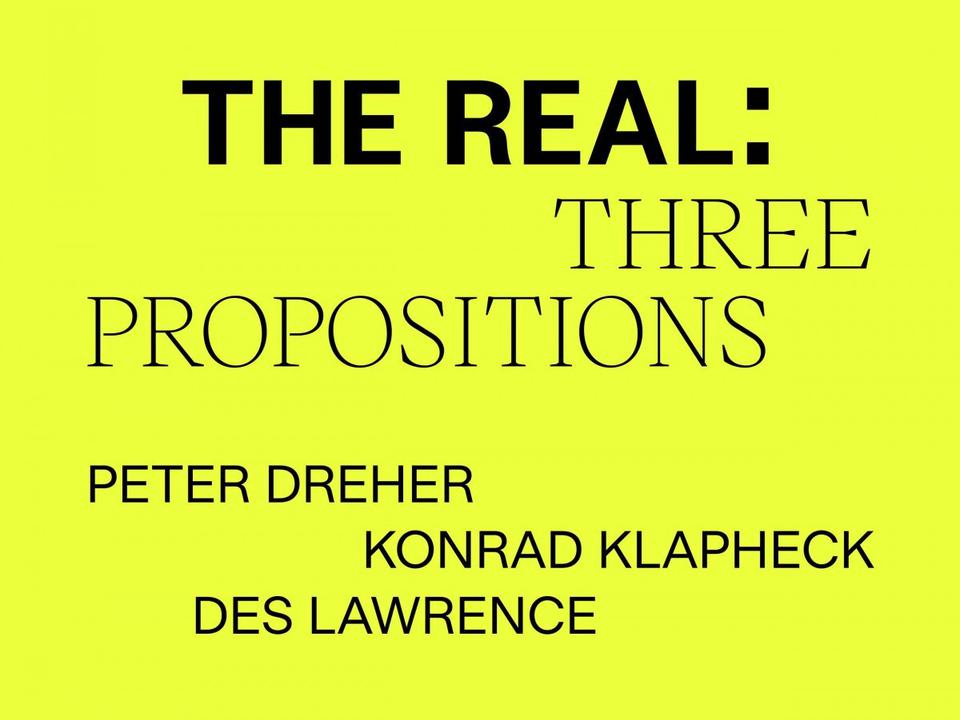 The Real: Three Propositions
10 July – 25 August 2019
Dates
10 July – 25 August 2019
Location
144 – 152 Bermondsey Street
London SE1 3TQ

'The Real: Three Propositions' presents paintings and drawings by Peter Dreher, Konrad Klapheck and Des Lawrence, all of whom use precise, figurative styles to depict people, places and things. These artists merge realms of appearance and consciousness to varying degrees in their work, intermixing objectivity and subjectivity as they conjure things and their meanings in two dimensions. At a time when images and information, factual and fictional, circulate instantaneously, they ask the viewer to slow down and to consider how matter and mind intertwine when the world is re-envisioned.
Peter Dreher (b.1932, Mannheim, Germany) has been painting and drawing the same empty drinking glass nearly every day since 1974. Working, he says, 'as exactly, as accurately and faithfully as possible', Dreher divides the canvases into two subtly different groups of night and day: characterised respectively by pinpoint reflections from lightbulbs and studio windows. The title of the series, Tag um Tag guter Tag (Day By Day Good Day), makes reference to a statement by the 9th-century Zen master Yunmen Wenyan, who offered this poetic call for mindfulness in response to a question about the past's relationship to the future. Dreher's studies of matter, light and time demonstrate that an artist's meditative focus can reveal great fullness, even in an empty glass.

Konrad Klapheck (b.1935, Düsseldorf, Germany) makes sleek, stylised and psychologically charged depictions of machines and everyday domestic objects. Influenced by the German New Objectivity movement, which used mundane subjects and representational styles to reveal the strangeness of modern life, his paintings and drawings also parallel Pop art's examination of consumer culture. However, Klapheck suffuses his images of keys, typewriters, water taps, vehicles and penknives with menace, humour and erotic symbolism. His painting, Im Zeitalter der Gewalt II (The Age of Violence II), (1995), a large-scale work of an Atlas-brand front-end loader filling a tipper lorry, operates as perverse propaganda in a time of environmental destruction. Instead of raising the celestial sphere upon his shoulders like its mythological namesake, this anthropomorphised bulldozer, muscular and small-headed, aggressively attacks the earth.
Des Lawrence (b.1970, Wiltshire, UK) makes paintings and drawings inspired by newspaper obituaries. He creates portraits of recently deceased notable individuals through a likeness, an image of their accomplishments or something associated with them. Rendered in enamel paint or fine silverpoint lines, Lawrence's works, like most images chosen to memorialise the dead, present their subjects in idealised form: model Christine Keeler of the notorious Profumo affair poses in a swimsuit; lighting designer Chahine Yavroyan's innovative track system dominates a theatre's fly loft; and celebrity chef Paul Bocuse is commemorated by a bundle of fresh asparagus. While the use of obituaries as the source for his subject matter frees the artist from the burden of decision-making, they pose complex questions around portraiture, the role of history and mortality itself. His lavish attention to detail, Lawrence says, corresponds to a human myopia - the inability to envision anything beyond the here and now.