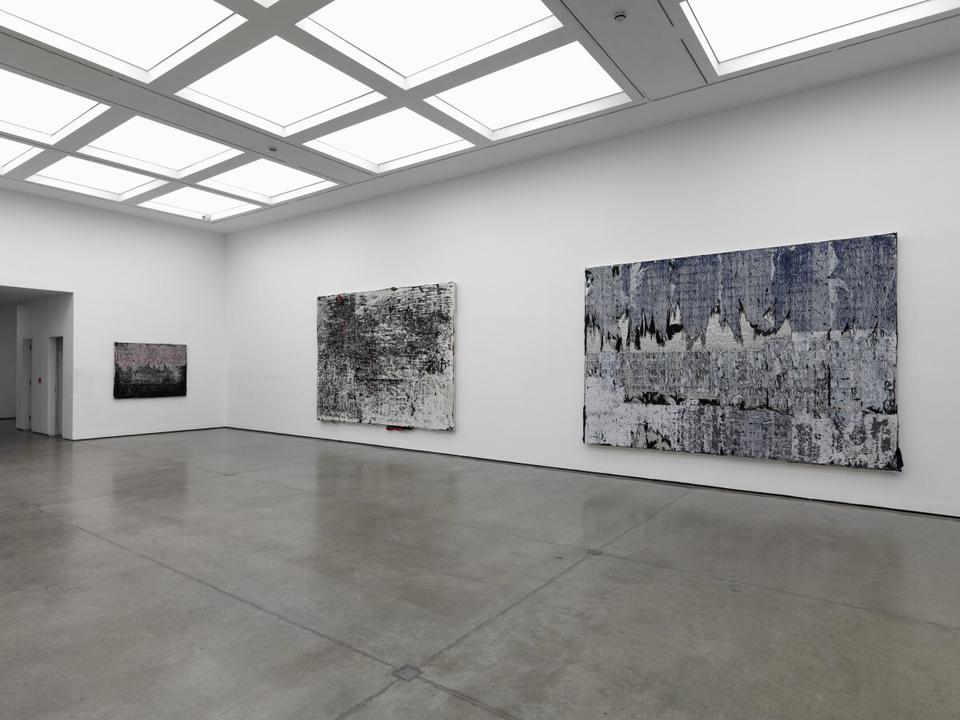 13 October – 13 November 2010
Dates
13 October – 13 November 2010
White Cube Hoxton Square presented the first UK solo exhibition by Mark Bradford. Encompassing painting, collage, sculpture, film and audio performance, Bradford's practice examines the ever-changing conditions and spontaneous networks that characterise urban societies, and in particular that of his home city, Los Angeles.
Bradford's large-scale, multi-layered collaged paintings incorporate materials such as remnants of billboard posters, magazines and newsprint found in the vicinity of his studio. These materials, which he describes as having 'an inbuilt history' are used to create dense, visually complex compositions that are ostensibly abstract but referential in content. At first glance, the work brings to mind 'Affichiste' artists such as Raymond Hains and Jacques Villeglé; yet Bradford is less concerned with a commentary on consumerism than with the specific context that shapes communities. This is most clearly identified in the works featuring what he calls 'merchant posters' found in his immediate neighbourhood. Affixed to cyclone fencing, which was erected around buildings left derelict after the 1992 Los Angeles riots, these billposters advertise services targeted directly at local inhabitants. In 'May Heaven Preserve You From Dangers and Assassins', posters selling pest control services form the basis for the painting, while in 'When It Stops Snowing', the placards advertise the facility to "receive calls on your cell phone from jail". The underlying statements within these works begin to build a narrative of despondency and dislocation, which he has observed 'is the invisible underbelly of a community'. On a formal level, the messages become more subliminal within the densely textured structure of the paintings. The lettering, outlined in cord, is entirely obliterated with collaged paper, and then sanded back in areas to partially excavate the layers, revealing flashes of luminous colour buried within. The paintings embody a vital energy and a sense of movement, analogous in some ways to constant change - social, economic, political - within metropolitan communities.

'Field of Miracles', a forty-four part work organised in a rational grid formation, features serial rectangular boards onto which newspaper broadsheets, block printed in graphite coloured ink, are pasted in multiple layers. Adhered to the surface in a rapid manner, ripples and wrinkles emerge on the glued paper, which Bradford then sands back to expose nuanced hues and tones within the monochromatic depths. Viewed from a distance, the individual panels almost resemble delicate pencil drawings, while their seriality and tactile surfaces nod to the constructs of post-minimalism.
In 2008, Bradford created a large-scale sculpture for 'Prospect 1: New Orleans Biennial'. 'Mithra', a three-storey 'ark' made from stacked shipping containers, was made on a vacant plot in the Lower Ninth Ward, one of the areas most devastated by Hurricane Katrina in 2005. Covered in battered poster boards and advertising found around the city in the wake of the disaster, the sculpture appeared as both sepulchral monument and symbol of renewal. Bradford's film 'Across Canal' charts the making of 'Mithra', pointing to the relationship of the sculpture to the physical neighbourhood and its inhabitants. Shot on Super-8, the provisional techniques of handheld camerawork, bleached out images and jump cut editing give it a dreamy, timeless quality.
Published to coincide with the exhibition, 'Pinocchio Is On Fire' is a limited edition, vinyl LP that features a recording of the artist speaking in the guise of a quick-witted performer who is being interviewed for a fictional radio programme. Interspersed with a funk/soul soundtrack, Bradford's entertainer is a combination of Pinocchio and Teddy Pendergrass, the legendary soul singer of the 1970s, whose stage persona was one of exaggerated heterosexuality. His image was destabilised after he was involved in a car accident with his passenger, who was a transsexual model. Bradford conflates the narratives of Pinocchio and Teddy, and introduces aspects of his own autobiography to create a third character, at the heart of which is a social, ethnic and cultural absence, which Bradford compares to 'that moment of finding the Wizard of Oz behind the curtain'.
Mark Bradford was born in 1961 in Los Angeles, where he lives and works. He has exhibited widely, including group shows such as the São Paulo Biennial (2006), Whitney Biennial, New York (2006), the Carnegie International, Pittsburgh (2008) and Media City Seoul (2010). Solo exhibitions include Neither New Nor Correct at the Whitney Museum of American Art, New York (2007) and Maps and Manifests at Cincinnati Museum of Art (2008). In 2010, 'You're Nobody (Til Somebody Kills You)', a large-scale survey of his work, opened at the Wexner Center for the Arts, Columbus, and will travel to the Institute of Contemporary Art, Boston; Museum of Contemporary Art, Chicago; Dallas Museum of Art; and San Francisco Museum of Modern Art. In 2009, Mark Bradford was the recipient of the MacArthur Foundation 'Genius' Award.