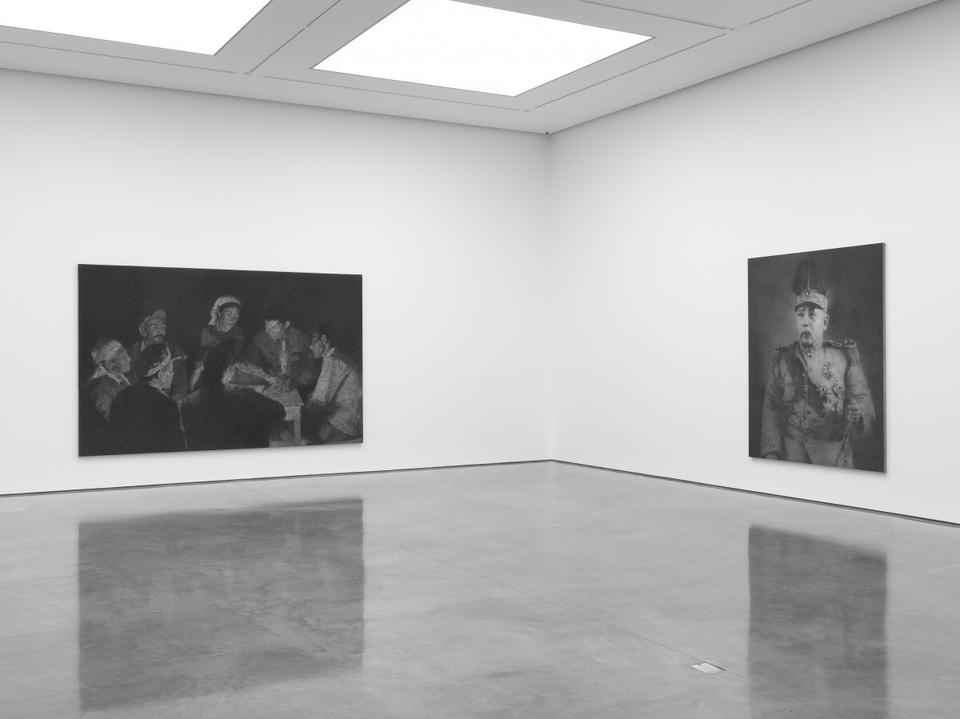 Zhang Huan
The Mountain is Still a Mountain
20 July – 26 August 2012
Dates
20 July – 26 August 2012
Location
144 – 152 Bermondsey Street
London SE1 3TQ

Known primarily for his rigorous and demanding performances of the 1990s, Zhang's more recent work has consisted of sculptures and paintings made using incense ash gathered from the rituals and ceremonies performed daily at Buddhist temples in the artist's native city of Shanghai.

Entitled 'The Mountain is Still a Mountain', a reference to the teachings of a Chan Buddhist master from the Tang Dynasty period, this exhibition presented a series of large-scale figurative ash paintings that touch on diverse cultural, political and spiritual themes.
Painted from historical photographs taken from old magazines, family albums and the propagandist publications distributed by the government during the Cultural Revolution, their subject matter ranges from depictions of political leaders, such as the influential Nationalist Party members Chiang Kai-shek and Hu Hanmin, important intellectual and religious figures like the writer Wei Wei and the Buddhist scholar Shen-yen to anonymous family portraits and panoramic seascapes. Also included in the exhibition were two monumental paintings of significant historical events; 1959 National Day (2010), a view of Tiananmen square on the anniversary of Mao Zedong's declaration of the People's Republic of China, and Grand Canal (2009) showing labourers at work on the Beijing to Hangzhou Canal.

Carrying on from earlier performative works, such as Pilgrimage to Santiago (2001), in which the artist enclosed himself in an immense, swinging thurible, Zhang's use of ash in these works melds traditional Chinese and Western art historical references with his own complex, personal and religious meanings. Incense ash is a highly charged and significant medium for Zhang. It embodies the harmony and unity of collective religious ceremony as well as the intensely private, individual experience of prayer. Described by the artist as a transformative 'message carrier', it is both the residue of disintegrated material – an index of memory, history and the past – and a deeply spiritual signifier of restitution and hope.
At a time of immense and rapid socio-economic change in China, these works look back at its past, marking a fragile line with delicate layers of ash between individual memory and official historical record.
A fully illustrated catalogue, including an essay by Richard Vine, was published to accompany the exhibition.