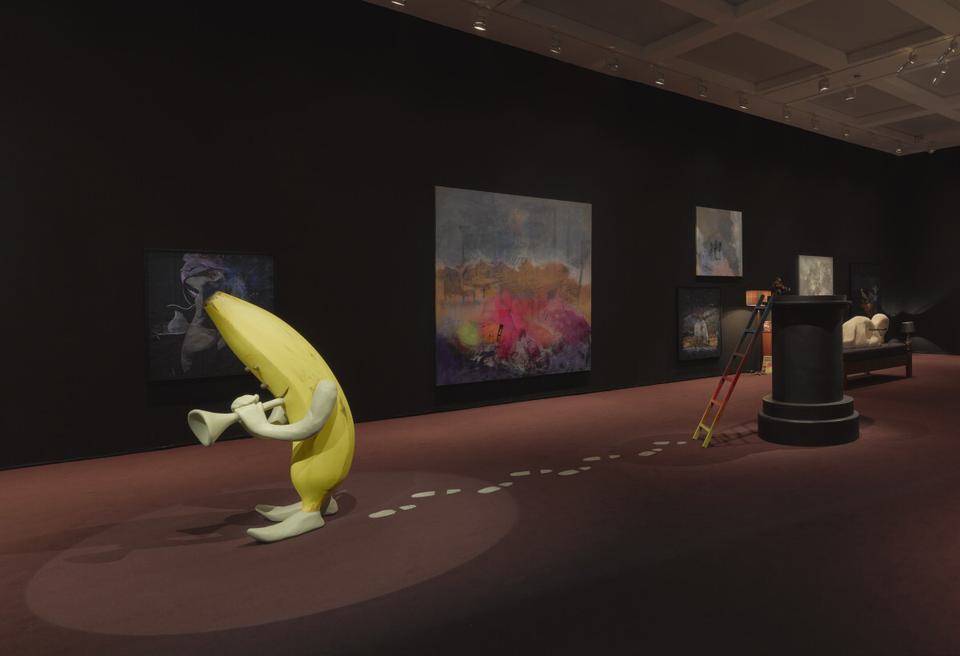 Friedrich Kunath
The Most Beautiful World in the World
15 April – 4 June 2011
Dates
15 April – 4 June 2011
White Cube Hoxton Square presents the first UK solo exhibition by Friedrich Kunath. Encompassing painting, sculpture, drawing, video and photography, Kunath's work focuses on universal themes of the human condition: love, loss, loneliness, optimism and dejection, all imparted with a tragicomic pathos.
Kunath's work draws inspiration from sources such as song titles, lyrics and books, along with art historical influences, including Conceptual art, German Romanticism and Symbolism. His paintings, which freely bestride the idioms of abstraction and representation, are saturated with washes of colour, which are then overlaid with diverse visual references, from satirical cartoons, doodles and chocolate-box imagery to passages of text with nuanced word-play. 'All the sleeves are brown and the tie is grey (California Dreaming)' (2011) features a sleeping figure sat aboard a ramshackle raft, caught up in a ferocious sea; while above him is written a contorted version of the chorus from the song of the title. In another painting, the hunched figure of the artist trudges into a psychedelic, waterlogged landscape, with droplets of rain in the air clearing in part to reveal the cheerful message 'Almost Summer'. The lone protagonist makes regular appearances in Kunath's work, the melancholic 'everyman', full of longing for home.
The all encompassing environment created for this exhibition was an attempt to create an improbably utopian world according to Kunath. A series of surreal sculptures served as proxy for the artist. A figure, modelled on Kunath and wearing his clothes, loiters next to a loud speaker, oblivious to the insistent pecking of a bird perched on his nose. A pedestal stands vacant, while the escape of the sculpture that might have stood there is suggested by a series of footprints leading away. A horn-playing banana-man jauntily trots across the space, and an Henry Moore-like sculpture reclines on a day-bed nearby, watching a film that charts a journey simultaneously looking towards the future and back to the past. Absurdist in content, a sense of faux nostalgia permeates the scene.
Kunath relocated a number of years ago from his native Germany to Los Angeles, and the tropes of Californian counter-culture provides source material for works such as 'Pet Shop Sounds' (2011), in which the Beach Boys seminal album morphs into a pair of bickering love birds. 'I saw God's shadow on this world' (2011), features an expressionistic backdrop that doubles as a parched desert landscape complete with cacti providing shade and respite from the brutal sun. As Kunath himself has noted, his new surroundings have influenced the work: 'I guess the colours got brighter and the topics got darker. Sunshine and Noir'.
Friedrich Kunath was born in Chemnitz, Germany in 1974 and lives in Los Angeles. He has exhibited widely including solo exhibitions at Aspen Art Museum (2008), Kunsthalle Baden-Baden (2009), Kunstverein Hannover (2009) and the Hammer Museum, Los Angeles (2010). Group exhibitions include 'Human Nature', Los Angeles County Museum of Art (2011), 'Life on Mars: the 55th Carnegie International', Pittsburgh (2008), '11th Triennale für Kleinplastik', Fellbach, Germany (2010) and will exhibit in 'The World is Yours', Palazzo Grassi, Venice (2011).
A fully illustrated catalogue, with texts by Andrew Berardini and Sarah Lehrer-Graiwer accompanied the exhibition.