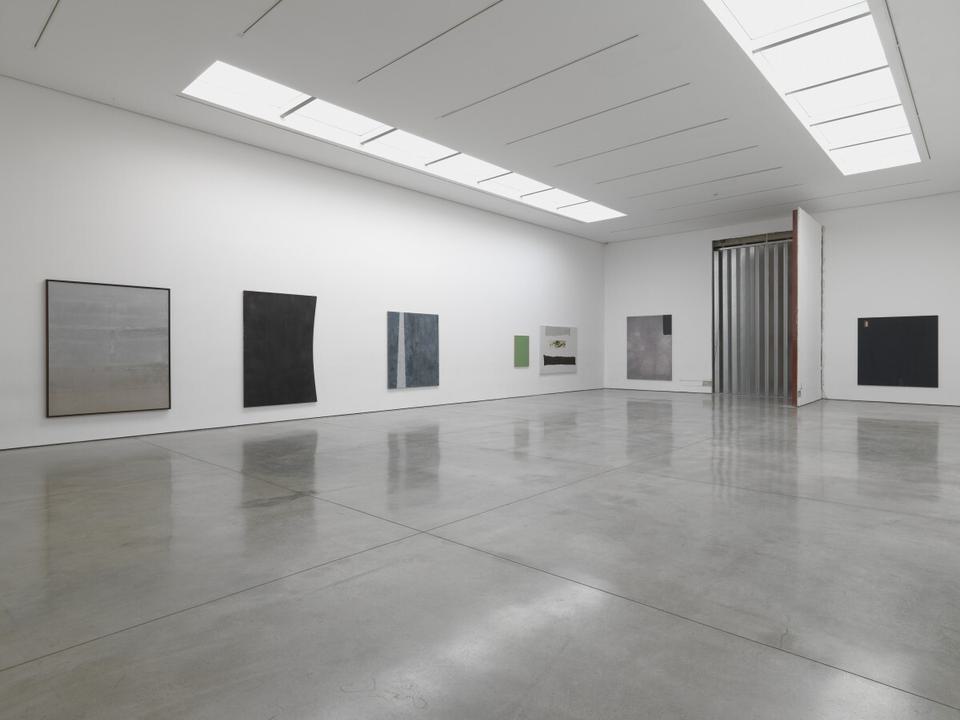 Sergej Jensen
The last twenty minutes of 2001
16 July – 28 August 2010
Dates
16 July – 28 August 2010
Location
25 – 26 Mason's Yard
London SW1Y 6BU

White Cube Mason's Yard presented 'The Last Twenty Minutes of 2001', an exhibition by the Berlin-based artist Sergej Jensen. The title of the show alludes to the visionary finale of Stanley Kubrick's '2001: A Space Odyssey' (1968), where the hero, Dave Bowman, travels through the psychedelic 'Star Gate' and 'beyond the infinite'. Jensen's new paintings invoke what the artist describes as 'floating around in a useless but essential space; an environment where 'beyond the infinite' - should you be looking for it - could equally be found in the dust on a kitchen floor'.
Working with raw, painted or stained linens, bleached, stretched or sewn together, Jensen creates a unique form of abstract painting using the most economic of means. His cool palette of silvery blue, and use of uneven washes or dark muted tones evoke a futuristic ambiance or otherworldliness. In 'Untitled' or 'Aftercare' (both 2010), the canvas plane is discreetly punctured and then almost surgically stitched back together, whereas in 'Postauthentic times' strips of dark grey painted linen appear to be bandaged in a loose form of constructivism.

Jensen's studio is in the shadow of Berlin's iconic television tower; a structure suggested in one painting as a tilted single beam of silvery light that recalls climatic moments in many sci-fi movies. In other works, Jensen overlays cashmere scarves to create a moiré effect with their weaves and frayed edges exposed, resonating like interference or static on a screen. Mark Prince, captures the dual nature of Jensen's work when he writes, 'Jensen's paintings and films repeatedly trace meandering lines from a possibility of expansiveness to a blunt manipulation of surface values'.
Jensen suggests that, 'The picture frame is not only the frame around the picture, but also the room it hangs in'. The artist applies this idea to his exhibitions. In the basement gallery, the workings of the back wall are revealed: a large metallic concertina door with two little grid windows invokes the black monolith in '2001: A Space Odyssey'. The impact of moving this wall back disrupts the principles of the 'white cube'. Jensen's exploration of everyday mechanics continues in the film screened on the ground floor. Taken from an ongoing series entitled 'Method Living', and shot in Jensen's studio-cum-apartment, 'The Last Twenty Minutes of 2001', was made in collaboration with the artist Josef Strau and filmed by Kerstin Cmelka. Here both artists appear absorbed in a form of role-play, behaving erratically in and around the studio or perhaps their own 'mind space'.
Sergej Jensen was born in Denmark, and lives and works in Berlin, Germany. He has exhibited internationally including solo exhibitions at Douglas Hyde Gallery, Dublin (2007) Konsthall Malmö (2008) Bergen Kunsthalle (2008) and KW Institute for Contemporary Art, Berlin (2009). Major group exhibitions include 'Of Mice and Men', Berlin Biennial (2006), 'Momentum Nordic Festival of Contemporary Art', Moss, Norway (2006) and the São Paulo Biennial (2004). Jensen will have his first major solo exhibition in the US at the Aspen Art Museum from 30 July 30 till 3 October 2010.