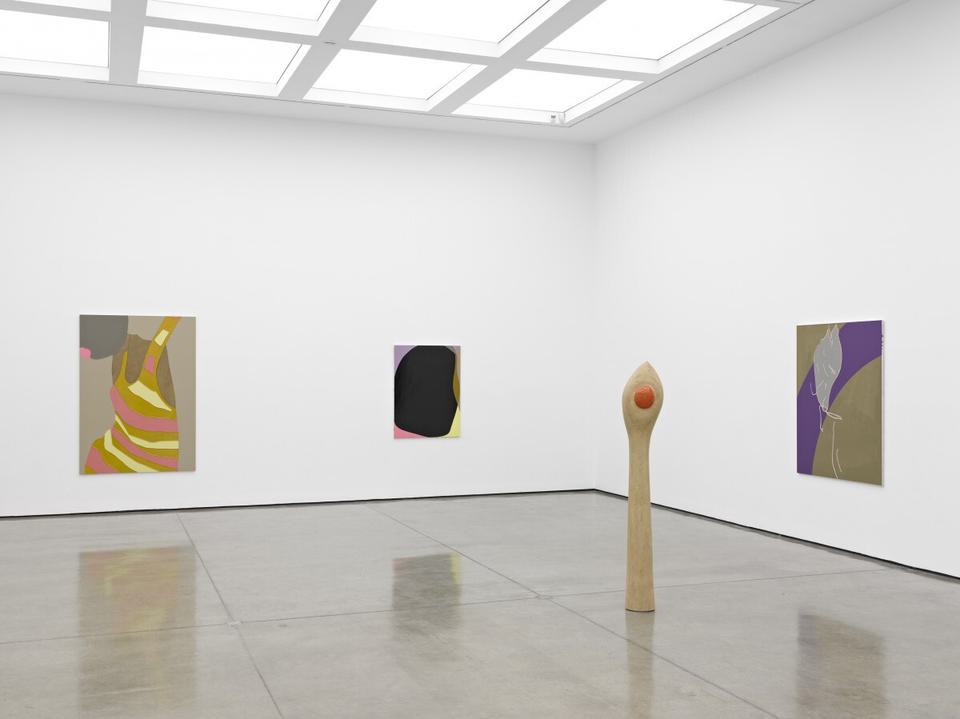 18 January – 25 February 2012
Dates
18 January – 25 February 2012
Location
25 – 26 Mason's Yard
London SW1Y 6BU

'The Indifferent Owl', was an exhibition of new paintings and sculptures by Gary Hume. Over the past twenty years, Hume has developed a distinctive visual language of bold, simplified forms to create paintings that engage the viewer with their pleasantly irresolvable quality. The exhibition, his first in London for over four years, brings together a large and varied body of new work that occupied both the Hoxton Square and Mason's Yard galleries.
In the ground-floor gallery at Mason's Yard, The Indifferent Owl, a tondo painted in a disquieting mix of browns, purples and blues, overlooked a group of paintings of flowers and plants that suggest innocence and newness, their mood a stark contrast to the owl's world-weary, unappeasable gaze. The 'Paradise Paintings' occupied the lower-level gallery. Painted in vast sections of creamy greens and flesh tones, this group of large-scale works depict the heads of birds, each with a beak and an eye of deep, visceral red. While the 'Paradise Paintings' are recognisably pictures of birds, the forms also suggest fragmented figures. Two smaller paintings, in starkly different colours, suggest the mother birds, each seeming to survey the gallery with a mix of pride and nervousness.

Hume exhibited, for the first time, a group of new sculptures carved from Ancaster hard white limestone. The sculptures are vertical forms reminiscent of plant buds or baby birds, while their warm, tactile surfaces are, in some cases, punctuated by two brightly coloured dots that suggest eyes.
Hoxton Square
The ground-floor gallery at Hoxton was anchored by The Playground, a large-scale landscape in black punctuated by two white dots in the upper corners and two magenta strips in each of the lower corners. The twists and contours of climbing frames and playground structures are visible in ridges of paint, but any sense of space is occluded by an overwhelming black surface. Facing this painting, Six Poles depicts three girls in a row, their plaits in a mix of saturated primary and secondary colours, staring unflinchingly into space. A single stone sculpture inhabited the gallery as a vulnerable, lone figure, while the black portal of Elsewhere, nearby, and the tilted head of the figure in London Fields on the same wall, all contributed to an overall mood of melancholy and dislocation.
Upstairs, Hume filled the gallery with the fragmented arc of a rainbow, each of the seven colours granted its own form and space, and installed as if in a dance at the upper limits of the gallery walls.
Gary Hume was born in Kent in 1962 and lives and works in London and upstate New York, USA. Solo exhibitions include São Paulo Biennale (1996), Venice Biennale (1999) Whitechapel Gallery, London (1999), the National Galleries of Scotland, Edinburgh (1999), Fundação La Caixa, Barcelona (2000), Irish Museum of Modern Art, Dublin (2003), Kunsthaus Bregenz (2004), Kestnergesellschaft, Hannover (2004) and Modern Art Oxford (2008). Forthcoming exhibitions will include a solo presentation at Pinchuk Art Centre, Kiev, 4 February – 1 April 2012 and 'Flashback', (an exhibition organised by the Arts Council Collection) Leeds Art Gallery, 5 February – 15 April 2012 which tours to Wolverhampton Art Gallery, Aberdeen Art Gallery and Jerwood Gallery, Hastings. 
A catalogue, with an essay by Jennifer Higgie, co-editor of Frieze has been published to accompany the exhibition. Exhibition price £25, £30 thereafter.