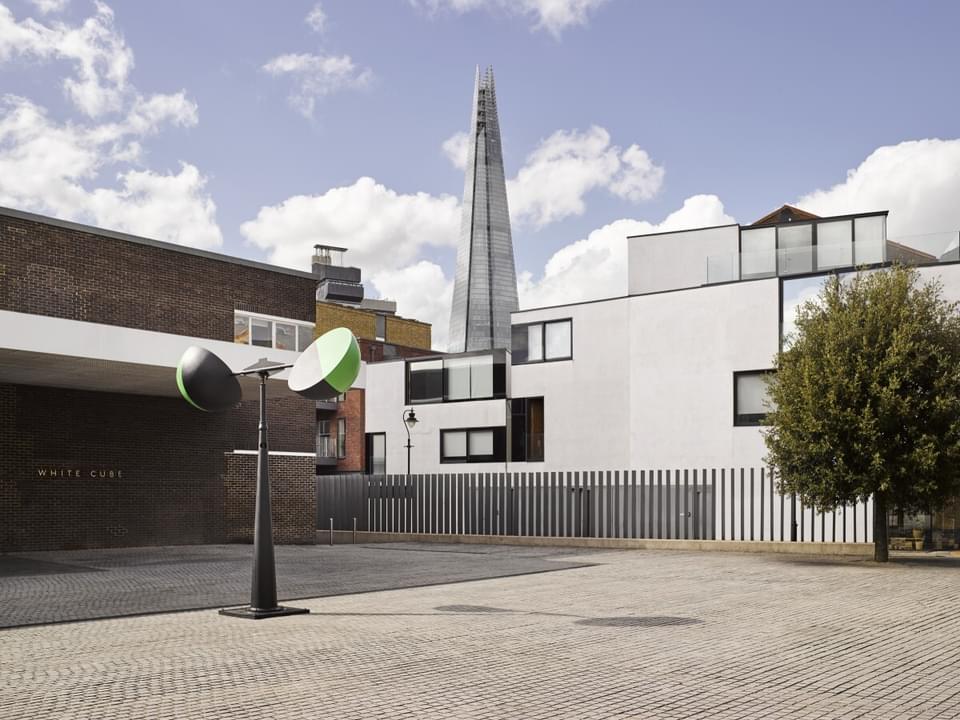 Dates
12 May – 27 June 2021
Location
144 – 152 Bermondsey Street
London SE1 3TQ

Born Panagiotis Vassilakis in Athens in 1925, Takis took art into realms previously the domain of physicists and engineers. Organised in close collaboration with the artist's estate, this exhibition, the first in Europe following his death in 2019, features key works from his private collection. Including important examples from his best-known series from the 1950s to the 2000s, the selection reflects Takis' lifelong exploration of invisible energies as a 'fourth dimension' in art. Marcel Duchamp famously dubbed him the 'ploughman of magnetic fields', and this presentation highlights the many profound and poetic innovations of this singular, self-described 'intuitive scientist'.
The exhibition features works made throughout Takis' long career, starting with early bronze sculptures of the 1950s inspired by ancient Cycladic figurines; then his breakthrough 'Magnetrons' of the 1960s that use magnetism to suspend objects in space; and a number of 1980s sculptures, including a large, outdoor 'Aeolian' that rotates in the wind and a bronze, body-cast 'Erotic' that explores 'magnetic' attraction between humans. Later works of the 1990s include the reconfigurable, monochrome 'Magnetic Wall – The 4th Dimension' paintings, which use the invisible forces connecting magnets and iron wires to create an infinite number of compositions on the surface of the canvas.

Also on view are a broad selection of Takis' best known 'Signals' series, the antenna-like sculptures that he began making in 1955. The works were inspired by a French train station, where he was impressed by the then modern electric signalling equipment. Recalling this moment of epiphany nearly a decade later, in 1964 Takis said: 'The station was a huge [complex], a forest of signals. Monster-eyes went on and off, rails, tunnels, a jungle of iron. I got out a chalk, and drew it all on the cement. I drew all those phenomena. I tried to show clearly the needs of human imagination and thought by an exact execution: man constructs for his own use tunnels and exits, symbols for his evasion of death. We have chased the sacred symbols into the desert and replaced them with electronic eyes.'

Ranging in scale, and swaying in response to a breeze or vibration, the 'Signals' reflect Takis' fascination with radio waves and radar, and the ability to communicate and 'see' across great distances. Each work incorporates an object at its pinnacle, such as parts of electronic equipment, talismanic metal shapes or fragments of bombs that had been dropped on Athens. A number of 'Signals' are fitted with flashing, coloured lights, transforming them into expressive, technological beacons, a visual element in the spirit of the prevailing Pop and Op Art movements.

Works from the 'Télé-lumières', 'Télé-peintures' and 'Télé-sculptures' series, as titled by French critic Alain Jouffroy (from the Greek tēle, meaning 'at a distance'), include paintings and sculptures incorporating electromagnetic radiation, both visible and invisible. These invoke the moment in 1959 when Takis discovered magnetism, which he proclaimed 'binds together in space, objects, metals, roaming particles of the cosmos'. Mur Magnétique, a 'Télé-peinture' from 1970, uses thin wires attached to the gallery ceiling to restrain conical metal shapes in front of magnets placed behind a bright yellow canvas. As the shapes hover above the painting's surface, they make this invisible magnetic force perceptible, an action that for Takis was emblematic of art's power. Similarly, 'Télé-sculpture' Electromagnetic Sphere (1966), uses a floor-mounted electromagnet to set in motion a metal-cored sphere suspended above it by a thin wire, creating an uncanny 'ballet electromagnétique'.

The Télé- works illustrate Takis' vital contributions to the kinetic art movement, which incorporated motion and other animating forces to explore elemental, perceptual and environment phenomena. Takis also brought sound elements into play in his work, and from 1965 to the end of his career, made 'Musicals', a series of white, door-size sculptures that use electromagnets and amplifiers to make a needle striking a taught wire produce reverberant sounds, what the artist called 'raw music'. Stating that Musicals should be included in each of his exhibitions, Takis believed that they echoed the 'music of the cosmos'.

Takis, who began his career at the dawn of the atomic age, was a pioneer of a new sensibility. Bringing the powers of the electromagnetic spectrum into art for the first time, his works herald a yet-to-arrive cybernetic future – seen by Takis as a utopian age in which humans are fully alive to the enigmatic energies of the universe.

Active in Paris, London, New York and his native Greece, Takis has participated in numerous international exhibitions since the 1960s, including 'Documenta', Kassel, Germany, in 1977 and in the 2017 Greek satellite show; the Venice Biennale (1995); and the Paris Biennale, where he was awarded first prize 1985. More recently, his work was featured in important solo exhibitions at MACBA Museu d'Art Contemporani de Barcelona (2019); Tate Modern, London (2019); Palais de Tokyo, Paris (2015); and the Menil Collection, Houston (2015). In 1968, Takis was invited to serve as a visiting researcher at the Massachusetts Institute of Technology, and he received patents from the French government for his static and kinetic 'Télé-sculptures'.

Among the museums holding his works are the Centre Pompidou, Paris; MoMA and Guggenheim Museum, New York; the Menil Collection, Houston; Tate Modern, London; and Peggy Guggenheim Collection, Venice. In 1987 Takis completed Forêt Lumineuse (Luminous Forest), a multi-part installation of '(Light) Signals' in the Espalande de La Défense, Paris and the city's biggest public art commission.