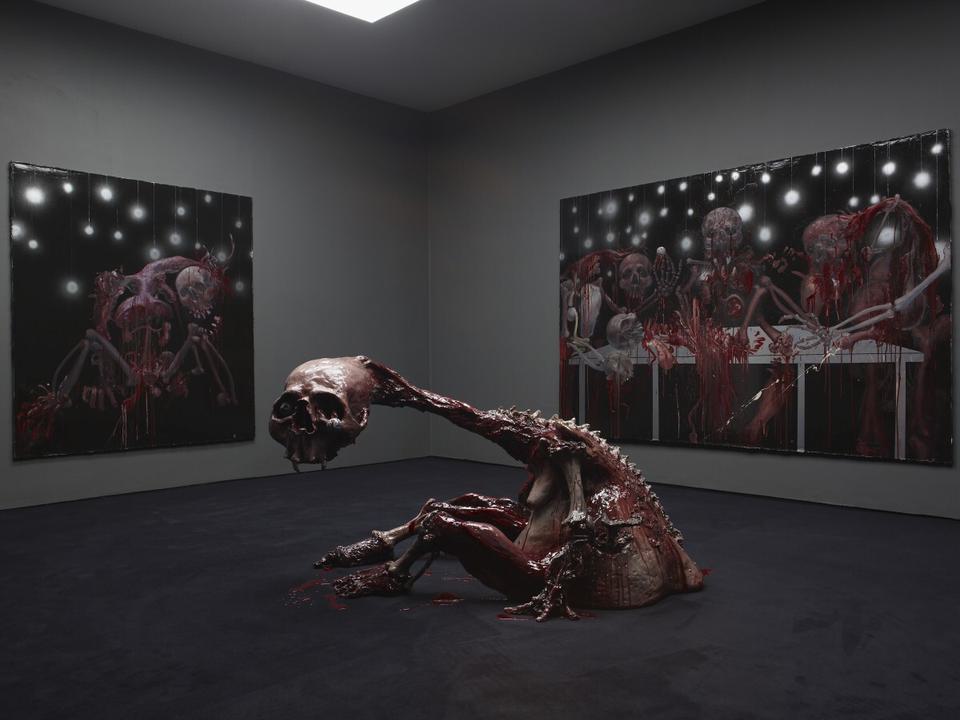 Andreas Golder
Surgite mortui venite ad Judicium
16 January – 21 February 2009
Dates
16 January – 21 February 2009
White Cube Hoxton Square presents Berlin-based artist Andreas Golder's first exhibition at the gallery, Surgite mortui venite ad Judicium.
Golder introduces a variety of pictorial styles and techniques, adds allusions to a range of culture sources, from the paintings of Hieronymous Bosch, Lovis Corinth and Philip Guston to the zombie movies of George A Romero, and allows all of these elements to collide in a single painting. Working within the memento mori tradition in western culture, the works' dark vision confronts the transience of life and the inevitability of death through a contemporary reworking of the grotesque. In Zeitgeist, a skeletal figure genuflects as if at the base of the Crucifixion, while the backdrop of glaring light bulbs suggests a modern-day setting. Likewise, in Economy, the traditional composition of the Last Supper is reworked as a monstrous feast in a backdrop that brings to mind a nightclub. But even in this picture the narrative element is overwhelmed by the physicality of the medium: the realistic rendering of elements of the figures – the skulls, eyeballs and tongues – is besmirched by splashes and smears of oil paint cast across the scene. Golder has described his work as occupying an 'area between the realistic and the abstract, the physical and the metaphysical; my paintings are another way of telling a story or a view of the world'. The Last Guest is the first in a series of new sculptures, which Golder considers a three-dimensional rendering of the paintings' gruesome tableaux. A misshapen skeletal figure, lying in a pathetic heap on the gallery floor, looks up pleadingly as if to implore the viewer not to banish him from the scene.

Andreas Golder was born in Ekaterinburg, Russia in 1979, and lives and works in Berlin, Germany. Recent exhibitions include 'It has my name of it' solo exhibition at ARKEN Museum of Modern Art, Copenhagen, Denmark (2007), PAINT-O-RAMA (group show) at the Stadtgalerie Kiel, Germany (2006) and Liverpool Biennial Independents 2004.