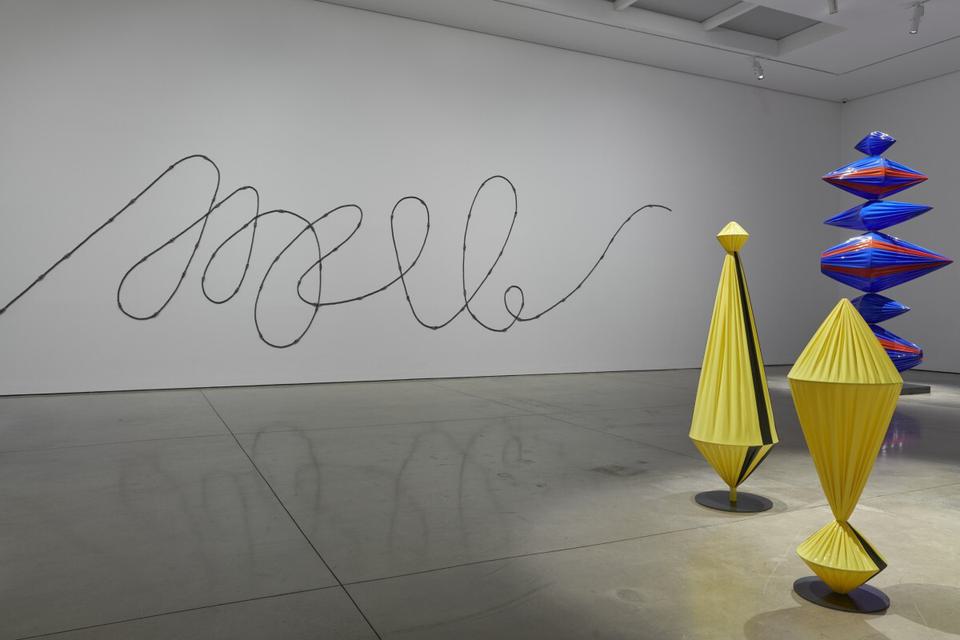 Dates
25 May – 30 June 2018
Location
25 – 26 Mason's Yard
London SW1Y 6BU

As one of the first generation of South Korean artists to embrace radical experimentation in art, Lee has been at the forefront of the Korean avant-garde since the 1960s. Although formally trained as a sculptor, Lee is best known for his practice of negation, which he has alternatively conceptualised as 'non-sculpture', 'non-material' or 'anti-concept'. As an acute response to and reaction against rapidly transforming conditions in South Korea - from its emergence as a divided nation following three decades of Japanese colonialisation (1910-45) and the Korean War (1950-53), to its development into a modernised, global nation - Lee's work has persistently unsettled established forms of contemporary Korean art. Yet his locally-specific experiments, especially those of the 1960s and 1970s, invite comparison with other contemporaneous movements such as Land Art, Art Povera and Post-Minimalism.
Spanning several decades, Lee's multifarious oeuvre privileges no single medium or style, often incorporating aspects of painting, drawing, sculpture, installation and performance within the same work. Lee's first comprehensive solo exhibition in the UK brought together works from the 1960s until the present day, revealing his particular sensitivity towards materiality and cultural specificity. Central to this survey exhibition were his recreated monumental sculptures from the 1960s, presented for the first time since their destruction. Reconfiguring earthenware jars known as Oji, which were traditionally used in Korean households to store condiments, Lee constructed a series of emphatically abstract structures that seem to protrude from the ground. Removed from the pedestal, Lee's Oji series were placed directly on the ground and have occupied multiple sites, ranging from the gallery floor to sculpture gardens and remote wilderness. He incorporated everyday objects, folk materials and even intangible elements such as wind and sound to subvert their intended function and meaning.

The Tied Stone series reveals what has become the emblematic practice of Lee, involving the binding of found objects, materials or existing structures (whether architectural or natural) as a means of suggesting the transformability of their inherent material properties. In the most literal sense, these objects are incised and tightly bound with a piece of string, rope or wire to render them malleable and, thus, destabilise the viewers' perception. As Lee has stated, 'the reciprocal relationship between material (muljil) and rope' not only 'questions the conventional perception of form and materiality of the bound object, but also disrupts the prescribed mode of registering the world.' The method or rhetoric of 'binding' is therefore both an artistic strategy and a symbolic gesture of subversion. It questions the existing form, the intended function, value and meaning of the bound subject. In these works, Lee takes granite, one of the most ubiquitous sculpting materials in Korea, used primarily in outdoor monuments due it its hardness and permanence, and renders it soft, malleable and even sensual. The processed granite blocks of varied sizes and shapes have a striking bodily presence, as if the pressures and tensions caused by the taut strings are marked onto the smooth shiny flesh of eroticised human body parts.

Visualisation of the power dynamics between enveloping material and the bound or tied subject is also at play in a series of untitled vinyl structures. These monumental, vivid geometric installations, reaching over three metres in height, were first created with sheets of cheap, easily accessible, factory-produced vinyl, which embodied the modern lifestyle of the late 1960s in South Korea. By stretching them over wire frames and pulling the covers either inwards or downwards with strings, the taut surface of the structure highlighted the shiny and plastic quality of the material, as well as its versatility. This series of works were especially recreated for the exhibition using urethane vinyl in order to achieve greater durability whilst retaining a similar visual quality.

Displayed along the wall was an untitled series of ropes on canvas, which brings the binding material to the forefront as a materialisation of lines and dots. At times referring to them as 'canvas drawings', Lee employed the sinuous quality of the ropes as an alternative means to realise the lines traditionally drawn on paper. The tactile quality of otherwise smooth, two-dimensional planes is emphasised by the repetitiveness of cut and glued ropes, their knots and loose ends exposing strands of threads. A smaller set of works on plaster similarly reveals a playful take on the planarity of the paper surface. In contrast, Drawing (2015) spans the gallery wall and denotes a rhythmic movement of swirling lines. While reminiscent of expressive brush strokes of East Asian ink calligraphy, it also recalls Lee's early large-scale outdoor works where strips of fabric or cut out mulberry paper were unleashed to billow, sway and flutter in the wind, giving form to transient and invisible forces of nature.

Seung-taek Lee was born in Kowon, Hamkyung Province of North Korea, in 1932. Since the Korean War he has lived and worked in Seoul, South Korea. Following his studies at Hong Ik University, Lee taught Fine Art and Art History at Ewha Womans University, Mokwon University, Dankook University and University of Seoul for over two decades. During this period he published Woman Sculpture of the World (sic, 1975), a 400-page visual compendium on the theme of female nude in the history of sculpture. He has exhibited internationally including solo shows at Palazzo Caboto, Venice (2017); Frieze Sculpture Park, London (2014); Sungkok Art Museum, Seoul (2012); Seoul Museum of Art (2005); and National Museum of Contemporary Art, Seoul (2005). In 2004 he participated in the 5th Gwangju Biennale. He has won a number of awards including Eunkwan Award, Ministry of Culture, Sports and Tourism, Korea (2009); Nam June Paik Art Center Prize (2009) and the Grand Prize of International Outdoor Sculpture Festival, Aomori Museum of Art, Japan (1985). His work is included in numerous international public collections including Tate Modern, London; The Museum of Contemporary Art Australia, Sydney; The Rachofsky Collection, Dallas; Echigo-Tsumari Art Field, Niigata Prefecture, Japan and Seoul Museum of Art.