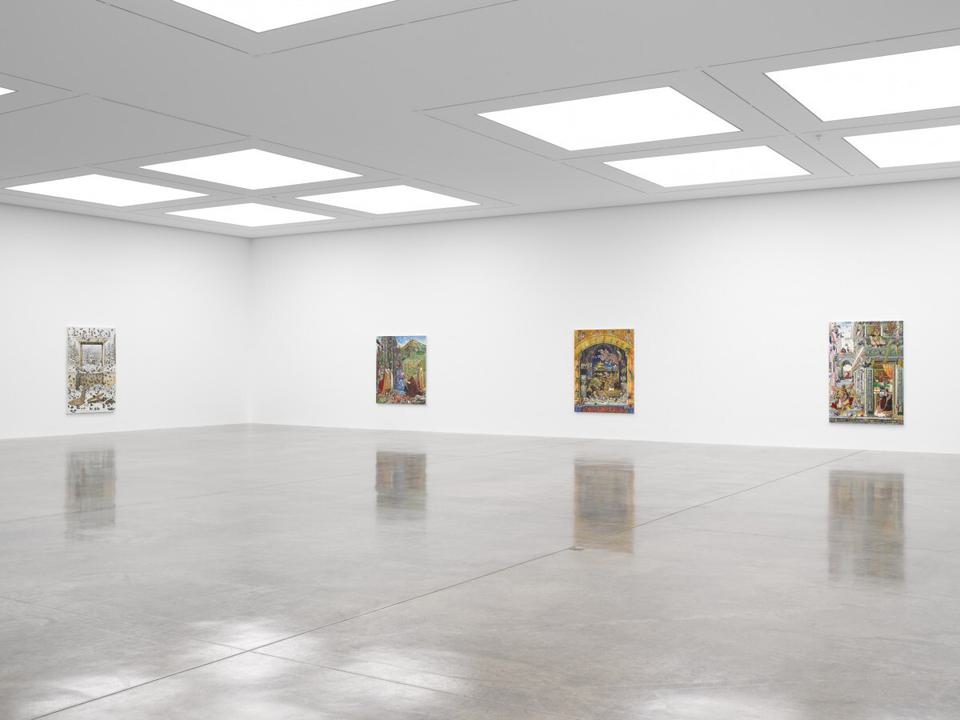 13 July – 11 September 2016
Dates
13 July – 11 September 2016
Location
144 – 152 Bermondsey Street
London SE1 3TQ

White Cube Bermondsey presented an exhibition of new paintings and sculpture by Raqib Shaw. This exhibition included a series of paintings referencing, in part, Old Masters from the collections of the National Gallery, London, and Prado Museum, Madrid, as well as three new bronze sculptures that recall the style of the Renaissance Mannerist period.
Born in Calcutta, Shaw was raised in Kashmir but came to London in 1998, where he continues to live and work. His vision is transgressive, explored through highly personal, opulent and fantastical imagery, reflecting a cultural hybridity that combines iconography from both East and West. Drawing on a wide range of sources including art history, mythology, poetry, theatre, religion, science and natural history, his paintings are highly detailed, executed with enamel paint meticulously applied with porcupine quills onto smooth birch wood panels.

In the new series of paintings, the most autobiographical to date, Shaw borrows compositions from 15th, 16th and 17th century Old Master paintings, including works by Girolamo Mocetto, Ludovico Mazzolino, Antonello da Messina, Carlo Crivelli, Marcello Venusti, Jan Gossaert and Hendrick van Steenwyck the Younger. Rendering their classical architecture with exacting detail, Shaw transforms the religious scenes of the originals by bringing in elements of his Peckham studio, the landscape of his childhood home in Kashmir, Hindu iconography and Japanese architecture. He also interlinks the series by including miniature versions of other works in the exhibition, depicted 'in progress'.
Shaw himself appears throughout these works in different guises; as the joker, a mime artist, and even a ghoul lying in his own coffin. In Self-portrait in the Sculpture Studio at Peckham (After Mocetto) II (2015−16), Shaw peers around a column to the right of the composition, at the centre of his own universe. Behind him, two wall panels show colourful underwater scenes, appropriated from one of his earlier series of paintings titled The Garden of Earthly Delights (2003/2004). In the distance, glimpsed through the architecture, is a gently receding landscape of waterfalls, rocks, irises and majestic pine trees, as if it had been collaged directly from a Japanese landscape painting.
A similar meeting of elements occurs in The Purification of the Temple (After Venusti) II (2014−15), where Shaw borrows the Baroque architectural setting of Marcello Venusti's work, to create a technicolour stage for a dance by the Hindu God Shiva. Complete with skeletons swinging on ropes suspended from the ceiling and cavorting figures in Indian dress, the scene is strewn with gold coins, showered from the balcony above by mischievous characters peering down. By combining elements in this way, Shaw disrupts the harmony of the picture plane and sets up dualities: that of heaven and hell, eroticism and restraint, transgression and submission, reality and fantasy.
Likewise, Shaw's new bronze sculptures, based on Mannerist sculpture, which itself used iconography from Classical Antiquity, respond to the freedom, movement and exuberance of these forms and the conflation of internal and external modes of being. Shaw's sculptures are made using the lost wax casting technique, and use a patina which is exactly the same as that used by Renaissance sculptors. Small-scale and exhibited on plinths, they depict hybrids such as centaurs, in stylised, compositions, where figures are often erotically intertwined. As with the paintings, the narrative drama is multifaceted.