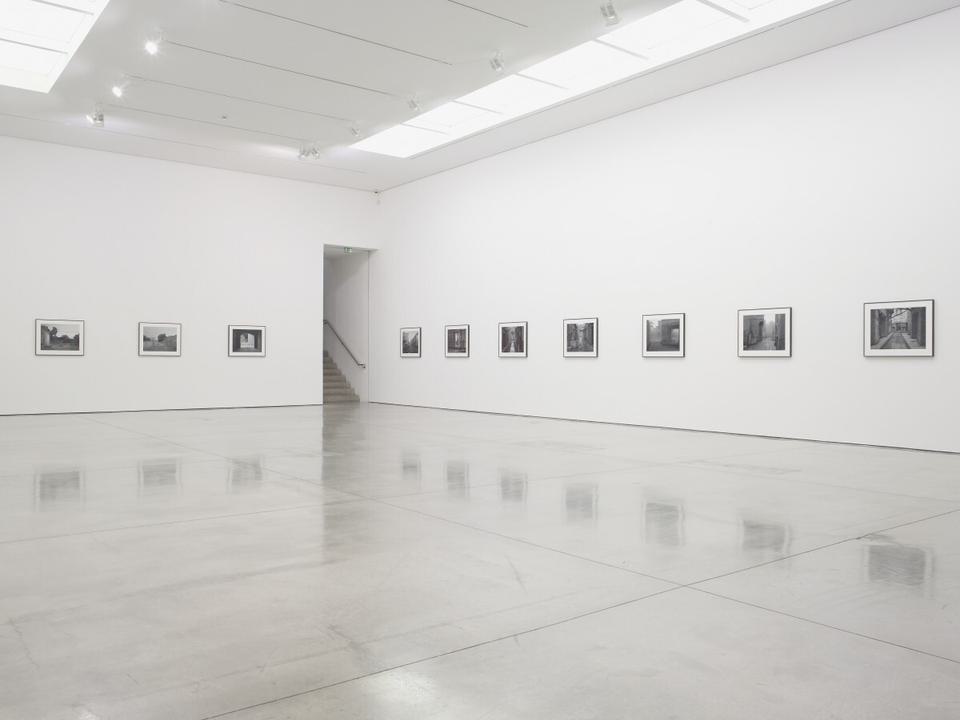 24 November 2010 – 8 January 2011
Dates
24 November 2010 – 8 January 2011
Location
25 – 26 Mason's Yard
London SW1Y 6BU

White Cube Mason's Yard presented the exhibition 'Sanctuary', a series of 41 black-and-white photographs by Gregory Crewdson.

Known for capturing the alienation and anxiety of small-town America in series such as 'Beneath the Roses' (2003-07), Crewdson photographed 'Sanctuary' at the Cinecittà studios, Rome, producing a body of work outside of the US for the first time.
When Crewdson first visited Cinecittà he found the labyrinthine lots of the legendary studio devoid of human presence, in a state suspended between grandeur and ruin. The site was haunted by the architectural ghosts of ancient Rome, historical New York, and medieval Italy, among other settings and places, all remnants of past productions. Abandoned by the actors and crews that brought the sets to life, each building and street was eerily quiet, a network of ephemeral façades and dead ends that was so evocative it scarcely needed the artist's intervention. 'In these pictures', comments Crewdson, 'I draw upon the inherent quietness and uncanny aspects of the empty sets.'

Crewdson has in previous series used locations and characters in order to create pictures charged with narrative portent, but for 'Sanctuary' Crewdson decided to make the film sets themselves the subject of the photographs. Despite this change of direction, the artist's vision persists: 'As with much of my work', suggests Crewdson, 'I looked at the blurred lines between reality and fiction, nature and artifice, and beauty and decay.' A photograph might depict what appears to be the corner of a Roman structure, topped by the statue of a proud emperor, and yet a network of scaffolding supports this supposedly timeless ruin. In another picture, a series of large wooden buildings stretches across the horizon like the background to a cartoon western, yet they are all marked by gaping holes, as if an entire townscape were about to collapse. Nature seems to overcome the sets in some pictures, with trees, vines and weeds engulfing the majestic vistas and brittle buildings. The cool monochrome and intimate scale of the prints lend the pictures an ageless and elegiac intensity, and yet in these empty studio lots Crewdson has found a poignant symbol of our persistent longing for permanence.
A fully illustrated catalogue of the complete series, with an essay by The New York Times film critic A O Scott, was published by Abrams to coincide with the exhibition.
Gregory Crewdson was born in 1962 and he lives and works in New York. Museum and public collections include the Whitney Museum of American Art, New York, the San Francisco Museum of Modern Art, the Fotomuseum Winterthur, Switzerland, and the V&A Museum, London. A retrospective of his work opened at Kunstverein Hannover, Germany (2005) and travelled to institutions including Fotomuseum Winterthur, Switzerland and the Hasselblad Center, Sweden. A travelling exhibition of his work will open at the Kulturhuset Museum, Stockholm, in February 2011, followed by Sorte Diamant, Copenhagen and c/o Berlin, Berlin.