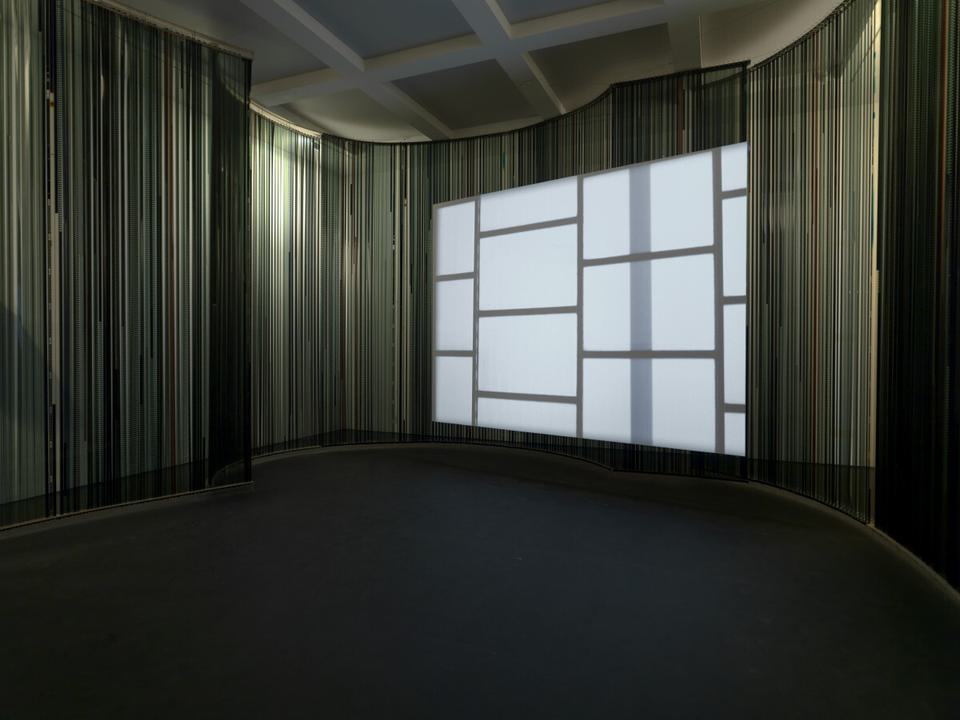 Runa Islam: featuring Tobias Putrih
5 September – 4 October 2008
Dates
5 September – 4 October 2008
For this exhibition at White Cube Hoxton Square, Runa Islam presented a 35mm film and two 16mm films in a sculptural installation by Tobias Putrih. This was the second in a series of collaborations between the two artists that was initiated by Islam for her exhibition at Galleria Civica, Modena in January 2008.
In the ground-floor gallery, Islam staged 'Empty the pond to get the fish' (2008), a 35mm film installation that is part of an ongoing series of works that attempt to 'write' with the camera. Both this film and her earlier work 'C I N E M A T O G R A P H Y' (2007) use motion control camera equipment as a way of disrupting the aesthetic and narrative function of cinematography to question what kind of image making can happen when the chief mechanisms of aesthetic decision are disabled. The title 'Empty the pond to get the fish' is a phrase taken from Robert Bresson's seminal text Notes on Cinematography, and the camera spells out this phrase in its exact typographical image as it appears in the book against the back drop of the empty museum space, a building originally constructed for the 1958 World Fair in Brussels and then relocated to Vienna. The camera changes angle with each letter of its typeset trajectory, and with each word it changes scene. Through these seemingly random and jarring movements, the building is visually dissected and the architecture slowly revealed. The montage of elements - from translucent sectioned windows which resemble the sprockets on a filmstrip, to the empty cinema space with its luminescent white screen and a series of artworks being prepared for installation - form a matrix of visual representation that highlight the relationship between, film, architecture and art.

Tobias Putrih's work is based on several interconnecting ideas and practices; in particular, he is interested in architecture, design and science, and how these subjects relate to social systems and the practices of collaboration. Putrih's work often consists of structures that use simple materials such as cardboard, paper, scotch tape and scaffolding, and he frequently employs fractured and imploded forms, as well as changes in floor levels and illumination to create narrative and drama. Putrih has designed and built several cinema spaces in the past, most notably for the Slovenian Pavilion at the Venice Biennale in 2007. His interest in cinemas is informed by an understanding of their role as both cultural and social space, but Putrih's own cinemas destroy the notion of the black box and create spaces where, as he says, 'the body comes into direct contact with its surroundings and these surroundings are absorbed into the projected fiction'. For this exhibition, Putrih built a highly personalised cinematic space in response to 'Empty the pond to get the fish', consisting of curved walls made from staggered strips of film. The entrance to the gallery and to the seating area for watching the film are highly mediated, making the act of viewing and our physical trajectory through the space central to the experience of the installation.
In the foyer, Islam included her most recent film 'Assault' (2008), a virtually static film portrait of a man, intensely subjected to a quick succession of blinding lights. Islam manipulates the powerful effect of light and shadow taken from the CMYK (film) and RGB (video) range of colours as a prism through which new dramatic characterisations can occur. 'The Restless Subject' (2008), exhibited upstairs, is a 16mm film installation where the projector is set face to face with the screen, and with the beginnings of film's own creation. For this work, Islam found and filmed a19th century thaumotrope, a device that was used to create the first motion pictures by spinning a card with an image on either side, until the two images seem to merge. This transformation of two images into a new, merged image is an effect of the retina - called the 'phi phenomena' or 'flicker fusion' - and is a technique that Islam had employed in her earlier film 'Stare Out (Blink)' (1998).
Runa Islam was born in 1970 in Dhaka, Bangladesh and lives and works in London. She has had numerous international exhibitions. Solo shows include MUMOK Museum Moderner Kunst Ludwig, Vienna (2008), Galleria Civica, Modena (2008), Bergen Konsthall, Bergen (2007), Oslo Museum of Art, Oslo (2007), Serpentine Gallery, London (2006), Hammer Museum, Los Angeles (2005), Dunkers Kulturhus, Helsingborg (2005), Camden Arts Centre, London (2005) and MART, Trento (2005). She is currently nominated for The Turner Prize. In late 2008 she will have a solo exhibition at Kunsthaus Zurich which will tour to Museum Folkwang, Essen.
Tobias Putrih was born in Kranj, Slovenia in 1972 and lives and works in New York. He has had numerous international exhibitions including Psycho Buildings, Hayward Gallery, London (2008) and Forms of Resistance, Van Abbemuseum, Eindhoven (2007). Solo exhibitions include Neuberger Museum of Art, Purchase, New York (2007) and the Slovenian Pavilion, 52nd Venice Biennale, (2007). In 2008/9 he will have a solo exhibition at Museum Boijmans van Beuningen, Rotterdam and at Baltic, Gateshead.
Empty the pond to get the fish. was commissioned and produced by MUMOK Museum Moderner Kunst Ludwig, Vienna.