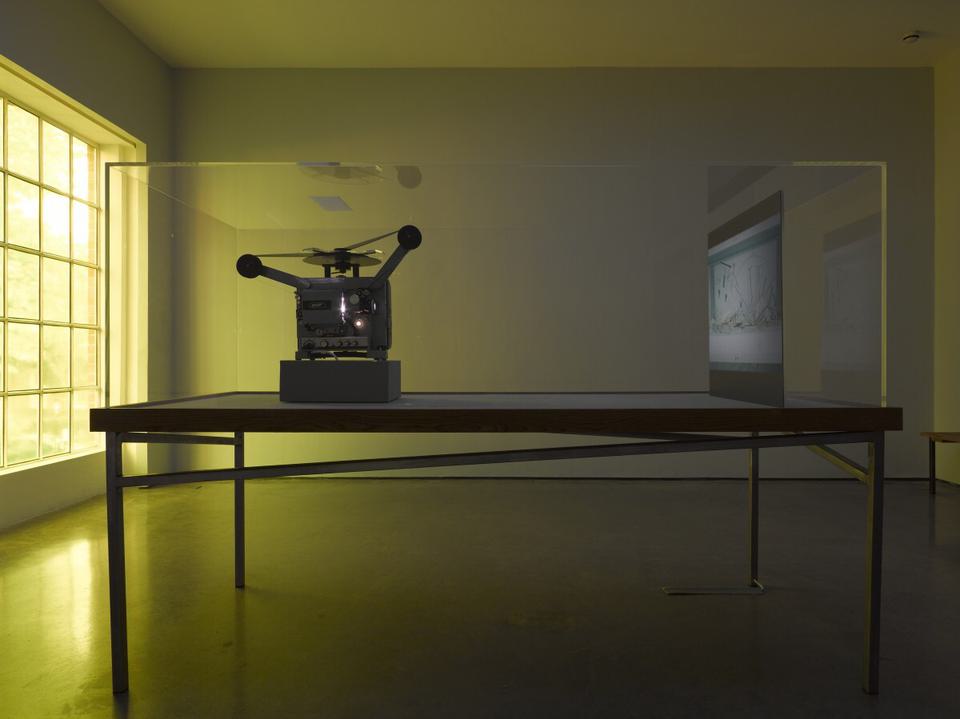 21 September – 3 November 2012
Dates
21 September – 3 November 2012
In her recent practice, the artist has explored the syntax, materiality and histories of visual representation, often in relation to the medium of film. Adopting diverse sculptural and cinematic approaches in the presentation of her work, she disrupts, alters and enhances visual and architectural space, shifting perception and drawing attention to the act of seeing.
For her exhibition at White Cube Hoxton Square, the artist made two new films, 'Pièce Unique' and 'Meroë'. Shot in 16mm and 35mm and using a visual language so reduced it is at times almost abstracted, the works use the early cinematographic technique of multiple exposure as a framework to investigate synchronicity and divergence, originality and reproduction and the deferment of artistic control. Alongside these two new works, 'Bastard Amber', an architectural intervention into the physical site of the building, the gallery at 48 Hoxton Square, emphasised the interrelationships between artwork, viewing subject and site.

Also included in the exhibition was the 16mm film 'Cabinet of Prototypes' (2009/2010). Made from research Islam conducted as an artist fellow at the Smithsonian Institution's Freer and Arthur M. Sackler Galleries, it shows the stands, hooks, plinths and labels used to present artefacts in the collection. The artist brings these support structures that would normally remain concealed back into view, erasing their functionality and restaging them as sculptural objects in their own right. Islam also includes armatures intended for the presentation of museum objects as components of the exhibition, retrieving these structures from invisibility and holding them up for display.Often folding the machinery of film into the works and including numerous self-reflexive allusions, the exhibition presented a layered meditation on the mechanisms of viewing and perception and the narratives of art making and display.

Runa Islam was born in 1970 in Dhaka, Bangladesh. She lives and works in London. She has held solo exhibitions at MoMA, New York (2011), Site Santa Fe, New Mexico (2011), Musée d'art Contemporain de Montréal (2010), Museum of Contemporary Art, Sydney (2010), Kunsthaus Zürich and Museum Folkwang, Essen (both 2008), MUMOK, Vienna (2008), UCLA Hammer Museum, Los Angeles (2005)and MIT List Visual Arts Centre, Cambridge, Massachussetts (2003). Her work has been included in group exhibitions at the Stedeljik Museum, Amsterdam (2011), the '29th São Paulo Biennial' (2010), MACBA, Barcelona (2009), the '6th Asia Pacific Triennale', Queensland Art Museum, Brisbane (2009), the Hirshhorn Museum and Sculpture Garden, Washington (2008), the 'Turner Prize', Tate Britain, London (2008), 'Manifesta 7', Trentino, Italy (2008), '51st International Venice Biennale' (2005) and the '8th International Istanbul Biennial' (2003).