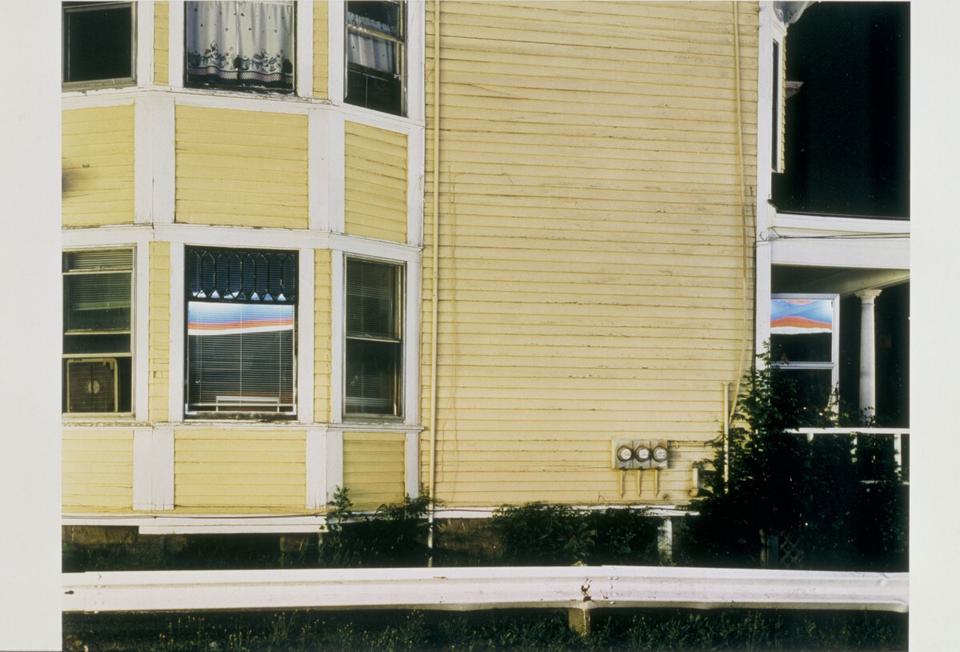 Dates
25 April – 26 May 2001
American artist Tim Davis makes photographs that examine the increasing vivid presence of commercial interests in small-town America. Taken at night using only the available light from nearby street lamps and parking lots, these images of suburban family houses are entirely devoid of inhabitants. Washed in bright, artificial light, the photographs have a forlorn emptiness which is, at the same time, pregnant with narrative possibility.
On closer inspection, these pictures of two-storey middle-class homes reveal the reflected glow of commercial neon signs in the windows of the houses. Reflections of the familiar yellow McDonalds logo or the Shell petrol sign appear like disembodied symbols of international, corporate power. And yet, as Davis has written, 'There is little I have photographed that is as uncomplicatedly beautiful as the way these signs glint off plate- and plexiglass. They seem more like the illuminated capitals of medieval manuscripts than the dread leavings of a base and omnivorous corporate culture.' Since these reflections were only visible from a very specific vantage point, many of the choices traditionally available to the landscape photographer were closed to Davis, making the photographs a head-on document of what the artist describes as the 'terrible truth and the uncomfortable beauty of the glowing logo on the degraded home.'

Davis is interested in society's architectural and ideological structures. Having documented in minute detail the workings of a publishing house and a hospital, the artist then decided to photograph the interiors of America's colossal retail stores, in an attempt to uncover the ways people find meaning in architecture that is not designed to be noticed. Yet, finding himself frequently escorted off these commercial premises, Davis shifted his focus from the structures of the stores themselves to the physical limits of their presence, exploring the way in which they illuminate, alter, claim, and degrade their surroundings.