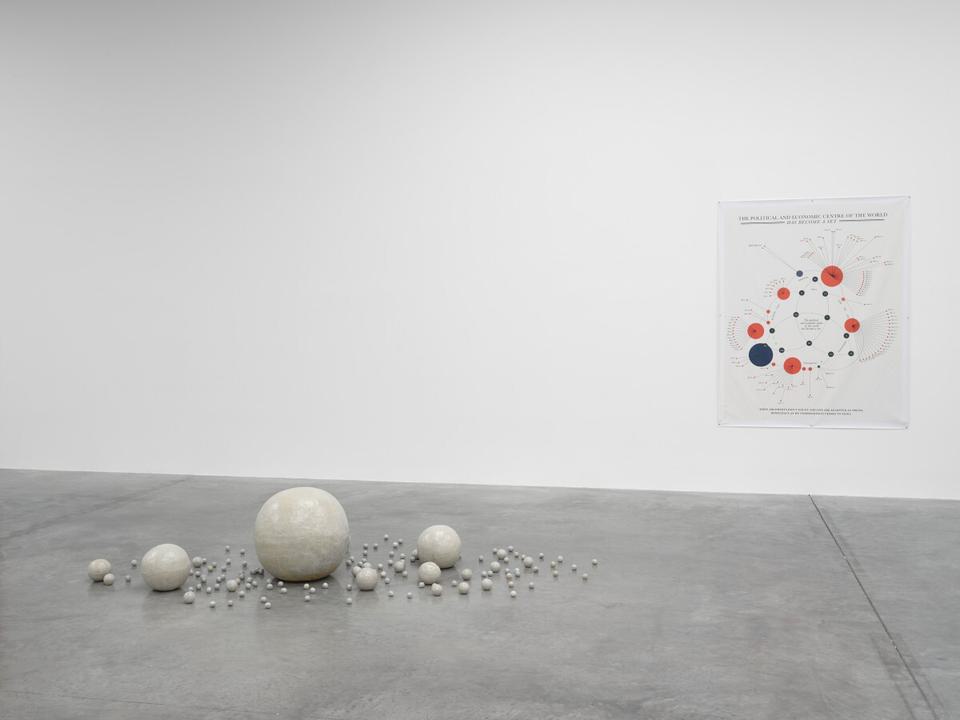 27 September – 12 November 2017
Dates
27 September – 12 November 2017
Location
144 – 152 Bermondsey Street
London SE1 3TQ

White Cube presented 'Play Time', a major exhibition of new works by Damián Ortega at Bermondsey. Focusing on the themes of chance and game play, systems of knowledge – such as cosmology and genealogy – and individual expression, the exhibition includes large-scale installation, sculpture and two-dimensional works.
Ortega's playful, interrogating practice incorporates many different forms and media, harnessing the potential of material and the dynamism and energy residing in inanimate things. He has said about his sculpture that it can be understood as 'the flow of energy' and his work, which often presents the explosion or implosion of forms, celebrates its own unfinished, raw quality; embracing the accidents and processes of its own production.

In this exhibition, which takes its title from French director Jacques Tati's 1967 film comedy, Ortega explores context as content and how, in an age of digitised information, it is still the irregularities and imperfections that can carry meaning. Tracing systems of economic and cultural exchange, he returns to several of his signature materials, such as concrete and clay, to investigate the possibilities and limits within them. In Encyclopedic Geodes (2017), spherical and elliptical forms are created out of layers of paper taken from a 1975 edition of Encyclopaedia Britannica. Appearing like geological specimens, they have been cut in half to reveal an accumulative and compressed interior construction, exposing the history of each one's own particular formation. Forming an archaeological residue of printed matter these rock-like objects offer a visual echo of time; 'a cloister of knowledge, a code encapsulated in strata.' In several other sculptures, Ortega uses clay from the region of Zacatecas in Mexico, in various material states, to create modular forms arranged in patterns and structures. Since both the objects and the glaze are hand-made, the sculptures are sensorial and tactile, embracing the unpredictable behaviour of this capricious, natural material. In Percentual Constellation (2017), white glazed clay balls in different sizes are arranged on the floor to extend outwards like a solar system, while in Variable Schema (2017) Ortega has cut different sized balls in half and then re-joined them, creating uneven spheres that seem like aberrations or 'rogue' elements within a formal structure.
The idea of genetics, reproduction and economic exchange is explored in a series of abstract sculptures that use sections of polystyrene packaging – with their preformed, industrially-cut indents – to mould slabs of concrete. Presented in a line on the floor, these works visually extrapolate the connection between action and matter, creating a historical index of their own creation as well as a vivid materialisation of the 'void' where context becomes content in a literal, material way.
The idea of time visualised as material structure is explored in Coliseum: Diagram of Time (2017), which takes the form of a coliseum, in reduced scale, using subtly coloured curved concrete blocks. Since each block represents a 5 minute segment within the 90 minutes of a football game, the installation creates a sculptural index or diagram of time. Coloured in pink, blue, grey and black, the blocks are arranged in concentric circles, ascending in scale and tonal order but with the occasional, noticeable change. Surprisingly, rather than disrupt the overall order, these instances of difference seem only to reassert it. In Cutting edge, History of time and Deconstructing time (all 2017) the interior elements of a wristwatch are enlarged, or separated, or stacked into spiral-shaped towers. With their discs of carbon steel, time here is broken down into architectonic form; strata or layers that represent perceptual progression.
Set against this group of sculptures are a series of two-dimensional works that present a 'visual essay', through the combination of text and image. A subversion of infographics, they employ found images with altered texts, creating what Ortega terms 'emotional geometry'. The aerial, expanded image of a film camera, taken from a user manual, for example, has been re-labelled so that it offers philosophical musings rather than the names of parts, and the labelling system of a gun or of the planets in our cosmos have been replaced with comments about the demise of democratic order in our era of 'post-truth'. Suggesting how excessive information and a faith in technological progress affects our belief, as well as our political and economic reality, they echo the exploration of individual expression and the concept of fragmentation that underscores all of Ortega's work. 'It is better to consider that the fragment has a meaning by itself, a singular instinct, thus significance cannot be understood from a unitary logic,' he has said. 'The logic of fragmentation is one of chance, accident, eventuality, contingency, ephemerality and incompleteness.'