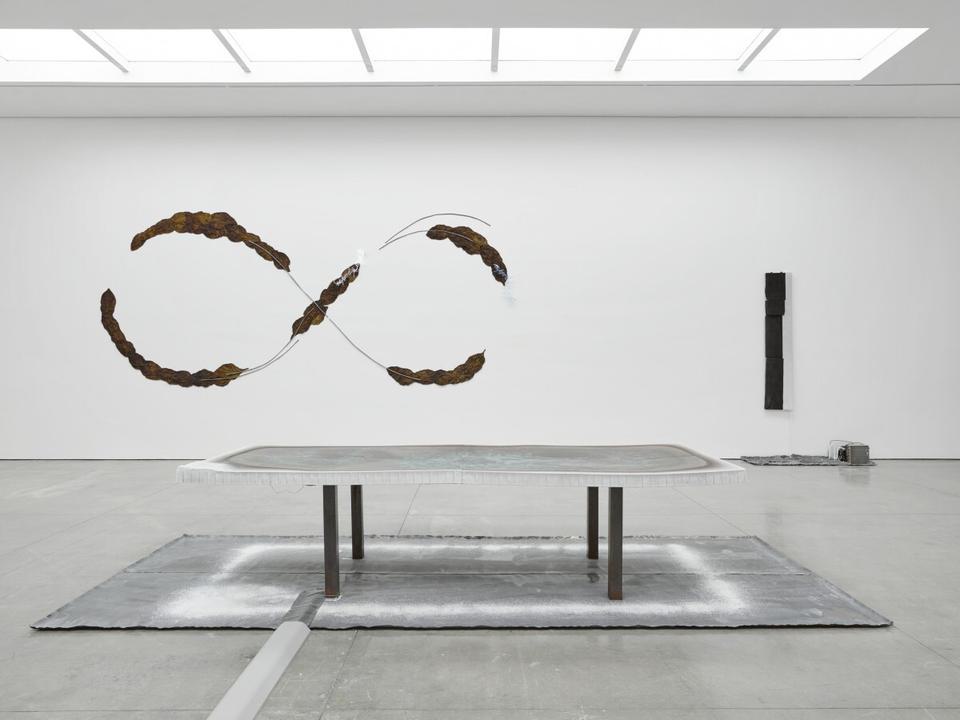 Dates
27 March – 12 May 2018
Location
25 – 26 Mason's Yard
London SW1Y 6BU

White Cube presented an exhibition of works by Pier Paolo Calzolari. One of the most respected artists involved with Arte Povera, this was the first major UK exhibition of his sculpture. Featuring work drawn from across the artist's extensive career, it includes several notable installations from the 1970s and '80s.
Trained as a painter, Calzolari started exhibiting widely from 1968 onwards, initially creating performances and works including animals and people, then subsequently combining and staging different materials to evoke direct physical and emotional responses in the viewer. Although his 1969 text 'La Casa Ideale' and the related series of works are considered seminal Arte Povera statements, in 1972 Calzolari rejected his association with the movement and publicly declared it to be over.

Calzolari's practice focuses on the activation of space, investigating notions of the sublime through transformative processes. Balancing materials in different states, such as lead and ice or fire and neon in installations or tableaux vivants, his work engages in a kind of alchemy, linking it with earlier traditions in art, in particular Renaissance painting and the work of Italian Valori Plastici and Pittura Metafisica artists.

Born in Bologna, Calzolari grew up in Venice where the city's striking light and reflections led him to explore luminosity through his now signature material, frost. Created using small refrigeration units and copper tubing, this sensory material with its tactile, powdery surface is used in his works to convey 'pure' whiteness, something that cannot be found in manufactured pigment but which exists in nature alone. Furthermore, Calzolari often combines frost with warm elements in transfiguring unusual combinations to suggest notions of life and death. The work Combustio (1970) exemplifies these themes, consisting of a mattress pinned flat against the wall with the word 'combustio' written across it in red fluorescent letters, the whole ensemble covered in glittering, white frost.

Both Combustio and the major installation Tolomeo (1989), a large, frosted table with a pool of melted ice on its surface, convey the very essence of time. Calzolari achieves this by using the suspension of materials not to register time's progression but rather to halt and isolate it for the viewer's contemplation. In this way, he is able to encapsulate what he has described as 'the moment of time's crystallisation, the moment when time is suspended, where there is a syncope'.

In other works, Calzolari consistently refers to the paradigms of still life and to the inevitability of disintegration and mortality, using organic and inorganic materials combined in an approach that could be read as pictorial. This is seen in works such as Untitled (Burnt Wood) (1988), where rectangular sections of various charred woods form a monochromatic composition and Untitled (1989), which combines blocks of burnt wood and salt on lead to form a striking black and white abstract arrangement. Organic materials are frequently combined with text, spelt out in brass or neon, such as the seminal work Il mio letto cosí come deve essere (1968) which features a pipe covered with moss, a banana leaf and bronze lettering laid out across the floor. Similarly, Rapsodie inepte (Infinito) (1969) brings together layers of Virginia tobacco leaves with blue and white fluorescent text in a delicate, broken infinity loop that arcs across the wall.

In Calzolari's work references are democratic, and anything can become part of a composite artistic language, where materials are rediscovered and redefined. His sculptures and installations attempt to create 'a democracy of exchange and of language between things. A tentative relation to things that wouldn't be anthropocentric.' As Massimiliano Gioni has written: 'On the one hand, there is the exploration of matter, which is literally mortified, consumed, made to yield, and on the other, the search for a flawed perfection. It is this dialectic which gives his work its distinctive, trembling beauty.'

Pier Paolo Calzolari was born in 1943 in Bologna, Italy, and lives and works in Lisbon, Portugal. He has exhibited internationally including group exhibitions at the Centre Pompidou, Paris (2016); MoMa, New York (2014); Fondazione Prada, Venice (2013); Kunstmuseum, Basel (2012); Peggy Guggenheim Collection, Venice (2011); MAXXI, Rome (2010); Tate Modern, London (2001) and the Solomon R. Guggenheim Museum, New York (1994). His work is represented in numerous international public collections including the MoMa, New York; Solomon R. Guggenheim, New York; Fine Art Museum, Boston; Documenta, Kassel; Stedelijk Museum, Amsterdam; Palazzo Grassi, Pinault Foundation, Venice; Museo Nacional Centro de Arte Reina Sofía, Madrid and the Museum of Contemporary Art, Sydney.

Pier Paolo Calzolari, Combustio, 1970, photo: Lorenzo Palmieri, courtesy of the artist and White Cube.