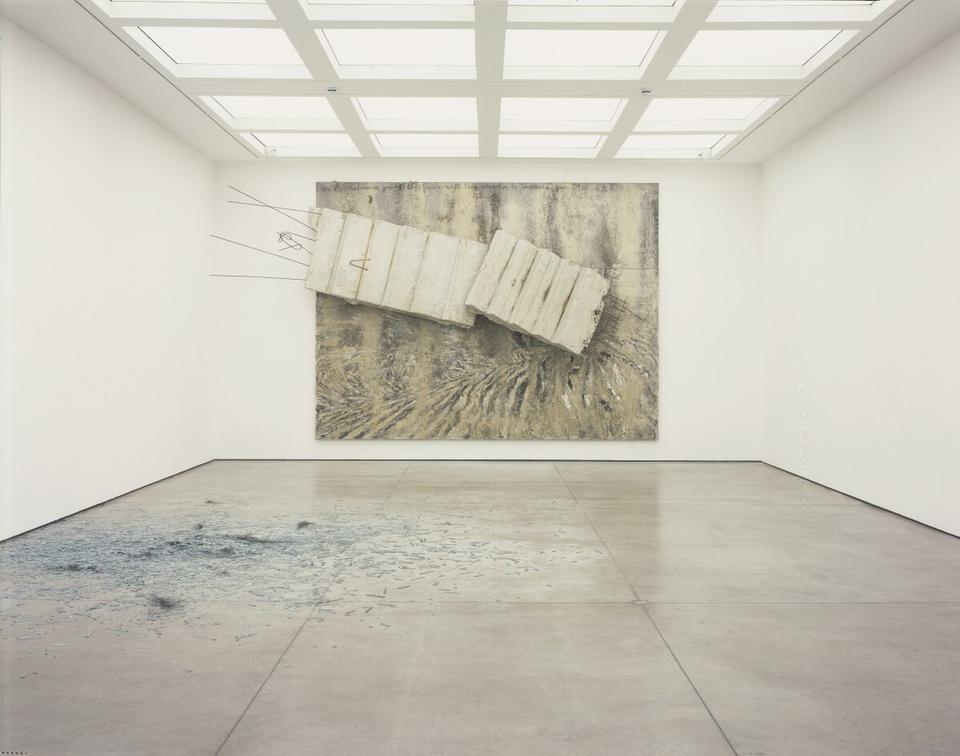 Anselm Kiefer
PART II: 'Von den Verlorenen gerührt, die der Glaube nicht trug, erwachen die Trommeln im Fluss'
3 – 27 August 2005
This exhibition was conceived in two phases, the first phase opening on 30 June 2005 with a complete changeover occurring at the beginning of August 2005.

The focus of Part I was a group of thirty paintings that revisits Kiefer's long fascination with the quixotic work of Russian experimentalist Velimir Khlebnikov, whose analytical systems based on arcane mathematical calculations underscored the vast paradoxes at work in the march of history. Kiefer casts Khlebnikov's ideas in the theatre of the historic sea battle, incorporating actual model ships into the turbid, highly worked surfaces of his paintings. These were housed in a purpose-built pavilion in Hoxton Square that recreates the dimensions and character of one of Kiefer's own ateliers in Barjac, Provence. Simultaneously three huge and complex paintings relating to the Khlebnikov series, as well as other complementary sculptural and graphic works that give insight into the artist's detailed working processes, were shown in White Cube.
Part II opened on 2 August 2005 with the monumental work Von den verlorenen gerührt, die der Glaube nicht trug, erwachen die Trommeln im Fluss installed in the main gallery. Half-painting, half-sculpture, this assemblage incorporates a full-scale, cast concrete staircase fixed against an abstract field. In contrast to its sheer scale, mass and dizzying perspective is a floor piece consisting of hundreds of fragile glass shards inscribed with the astronomical coordinates of as many stars.

Kiefer's elegiac oeuvre is based on a vast system of themes and references relating to the human condition, explored through a highly emotive use of material and medium. In his muscular artistic language, physical materiality and visual complexity are equal to the content itself, which ranges over sources as diverse as Teutonic mythology and history, alchemy, apocalypse, and belief. As corollary to this breadth of content, Kiefer employs an almost bewildering variety of materials including – in addition to the thick oil paint that is the base of all his large-scale works – dirt, lead, models, photographs, woodcuts, sand, straw and all manner of organic material. By adding 'real' materials to the illusionistic painted surface of his gigantic tableaux, he has invented a compelling 'third space' between painting and sculpture.
Few contemporary artists match Kiefer's epic reach; the provocative and paradoxical nature of his work suggests that he embraces the notion of the modern artist who stands resolutely outside society, flaunting its histories, its taboos and its myths. By assimilating and utilizing the conventions and traditions of history painting, he goes beyond them, mingling viewpoints and presenting contradictory interpretations while emulating the genre's grandiloquence.
Anselm Kiefer was born in 1945 in Donaueschingen. As a young artist in a Germany reeling from the after-shocks of the Second World War, he opted for a thoroughly and obviously indigenous art, of native subjects, values and symbols that contended with the fraught territory of German history and identity. In the late seventies he started to make large, highly worked books that began with photographs staged in his studio, gradually gaining body through the application of lead, paint and other collage elements. These impressive objects indicated the way to the complex, process-oriented works of his mature period. In 1991 Kiefer left Germany, eventually settling in the south of France. In the same year he made an exhibition of paintings stacked randomly on top of each other as if discarded. This led to a hiatus in his art production that lasted more than three years. After this he began making new work with a wholly new subject matter, themes and references, dealing with central spiritual and philosophical concerns of our time. Over the past four decades, Kiefer has exhibited his work extensively throughout the world and is included in the world's most prestigious public and private collections.
A fully illustrated catalogue, with essays by historian and poet Rod Mengham and critic and curator Kevin Power accompanied the exhibition.