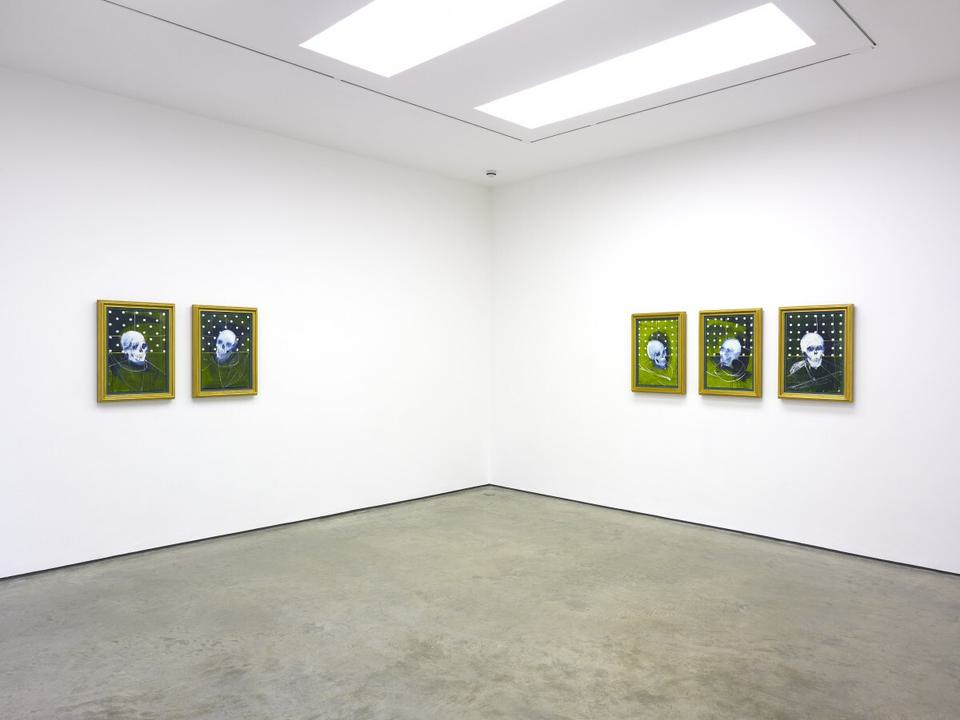 25 November 2009 – 30 January 2010
Dates
25 November 2009 – 30 January 2010
Location
25 – 26 Mason's Yard
London SW1Y 6BU

White Cube presented nineteen new paintings by Damien Hirst in an exhibition staged across both White Cube Mason's Yard and White Cube Hoxton Square.

At White Cube Hoxton Square, Hirst presented a group of paintings, which included three triptychs from 2007-09, each depicting crows shot in mid-flight against blue skies, with outspread wings and violent splatters of red paint across their bodies. In the four triptychs on show in the lower ground floor at White Cube Mason's Yard, these crows reappear, as omens of bad news. They often share the space with ghost-like figures, skeletal forms and objects, including chairs, lemons, knives, animal skulls, wine glasses or a scorpion.
Rudi Fuchs begins his essay with the following reading of these paintings: 'When I try to pinpoint what the visual mood is in Hirst's new images, I am constantly reminded of Beckett – not of any one story in particular, though subject matter is important, but of the austere dryness of the language. Sentences are interrupted, lines are broken, observations are fragmented in order to direct us slowly towards a clearer perception of the real.'

Damien Hirst was born in 1965 in Bristol, UK. He lives and works in London and Devon. He has participated in numerous group exhibitions including 'Into Me / Out of Me', P.S.1 Contemporary Art Center, New York (2006), 'In-A-Gadda-Da-Vida', Tate Britain (2004), the 50th Venice Biennale (2003) and 'Century City', Tate Modern (2001). Solo exhibitions include 'No Love Lost', The Wallace Collection, London (2009), 'Requiem', Pinchuk Art Centre, Kiev (2009), 'For the Love of God', Rijksmuseum, Amsterdam (2008), Astrup Fearnley Museet fur Moderne Kunst, Oslo (2005), Museum of Fine Arts, Boston (2005) and Archaeological Museum, Naples (2004). He received the DAAD fellowship in Berlin in 1994 and the Turner Prize in 1995. An exhibition of the artist's private collection, 'Murderme', was held at Serpentine Gallery, London in 2006.
A fully illustrated catalogue, with an essay by Rudi Fuchs and an interview with the artist by the late Gordon Burn accompanied the exhibition.