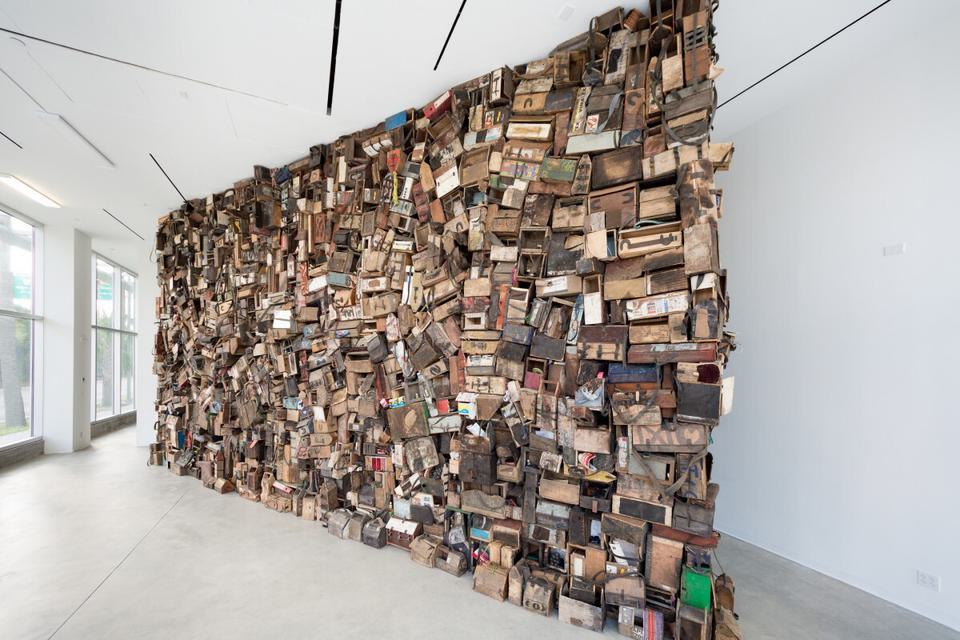 Dates
5 – 10 December 2017
White Cube presented 'Non-Orientable Nkansa', an off-site project by Ibrahim Mahama, organised to coincide with Art Basel Miami Beach.
One of the most exciting artists to emerge from Ghana in recent years, Mahama uses the transformation of materials to explore themes of commodity, migration, globalisation and economic exchange. Often made in collaboration with others, his large-scale installations employ materials gathered from urban environments, such as remnants of wood, or jute sacks which are stitched together and draped over architectural structures.
For Non-Orientable Nkansa (2017), Mahama engaged collaborators to produce hundreds of 'shoemaker boxes'. These small wooden objects are made from structural materials found in the city and used to contain tools for polishing and repairing shoes. Bearing the marks of the trade of 'shoeshine boys', the boxes also function as an improvised drum, and are pounded to solicit business.
Mahama and his collaborators obtained the items through a process of negotiation and exchange. Such transactions form a critical feature of the artist's practice, as does the particular site of the work's production. In this case, a redundant former state-run factory lends added resonance, since it is in the political exigencies of space and the evolution of materials from one context to another that the work's intention resides. Gathered together in a single, monumental unit, the containers are crammed with other re-purposed items such as heels, hammers and needles, all of which are part of Mahama's ongoing inquiry into the life of materials and their dynamic potential.
Accompanying this major work were a series of jute sack paintings, which serve as distillations of the larger architectural interventions. The original sacks, used by the Ghana Cocoa Board to move cocoa beans (one of the country's chief exports), have a multi-functioning existence and are repurposed for the transportation of food and commodities as well as many aspects of domestic daily life. As Mahama has noted, 'you find different points of aesthetics within the surface of the sacks' fabric. I am interested in how crisis and failure are absorbed into this material with a strong reference to global transaction and how capitalist structures work.'
In site-specific interventions, the sacks are stitched and collaged together with the assistance of dozens of collaborators, many of whom are migrants and have travelled from cities such as Accra and Kumasi to find work. Brought together on a vast scale, the visible variations, hues and textures of the bags display traces of each one's individual journey and history. Some bear official writing such as 'Product of Ghana', others more spontaneous words such as locations or names of the collaborators. Mahama consciously refers to the jute works in this exhibition as paintings, noting that 'within the larger interventions are moments of detail [of which these] paintings act as extracts of those details'.