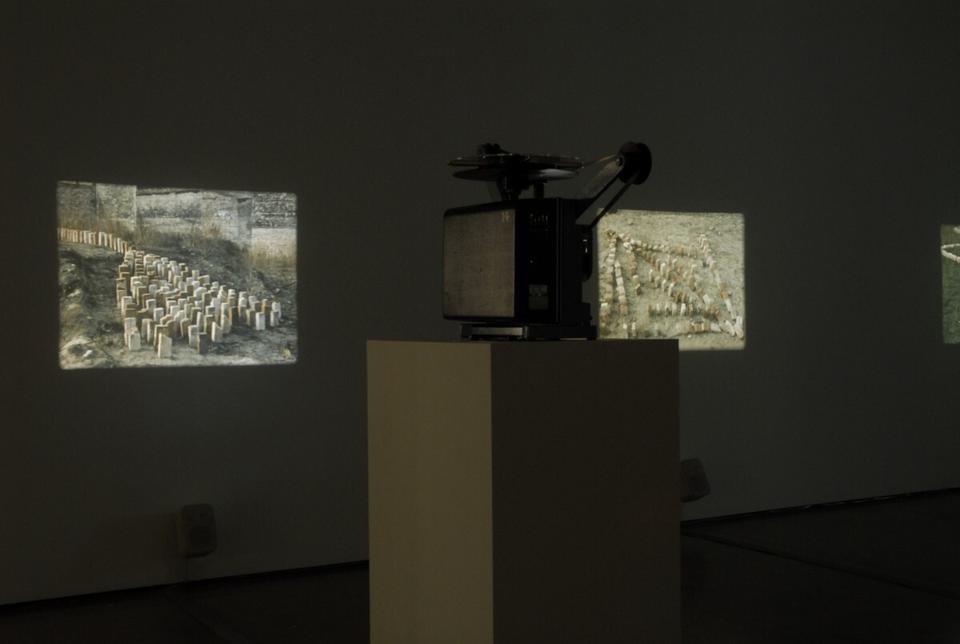 18 July – 8 September 2007
Dates
18 July – 8 September 2007
For Damián Ortega's second exhibition with the gallery, the artist produced a nine-part film installation and a series of floor-to-ceiling sculptures.
Damián Ortega often takes everyday materials - anything from car parts and furniture to light bulbs and toys - and channels them into objects of cultural, social and political import. His work maintains a determinedly hand-made appearance with an appreciation of linguistic nuance, in part a consequence of his early career as a political cartoonist. Ortega is interested in the meaning of materials and the relationship between object and action, as seen in works such as 'Nine Types of Terrain'. Taking the form of nine short 16mm film projections presented in the ground floor gallery, this work references 'The Art of War', the 6th BC treatise by Chinese militarist Sun Tzu. Widely regarded as the definitive text on strategy, it imparts advice ranging from managing troops to seeking advantage across different territories. Ortega's installation focuses on a variety of physical environments mentioned by Sun Tzu, from 'open ground' or 'intractable land' to 'scattering ground' and 'enclosed land'. Using bricks - elements which regularly feature in his work - positioned on the ground in various configurations equivalent to domino toppling, Ortega transforms passive objects into an animate entity by triggering a chain reaction. A consideration of time, both in the objective, linear, chronological sense and its subjective, fluid, overlapping form is also evident in work such as Nine Types of Terrain, with its never-ending sequence of disintegrating brick platoons, each magically restored and reformed by the next instalment. He observes the process as such: 'Build and Demolish. Appear and disappear. Do and undo as much as possible. I want the act to show itself in real scale and time; to observe and discover its own abstract and audible capacity. No manipulation. No emotions. No traps. No tricks. Instead direct and rapid actions.'

'Project for Social Housing' features five four-metre high structures comprising bricks roughly hewn into stalagmite / stalactite formations installed in the first floor gallery. The artist regards these as prototypes for future public accommodation, as well as sculptural forms of eroded columns, worn and battered. Ortega cites Henry Moore's Wall Relief of 1955 as one of the influences for this work, in which the British artist, using bricks for the first time, created a façade with rounded protrusions that imply an unseen force pushing from the inside out. In the case of Project For Social Housing, the edifice has collapsed in on itself, exposing its interior, bone-like structure.
Damián Ortega was born in 1967 in Mexico City and currently lives and works in Berlin. He has exhibited internationally including solo exhibitions at the Museum of Contemporary Art, Los Angeles (2005), Tate Modern, London (2005), Museu da Arte Pampulha, Belo Horizonte, Brazil (2005), Kunsthalle Basel (2004) and Institute of Contemporary Art, Philadelphia (2002). Recent group exhibitions include the São Paulo Biennial (2006), Made in Mexico, Institute of Contemporary Art, Boston (2003) and the 50th Venice Biennale (2003). In September 2007, he will participate in the Preis der Nationalgalerie at the Hamburger Bahnhof, Berlin and will have a solo exhibition at the Ikon Gallery, Birmingham.
A fully illustrated catalogue, with a text by Susan May, accompanied the exhibition.