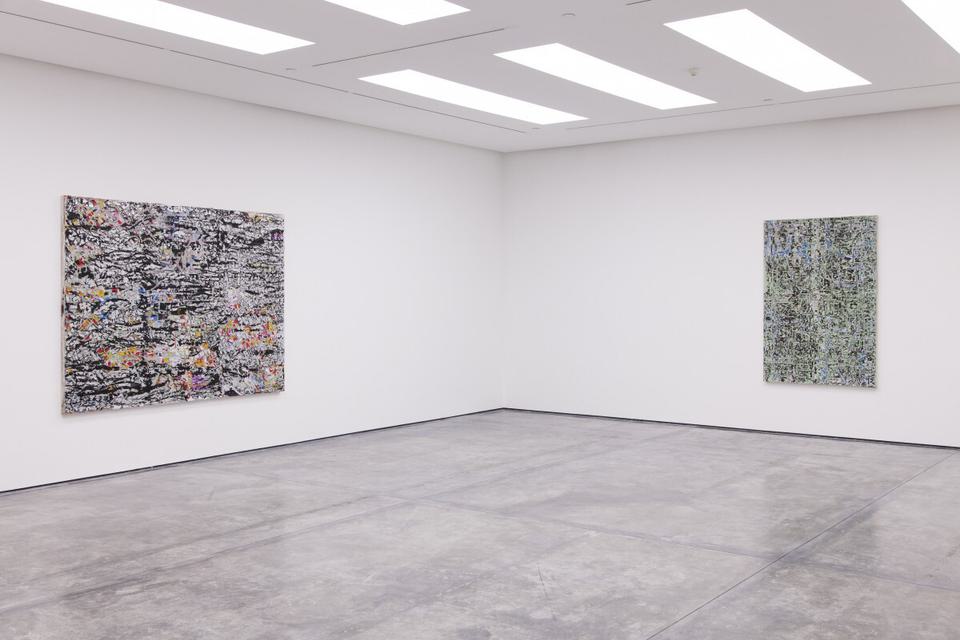 Dates
14 May – 16 August 2014
Location
50 Connaught Road Central
Hong Kong
Known for his multi-layered collaged paintings incorporating materials found in the urban environment, Bradford created a series of new works about Hong Kong that explore structures of power and politics through the lens of urban planning, in the world's most densely populated city.
Using architectural floor plans for public housing in Hong Kong as a starting point, Bradford abstracts the formal compositions of the blueprints. Numerous layers of paper – remnants of billboard posters found in his neighbourhood, along with digitally-printed colour sheets and newsprint – are overlaid and then partially sanded, enabling the preliminary delineated forms to re-emerge. In works such as No More Pencils (2014) and Plan View 74 (2014), gestural passages of colour sweeping across the surface give way to an intricate maze of incisions that return the viewer to the original design. With each small square and rectangle divided, subdivided and partitioned into even smaller cage-like units, Bradford highlights the crisis in the lack of affordable living space in Hong Kong, where nearly half the population resides in cramped government-subsidised housing.

A perspectival elevation of another public housing project provides the basis for Circus (2014). Broad swathes of blue and turquoise paper are sanded and burnished to expose a dynamic framework of yellows and reds, adopting the characteristics of thermal imaging. The living conditions within public housing in Hong Kong remain a combustible political issue, which Bradford deftly fuses with formal abstraction, to create a manifestation he references as 'social abstraction'.
South View (2014) and West View (2014), each a twenty-part work, feature framed sections of abstracted and partitioned housing, stacked one on top of the other to form a grid-like, frontal elevation of individual cubicles. The palette of greens and blues, cut through with convergent lines of vibrant yellow and rust red, present momentary and singular viewpoints, which together build into a fluid and harmonious composition. In Mailing a Country 1-3 (2014) fresco-like fragmentary sections materialise like partial, mnemonic excavations.