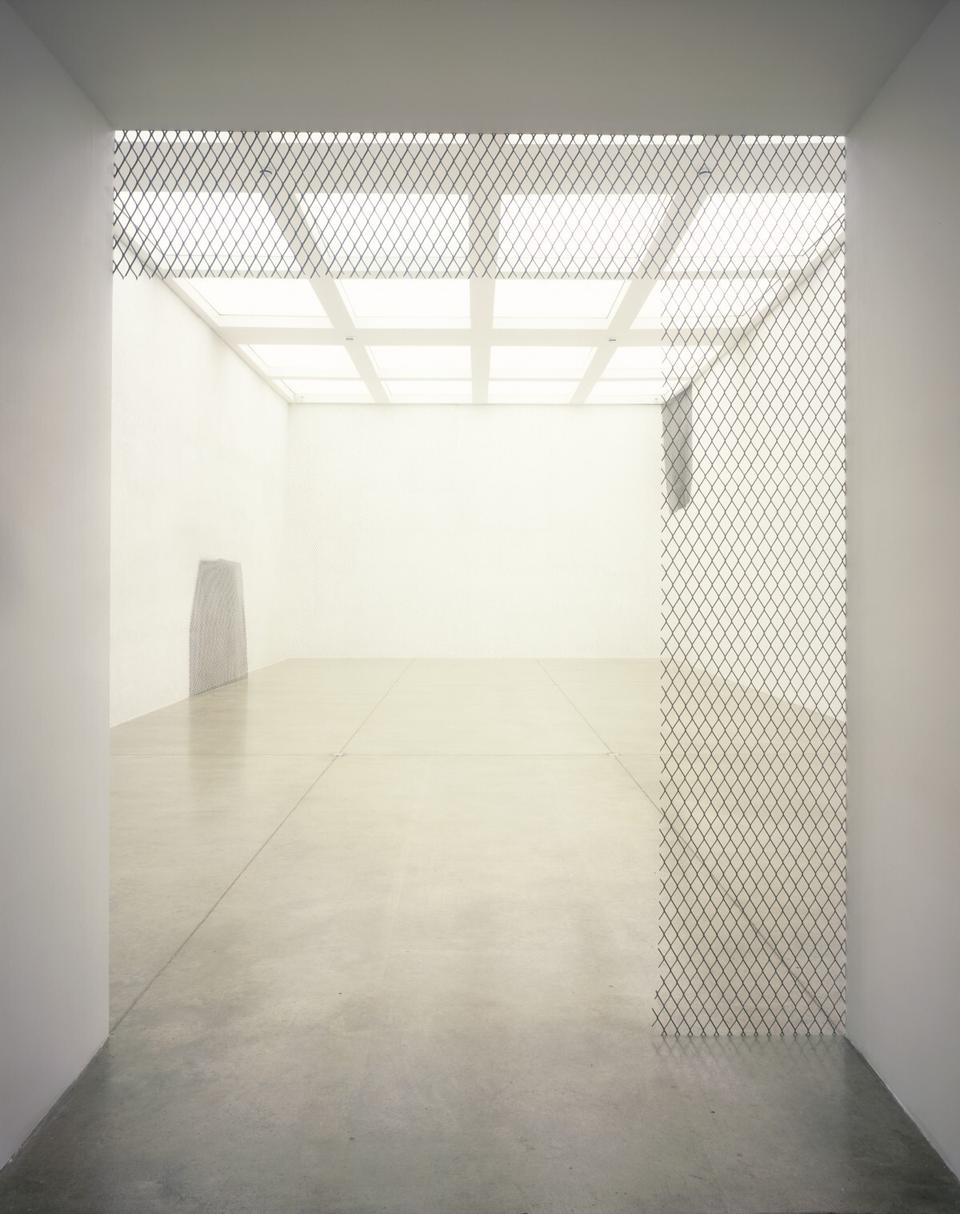 10 September – 17 October 2004
Dates
10 September – 17 October 2004
For her exhibition at White Cube Hoxton Square Colombian artist Doris Salcedo presented Neither, a new large-scale work. The artist made a charged and discrete installation, a complete re-working of the building's interior walls. On closer inspection, it became clear that there were new 'walls' inside the gallery, which had been marked and textured by wire fencing pressed at various levels into their dry surface. The physical effect was one of disturbing ambiguity between something welcoming (the safe haven of four walls) and something imposing, operating in the space between notions of architectural protection and spatial demarcation.
Making spatial coordinates unfamiliar is a function of much of Salcedo's work, an artist who is known for her poetic sculptures that often incorporate domestic wooden furniture such as chairs, chests, wardrobes or beds to make felt a sense of tragedy or profound emotional unease. These works lay evidence to lives that have been erased as if the living, breathing forms that once used the furniture have been submerged within their own support structure. In 2002, Salcedo made an epic work entitled Noviembre 6 y 7, a commemoration of the 17th anniversary of the violent seizing of the supreme court in Bogotá on the 6th and 7th of November 1985. Salcedo sited the work in the new Palace of Justice, where over the course of 48 hours (the duration of the battle) wooden chairs were slowly lowered over the façade of the building. The work functioned as 'an act of memory', a way of inhabiting the space of forgetting.

In 2003, for the 8th Istanbul Biennale, Salcedo made a large-scale installation that consisted of 1,600 wooden chairs stacked together in the space between two buildings on a busy, commercial side street in the centre of the city. The chairs were stacked at varying angles yet they created a mass with a completely flat surface. The space occupied by this installation became both saturated and empty; the flatness of the surface lent emphasis to the details. For Salcedo, the work was a topography of war, motivated by historical events in Turkey.
Salcedo's work could point to a kind of mental archaeology since all of her materials are charged with significance and transfused with the meanings that they have accumulated in everyday life. Neither has a choreographed tension that is experienced slowly, through the viewer's visual appraisal of its rich surface detail.
Salcedo's work is, in part, influenced by her readings of philosophy (in particular, the writings of Emmanuel Levinas) and literature (especially the poetry of Paul Celan), as well as by the 'social' sculpture of Joseph Beuys. Neither also refers in part to an opera by American avant-garde composer Morton Feldman from 1977, which incorporates a libretto written by Samuel Beckett, whose sparse, nihilistic poetry conveys the weight of human existence. On a symbolic level, Neither is paradoxical since it renders its materials reliant on each other while at the same time, wresting them of their function. Devoid of objects, its subject is the gallery space itself, removed and re-created to constitute what Salcedo has described as an 'image of emptiness, a lack and opacity'.