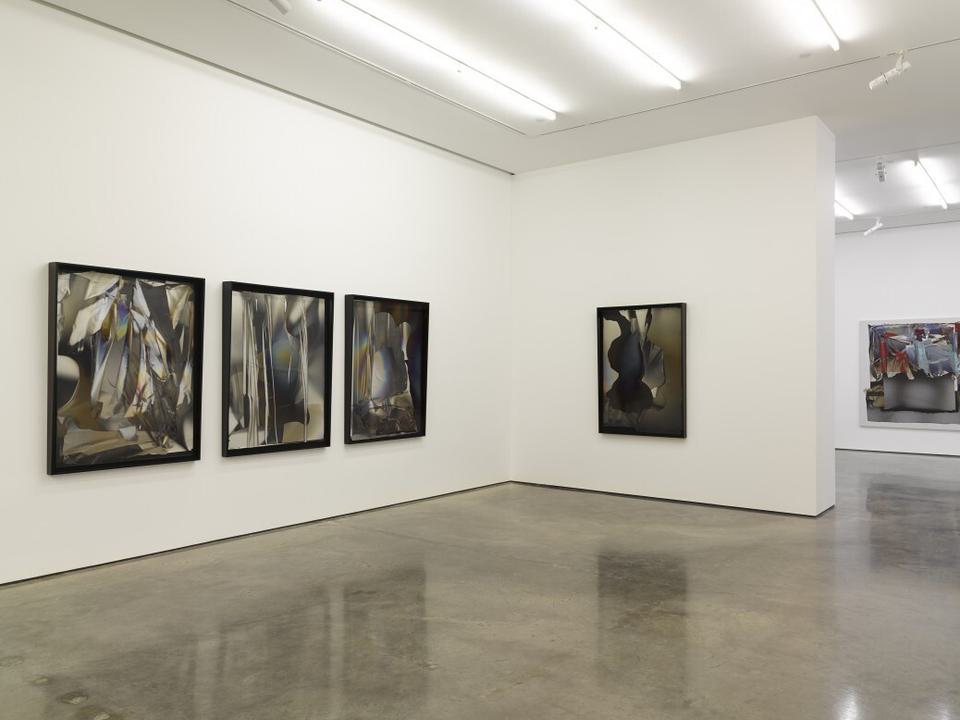 Mirage Collage and the Light Knots
Inside the White Cube
Larry Bell
Mirage Collage and the Light Knots
16 October 2013 – 12 January 2014
Dates
16 October 2013 – 12 January 2014
Location
144 – 152 Bermondsey Street
London SE1 3TQ

'Visibility depends on the action of the visible bodies on light. Either a body absorbs light, or it reflects or refracts it, or does all these things.'
White Cube presented 'Mirage Collage and the Light Knots', an exhibition of new work by Larry Bell, as part of the Inside the White Cube programme. Bell is a leading exponent of the Californian 'Light and Space' and 'Finish Fetish' movements and this exhibition included a series of sculpture, paintings and works on paper that continued his investigations into the transmission of light through different mediums.
Often associated with Minimalism, Bell's work has had a lasting impact on a younger generation of 'Process-based' artists – such as Dan Graham, Ann Veronica Janssens or Jacob Kassay – who similarly draw from a range of industrial techniques and materials to achieve effects of translucence and shifts in perception in their work. In the early 1960s Bell worked for a framing company where he would use the leftover materials from glazing to create collaged constructions on geometric paintings, integrating both mirrored and transparent glass to achieve spatial complexity that eventually evolved, from 1963 onwards, into his signature glass cube sculptures. With a passion for science fiction and the discovery of new production methods, Bell went on to adopt a high-tech metal coating technique for his work, a process that was used in the manufacturing of packaging, plastics or glass. Using a vacuum plating tank, Bell suspends different materials such as paper, film and glass next to a metal filament and a piece of quartz in an airtight chamber. Blasted at high temperatures both elements then sublimate into an even powdering of metallic particles resulting in an evanescent finish with subtle tonal variations that make surfaces seem to almost disappear and volumes seem weightless. Bell's sculptures transform light, allowing it to be reflected, transmitted and absorbed at the same time.

In this exhibition Bell presented a series of works on paper and sculptures that furthered these investigations into perception, form and illusion. By applying the same vacuum coating process to various coloured papers, mylar laminate and films, Bell has produced a collage made up from interwoven coated materials in pure vivid hues. In his works on paper, he adopts a 'Seated Nude' motif by cutting out the curved form in coloured papers and film to suggest a female figure, dissolving alchemically in and out of abstraction. Early on in his career Bell was a keen photographer, using a panoramic camera to shoot the figure in motion, focusing on the distortion inherent in the movement of say a rolling or seated nude. Drawing from this imagery he cuts the curved forms of a figure into pieces of treated Mylar laminate and then manipulates them into what he describes as a 'light knot'. Suspended from the ceiling these mirrored 'knots' teasingly move, their forms evolving magically through the surrounding, refracted light.
In Cube"24-2-92" (1992), Bell continues to play with our perception by printing daguerreotype-like forms and grids onto the six sides of this multi-dimensional sculpture. Equally the 'Mirage Paintings' employ similar tricks on the eye, as they appear to be works on canvas but are actually formulated from many layers of coated materials, acrylic paint and semi-transparent laminates that act as an adhesive on the picture plane. Bell comments: 'I called them 'Mirage Paintings' because the images were created with heat and light'.