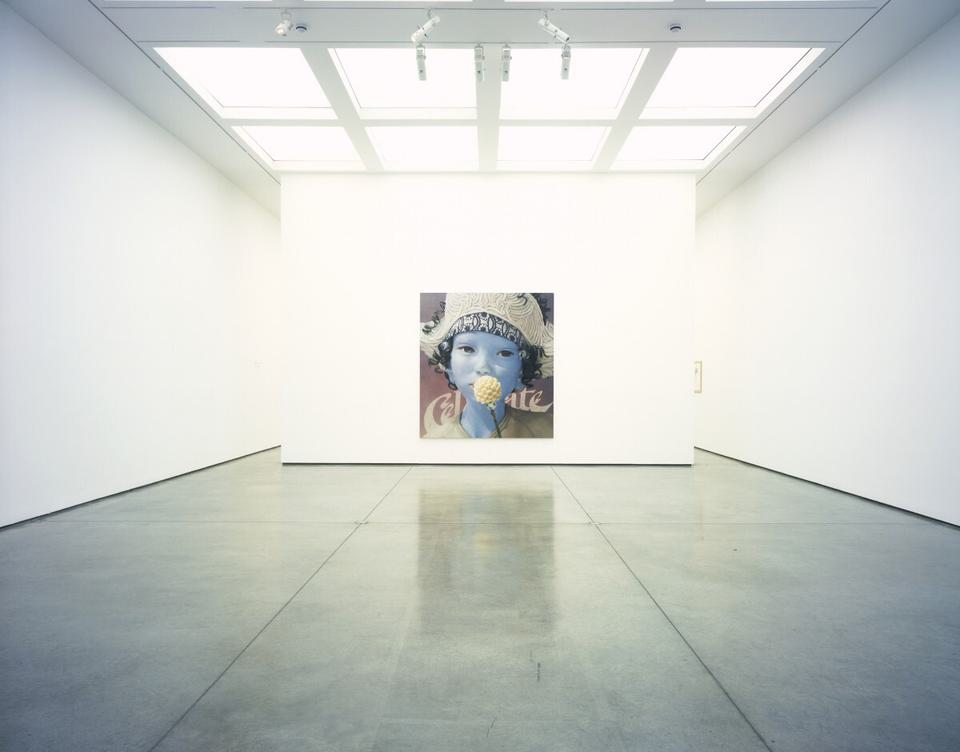 21 January – 26 February 2005
Dates
21 January – 26 February 2005
Japanese artist Mika Kato (born 1975) makes intensely rendered oil paintings of young girl's faces, close-cropped and hallucinatory in quality, they create a portal into a fantastical and psychologically disturbing world.
Kato's technique is interesting since she starts not by sketching but by sculpting a doll out of clay, dressing it and then making a painting from that which is laborious and studied, a kind of evolving alter ego. "I wanted something that people had never seen before" she explains, 'and that is how I came to be attracted to using doll faces as my starting point'.

Kato's portraits are precisely and beautifully painted, almost hyper-real, but this imminent reality is countered by their composition, a looming and close cropped image that makes the girls appear distorted, as if viewed through a bulbous fish eye lens. Huge, gaping eyes become liquid pools of black that appear like holes in the canvas, deflecting as much as absorbing the viewer's gaze. These figures have an overly articulated beauty made up of its idealised components: large eyes, perfectly oval faces, small noses and mouths. Their physique is almost ironic, a kind of mutated idea of what perfect beauty should be, an aberration comprised of perfectly formed parts.

Kato gives very little extraneous detail in her paintings – which present simply a face with the top of the head, and the start of the shoulders only just visible. This lends the work a disembodied quality, which is enhanced by the shaped canvases, the corners of which Kato has rounded-off like an old TV screen. Iconic and perverse they are also highly alluring, their gaze inescapably direct and confrontational. In one work, entitled Canaria (1999), the girl's eyes, bordered by perfectly curled lashes, are misty and punctuated by a circle of light, as if she is gazing at something in the distance and about to cry. In another (Sunrise , 1999), huge brown eyes are marked by a stain of red: a small broken vein on the surface of the eyeball. Occasionally, additional elements such as an animal skull, acting like a memento mori , or scarves and hats are added to create a glimpse of a fictional character that is both partial and alluring. In Constellation (2004), the girl has been dressed in an opulent headdress set with a crystal at either side, and holding a flower placed in front of her mouth that seems made of cloth, soft and slightly out of focus. Her face is tinted a cold blue as if, perhaps, this is a vision of someone already dead. The stylised and particular vision of Kato's work seems to refer to the culture of Japanese Manga with its preoccupation with idealised forms and youthful beauty, but also to Surrealism, in particular, perhaps to the dolls of Hans Bellmer or the fantasies of Dali.

Mika Kato has exhibited internationally including Fondation Cartier, Paris; Des Moines Art Centre, Iowa; Palm Beach ICA, Florida and SMAK, Gent. In 2004 she won the Shinjin Prize for most promising young artist at Roppongi Crossing, Mori Art Museum, Tokyo.

Also on view was a special project by Japanese painter Masako Ando. Born in 1976, this was Ando's first exhibition outside of her native Japan.