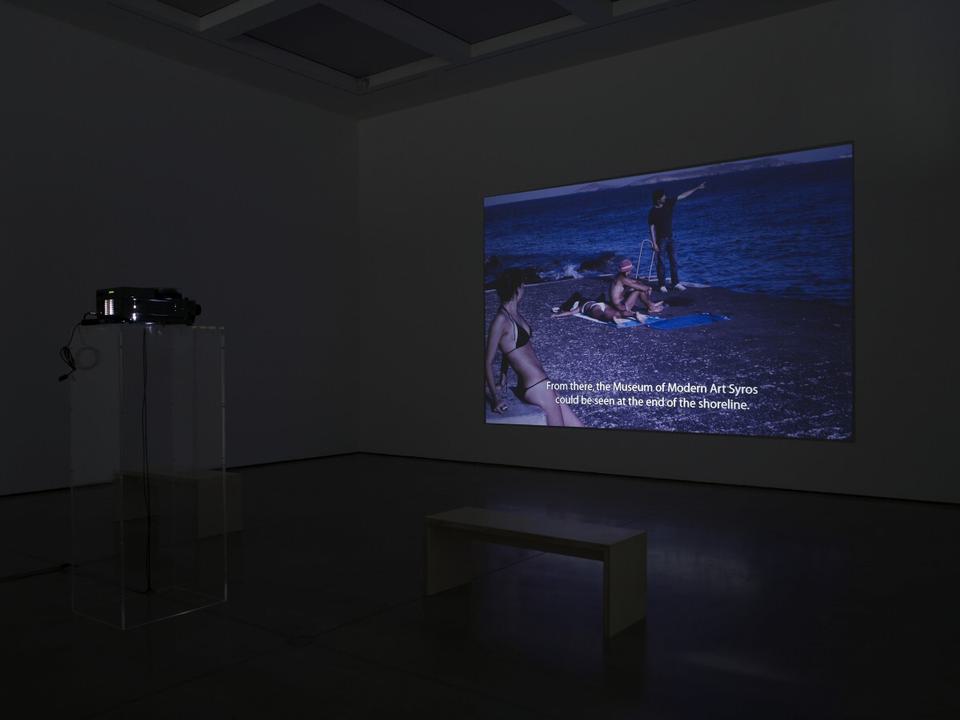 29 February – 29 March 2008
Dates
29 February – 29 March 2008
Garcia Torres is known for work with a playful – and sometimes nostalgic – take on the history of Conceptual art, unlocking many of its forgotten narratives to bring forth new ideas and meanings. Through his interventions, slide projections, films and installations, Garcia Torres rethinks the history of contemporary art in a personal way to create what has been called an 'aesthetics of information'. The exhibition featured two works: What Doesn't Kill You Makes You Stronger, a slide installation, and My Westphalia Days, a 16mm film.
What Doesn't Kill You Makes You Stronger combines text and photographs to create a kind of visual essay about Martin Kippenberger's attempts to establish a modern art museum on the Greek island of Syros. The form is characteristic of the artist: acting as a cultural archaeologist, he digs up a piece of the recent past to create a discursive portrait – half travel log, half proposal – of one of the more quixotic episodes in the history of contemporary art. My Westphalia Days is a short film based on a few lost days in the history of an icon of contemporary sculpture. The Conceptual artist Michael Asher has presented, as an artwork, a commonplace caravan at Sculpture Project Munster since its inception in 1977. On 21 July 2007, the caravan disappeared, only to be discovered four days later at the edge of a forest in the outskirts of the city. Garcia Torres has proposed a fiction about these missing days, filming a 30-year-old Mercedes Benz stealing a caravan almost identical to the one used by Asher from the site where it disappeared. The result is an open-ended, fragmentary road movie that follows the meandering path of the caravan as the car pulls it through busy streets, open autobahns and quiet, rural roads before it is abandoned amidst the forests and farmlands of Westphalia.

White Cube and Mario Garcia Torres published a limited edition CD based on the artist's long-term project called I Promise ..., a work that monitors his daily practice as an artist. Whenever Garcia Torres stays at a hotel, he writes, on hotel stationery, a variation on this note: 'I promise to do my best as an artist, at least for the next [period of time]'. In a recent collaboration with musician Mario Lopez Landa, he recorded a song called 'I Promise Every Time', which was released as a CD in an edition of 500.

Mario Garcia Torres was born in 1975 in Monclova, Mexico and is based in Los Angeles, California. He has exhibited in many group and solo exhibitions, including the Thyssen-Bornemisza Art Contemporary, Vienna (2008), Kadist Art Foundation, Paris (2007), Stedelijk Museum, Amsterdam (2007), Frankfurter Kunstverein, Frankfurt (2007), Venice Biennale (2007), Musée d´Art Moderne de la Ville de Paris (2004, 2005 and 2007), MCA Chicago (2007), Tate Modern, London (2007) and the Moscow Biennale (2007). He was the recipient of the Cartier Award at the Frieze Art Fair (2007).