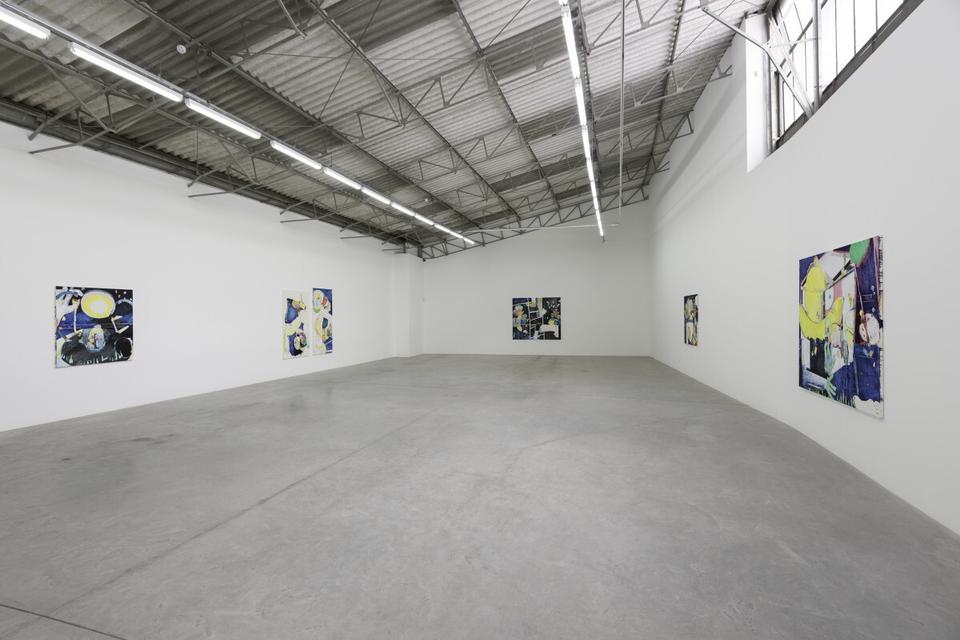 Dates
24 July – 24 August 2013
Plessen is known for his paintings which alternate between figuration and abstraction. In this body of work he further developed his singular visual language, combining familiar figurative motifs such as feet, heads and hands, with more abstract compositional passages. The paintings are constructed by adding and removing sections of paint to reveal areas of compact form and negative space. Plessen destabilises the fixed position of the viewer through contradictory forces at play within the image. In 'Ladder' (2013) for example, the suggestion of feet or hands moving up and down a central motif is surrounded by a group of falling objects, whose placement implies a gravitational pull working in opposite directions.
An overwhelming intensity of light is conveyed in a number of these paintings. The subject in 'Head' (2013) hovers between solid, static form and a luminescent incarnation, with radiating bands of colour and light emanating from a dark background. Plessen regards this as a means of looking back and visualising, in a biological sense, how the human body evolved from its origins in gas to solid compounds; the 'complete' body as we encounter it today. For Plessen, these two states can be seen as parallel rather than at either end of a linear evolution.

In Plessen's work, the representation of the figure is implied – rather than overstated – by a singular visual shorthand. Body parts appear disconnected, in a conventional sense, from the whole and yet are made intrinsic and unified by motifs and colour. In 'Narcissus' (2013), which draws on the familiar Greek myth of the youth who fell in love with his own reflection, a dazzling source of light dominates the image when viewed from a distance. Moving closer, however, its reflection emerges as a mask-like face floating up from the unfathomable depths below.

Interlocking figures feature in 'Untitled' (2013). Internal and external space is signified through translucent and opaque colour, positive and negative space and the fluidity of line. Again, elements such as torsos or limbs appear familiar yet take the viewer into unknown territory, their connection not borne of flesh but liquid, deliquescent and light. The sensuous forms and motifs of the painting are further developed in Plessen's new group of works on paper, expressed through swift, flowing lines.

Magnus Plessen was born in 1967 in Hamburg and lives with his wife and three sons in Berlin. Solo exhibitions include Art Institute of Chicago (2005); Espace 315, Centre Pompidou, Paris (2004); K 21, Düsseldorf (2002) and PS1, New York (2002). He has participated in numerous group exhibitions internationally including 'Images in Painting', Museu Serralves, Porto (2007); 'Imagination Becomes Reality', Sammlung Goetz, Munich (2006) and the Venice Biennale (2003).