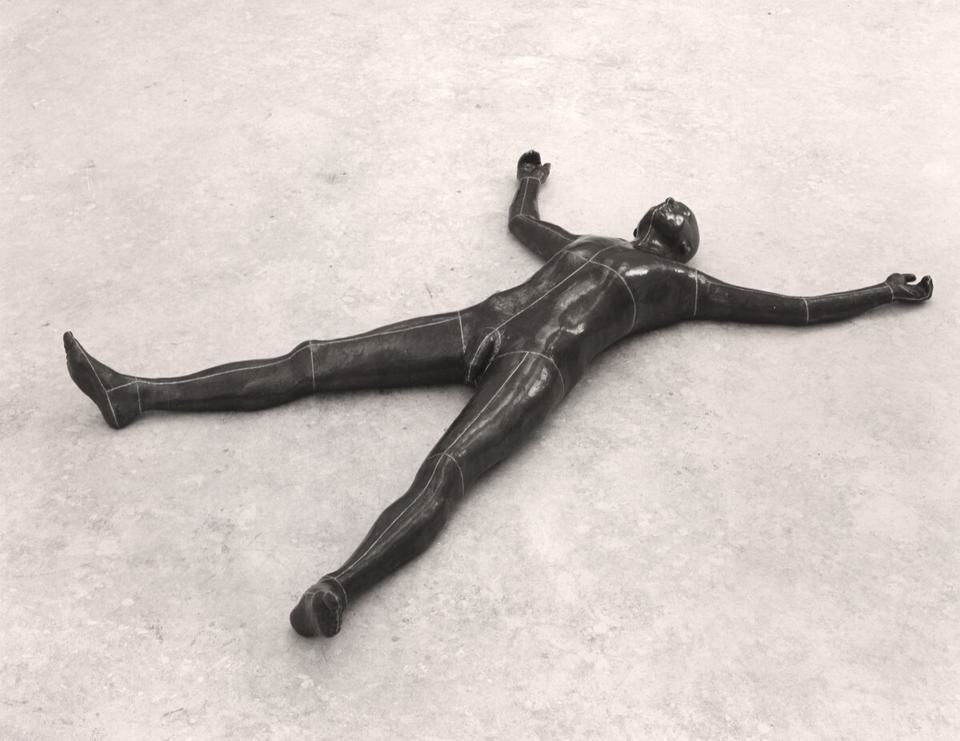 Dates
1 April – 7 May 1994
Antony Gormley exhibited a new sculpture called Lost Subject (1994). The starting point for the piece, as with earlier work, was a mould taken from his own body, which becomes a vehicle for feeling.
Lost Subject marks a radical departure, as for the first time, Gormley makes a positive cast of himself in an extremely relaxed attitude, one which is far more detailed and less formal than the majority of his void lead body cases or solid-iron body forms. A heightened tension is created between the libidinous, palpable, spontaneous exposure of a particular body, and the distanced, generalised 'idea' of the body expressed through the hermetic medium of a carefully-soldered and sectioned lead skin that forms the entire bodily surface. The sculpture gives one a sense of invading the intimate space of another, while, at the same time; its deathly stillness allows one to look down on this site of life as if the body were one's own. One could say that Gormley's identification of the body as 'subject' constitutes a reworking and broadening of the Duchampian 'found object', now extended to include the body as the site of the self.

Gormley is also a draughtsman, and in the adjoining room he exhibited a number of works on paper. As with all his drawing, these works form an essential part of his practice, offering him an alternative to the 'slow unfolding' of the sculptural process—drawing provides a direct and immediate method of expressing what is buried in the recesses of the mind, as well as a way of unravelling experience that is deeply and intuitively felt. Gormley's drawings are highly personal, poetic, meditative responses that bear witness to a singular experience of being in the world.