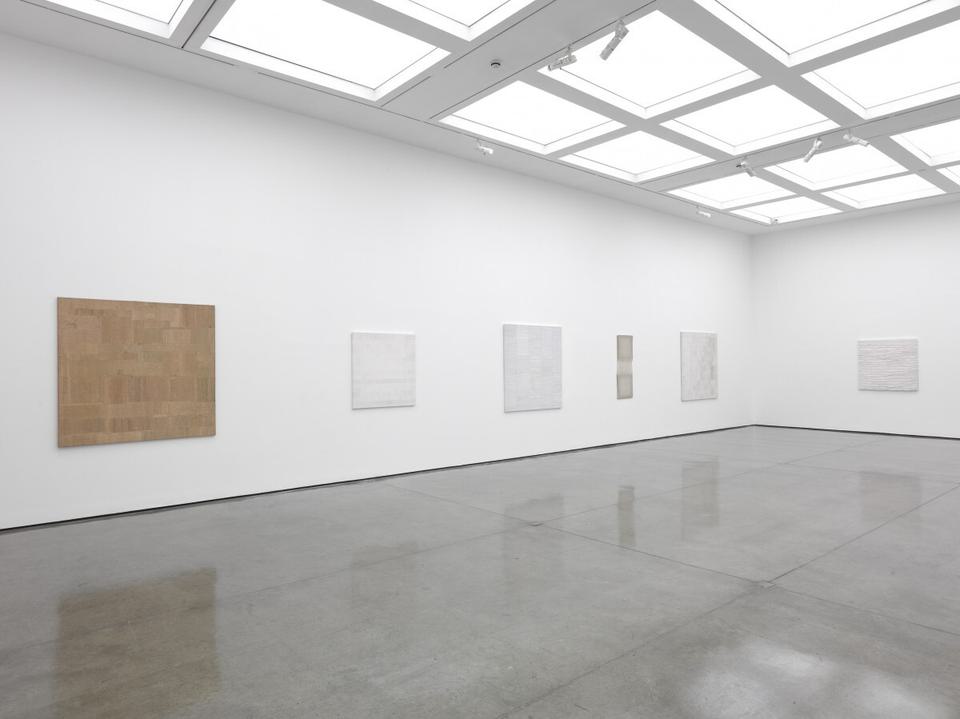 Dates
20 April – 26 May 2012
Over the past twenty years, Liza Lou has achieved acclaim for her meticulous, large-scale sculptures and installations in her unique medium of beads. While much of her previous work, such as the groundbreaking Kitchen (1991-96) or Security Fence (2005), explored political and social themes through menacingly beautiful spaces, Lou's recent work is smaller in scale and almost entirely abstract. Emphasising formal characteristics such as structure, surface and rhythm, Lou has created a group of shimmering meditations on time, labour and the pleasures and ambiguities of looking.
Liza Lou referred to these works, with their beaded surfaces mounted on cotton-backed stretchers, as 'paintings'. This is in part a reflection of their two-dimensional form, but also foregrounds how the work alludes to the history of minimalism in painting, from Georges Seurat to Agnes Martin. In one group of paintings (Canvas 2-11, 2011-12), sections of off-white beads form bands of subtly modulated cream and ivory. Each band of beads was stitched by a member of her studio according to one rule: the beads should not be cleaned. Thus they take on the patina of time, and the range of whites becomes, like the unexpected drip or scumble in a painting, a record of the process of its creation. Another set of paintings feature wave-like structures, with overlapping sections of beads in fractured, organic lines. Natural rhythms of labour – and nature – collide with the repetitive structures of the minimalist grid to create a beauty borne of both order and imperfection. Each painting highlights the time and attention devoted to its creation, the mindfulness required to both create and then look – closely and slowly – at each piece. They bring to mind patterns of thought, the rhythm of daily tasks, and the hard-won beauty that is the result of such labour. Shifting fragments against grief and entropy, Lou plunders the hours to make objects of pure radiance.

Durban Diaries, a catalogue with a substantial text by the artist, was published to coincide with the exhibition. In the Durban Diaries, Lou writes about the experience of seven years of working and living in Durban, South Africa. Descriptions of her working processes are interspersed with stories about the men and women with whom she works, and throughout she recounts the joys and doubts, the triumphs and tribulations of living in her adopted country and working with Zulu artisans. Neither a discursive text nor an artist's statement, Lou's Durban Diaries offer a stark and honest account of the day-to-day rhythm of life inside the studio and beyond.

Liza Lou was born in New York and is based in Durban, South Africa and Los Angeles. She has exhibited in numerous solo and group exhibitions internationally, including Savannah College of Art & Design, Georgia, USA (2011); Museum of Contemporary Art, Los Angeles; New Museum, New York and Metropolitan Museum of Art, New York (all 2010); The Israel Museum, Jerusalem (2009); Lever House, New York (2008); Museum Kunst Palast, Düsseldorf (2002); Henie Onstad Kunstsenter, Oslo (2002); Smithsonian Institution of American Art, Washington, D.C. (2000) and Fondació Joan Miró, Barcelona (1998).