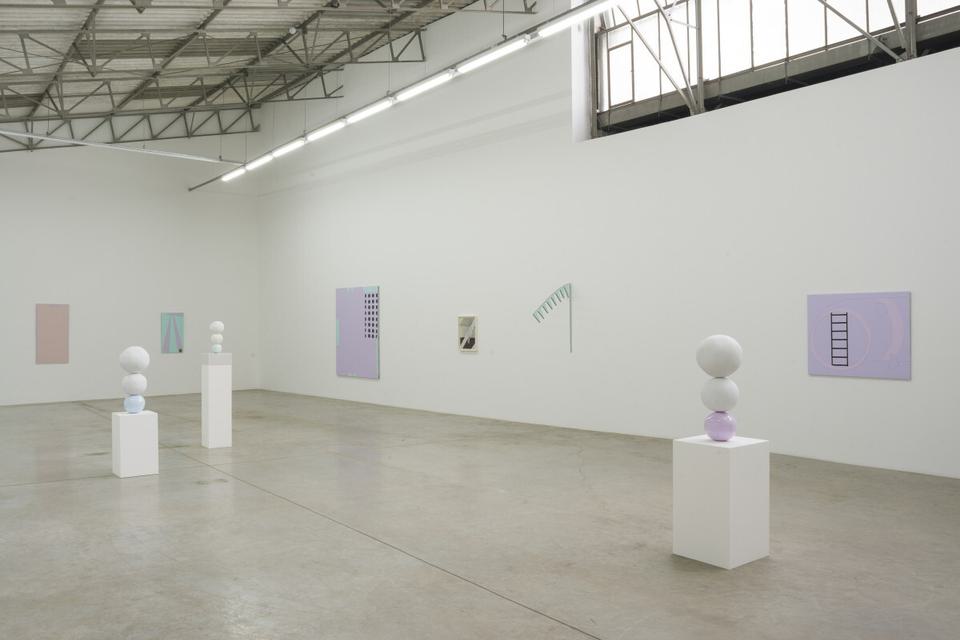 Dates
21 June – 23 August 2014
White Cube São Paulo presented 'Lions and Unicorns', an exhibition of new paintings, collage and sculpture by Gary Hume. This will be Hume's first major solo presentation in Brazil since he represented Britain at the XXIII Bienal de São Paulo (1996).
Hume's career began in the 1980s, when he received critical acclaim for his hard-edged, abstract 'Door' paintings. Since then he has developed a highly personal language in paintings made with ordinary, household gloss paint, and strikingly elemental sculptures, favouring forms which appear familiar but remain resolutely abstract and hard to decipher.

Hume's 'Unicorn' paintings use architectonic motifs that derive from bunting – celebratory strings of colourful, triangular flags that are used for decoration. But, as with all of the artist's work, an innocuous starting point becomes a springboard for exploring compositional limits, and the malleable ground between figuration and abstraction. In these works, a restricted palette of alluring and unsettling pastel colours such as Calamine pink, peach, mauve and aquamarine has been applied thickly, used as both a tonal and a drawing device, since the edges of each area of colour creates a shallow sculptural relief that adds to the texture of the surface as well as to the painting's overall composition. Triangular shapes, often in mismatched pairs, intrude into the picture plane and are occasionally punctuated by a tiny, single black dot or a loose grid. In some works the dots read like eyes, pushing these geometric paintings into a more figurative arena, while in others, circular cell-like forms are pushed to the edge of the canvas, or floating egg shapes at the top of a large rectangle, recall something more natural or biological.
The sense of disrupted compositional harmony continued in Hume's collage works, which use a series of found, black and white photographs. The photographs, which are all staged to suggest that they are studio portraits, are of young children in the 1960s, the same decade in which the artist was born. While they could represent a parallel childhood to that of the artist, their highly orchestrated poses and props makes them seem as if they actually derive from an earlier, more formal time. The photographs have been cut at strategic points, either diagonally, vertically or horizontally, and then re-mounted onto foiled paper and inverted or turned 90º. Since stripes of the mirrored paper appear through the gaps or fissures in the image, both figure and fantasy is disrupted, as if this 'mirror' of childhood has been broken, its image of perfection destroyed, further removed from the sense of being a historical record by having been inverted.
Hume's painted marble sculptures follow on from his earlier series of marble 'Snowmen' which, the artist suggests, can be read as three-dimensional rendering of a child's drawing of a snowman, with two balls placed one on top of the other. In these works, which Hume has called 'Mums and Dads', he has used three hand-formed marble spheres, painted in a similar range of pastel colours to the paintings and has placed the largest ball at the top, once again inverting the image. Although perfectly poised – and, like the earlier snowman works a 'perfect' sculptural form since they are viewable from 360 degrees – they appear imbalanced, as if the form is about to fall and having to work against gravity to keep its place.
In another group, Hume has used the repetitive, colourful forms of bunting, to create works that have a more sinister edge. Connected to the wall, the fading colours of the bunting, with their sharp triangular form created a teeth-like pattern, monstrously enlarged and removed from their original, celebratory purpose. The fourth one, painted in yellow, then takes on the form of the crown, as if another element of the paraphernalia of a Birthday party.