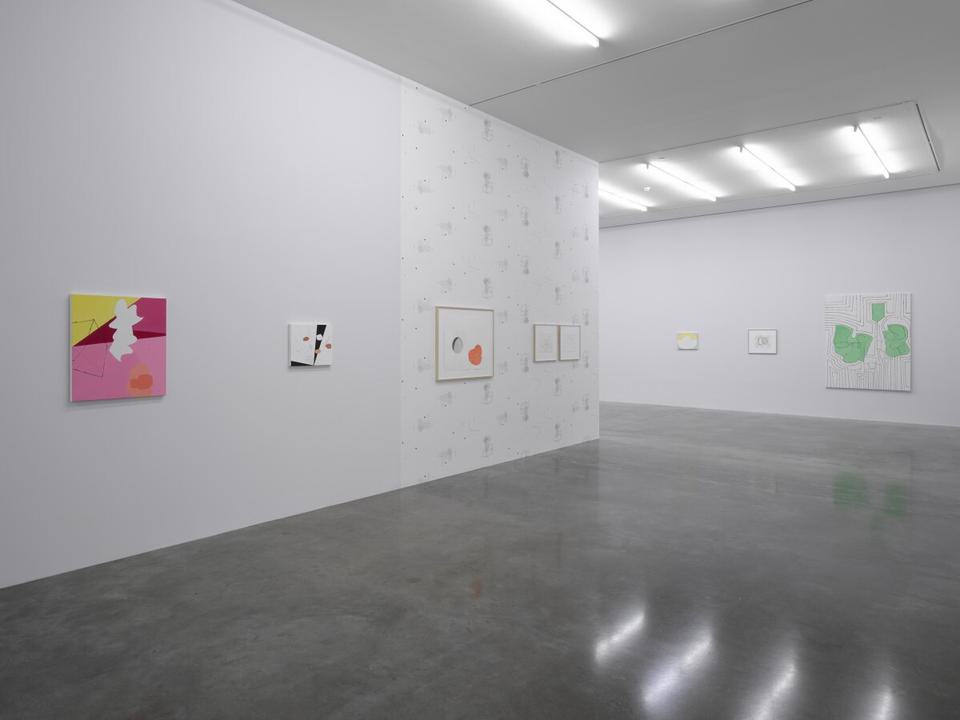 Inside the White Cube
28 April – 18 June 2017
Dates
28 April – 18 June 2017
Location
144 – 152 Bermondsey Street
London SE1 3TQ

White Cube is pleased to present an exhibition of work by Jürgen Partenheimer at Bermondsey. This exhibition, his first in London, includes paintings, sculpture, unique ceramics and works on paper dating from 1975−2017.
Partenheimer's abstract works are characterised by their variable, multidimensional language of forms, lightness of touch, striking use of colour and poetic approach. Following studies in fine art, art history and philosophy, he first showed at Richard Demarco Gallery, Edinburgh in 1979 and then gained international recognition following his participation in the biennials of Paris (1980), São Paulo (1981) and Venice (1986). He was the first artist-curator at Kunsthalle Düsseldorf from 1977−80 and the founding director of the Institute of Phenomenology.

Partenheimer uses reduction, asymmetry and imperfection in his work to propose alternative modes of perception. These are partly the result of the artist's engagement with and contribution to a broader theoretical discourse. In his paintings forms circulate around an undefined space − a 'nothingness' − and seem to have the potential to dissolve and reform at any moment. This open-ended quality is evident in all the works in this exhibition. As Rudi Fuchs has noted in his essay on the painting La Fortune (2012), which is titled after the painting La Fortune (1938) by Man Ray, this creative instability offers an altogether different path to abstraction, which is commonly so rooted in controlled composition.
Two suspended sculptures, as if delicate drawings in space, continue the idea of expanded formal relationships. In Maze (2007), a bronze mesh is hung low to the ground, the form a light and open frame for its interior volume and space. In La caida del humo (1999/2017), presented in '9x9x9', more than 250 delicate wooden rods covered with unbleached beeswax are connected along 11 lengths of hemp string hung from the ceiling, creating a variable, multifaceted model of metaphysical movement in space.
Interspersed among the paintings, works on paper and sculptures, are a series of unique porcelain vessels. Made at the invitation of the renowned Nymphenburg Porcelain Manufactory in Germany, they combine elegant thrown or built component parts and are hand-painted in polychrome enamel. Resting on narrow bases, these composite forms are hybrid objects, both sculpture and vessel, providing the white ground for abstract drawing in three dimensions and the blank space to connect it.
Beyond White Cube visitors can also see one of Partenheimer's most celebrated public works, Axis Mundi, a sculpture made of 13 precariously stacked bronze cubes, each painted a different shade of ultramarine blue. Viewable until 21 May at Cullum Street, London EC3.
Jürgen Partenheimer was born in 1947 in Munich, Bavaria and lives and works in Germany and Italy. He has exhibited widely, including solo exhibitions at Pinakothek der Moderne, Munich, Gemeentemuseum, The Hague, Deichtorhallen-Sammlung Falckenberg, Hamburg and Contemporary Art Gallery, Vancouver (2014); Mies van der Rohe House, Berlin and NPS, Johannesburg (2011); IKON Gallery, Birmingham and Kunstmuseum Bonn (2008); Pinacoteca do Estado, São Paulo (2004 and 2007) and S.M.A.K., Ghent (2002). His work is included in permanent collections at the Stedelijk Museum, Amsterdam, Pinakothek der Moderne, Munich, SF MoMA, San Francisco, MoMA, New York, Metropolitan Museum, New York, National Gallery of Art, Washington and Nationalgalerie, Berlin.