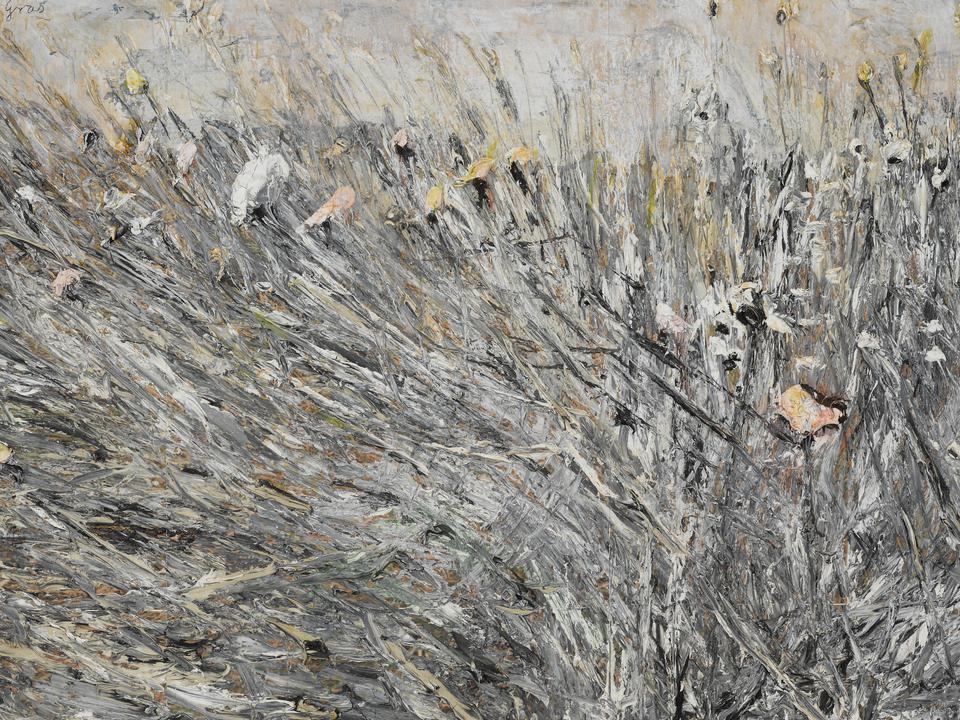 Let a Thousand Flowers Bloom
Anselm Kiefer
Let a Thousand Flowers Bloom
Dates
16 May – 25 August 2012
Location
50 Connaught Road Central
Hong Kong
Kiefer presented a body of work that continued the major themes of history, landscape and myth in his work, including large-scale landscape paintings and lead and steel sculptures. The exhibition's title, 'Let a Thousand Flowers Bloom', is knowingly ironic. It refers both to the epic, blooming landscapes of these pictures but also to a common misquotation in the West of a well-known phrase pronounced by Chairman Mao in 1957 which, while ostensibly encouraging cultural plurality, led to the deaths of millions and the final curtailment of any and all forms of dissent.
The paintings in this exhibition relate to a series that Kiefer began in 2000, using landscapes from the photographs that he had taken on his travels through China in 1993. These works, however, are more generic since the landscapes are based on a trip the artist made to the Auvergne region of France during springtime, a mountainous area in full bloom. These monumental paintings depict bountiful fields of flowers thickly painted in neutral colours, suggesting natural profundity and fertility but also entropy, as the display seems just past its point of perfection. Sunflowers, poppies and other flowers sit atop a mass of tangled stems, stalks and foliage which have been partly ruined – a dissolving mass of plant matter that holds the possibility of its imminent collapse.

In some paintings the figure of Mao can be seen either painted within the landscape, emerging from the flowers his hand in a beckoning salute or, in some cases – for example in 'Laßt tausend Blumen blühen' (2012) – painted on a section of canvas placed either above the central panel or on one side. Kiefer has described this gesture as a kind of 'dadaist absurdity' since the figure of Mao is an impossible one, modelled not on documentary photographs of the dictator but rather on the prefabricated sculptures of him that were found all over China. As with all of Kiefer's works, the ambitious scale in these paintings envelops their viewers by submerging them visually into the picture. In 'Gebrochen Bluemen und Gras' (2012), a mass of flowers and grass covers the canvas from the perspective of someone lying within the flowers and, in another, 'Le dormeur du val' (2012), the canvas is bisected by a path that leads from middle foreground to middle horizon, making the viewer feel as if they could actually enter the image.
Kiefer also presented two new sculptures in the exhibition. Made from plaster, steel and lead, they depict a classic symbol of Communist China: the bicycle, crushed under the weight of huge lead books, an enduring and reappearing motif throughout the artist's work.
Kiefer's paintings and sculpture have always reflected a profound scepticism of political regimes and overarching ideologies. For him, landscape can never reflect pure beauty, since it is always inscribed with historical events and, therefore, the struggles of ideology and power. Mao is an ambiguous icon but one that resonates with themes from Kiefer's earlier works, in particular his paintings of the spaces of Nazi Germany. These trans-historical references lend his paintings their multi-layered complexity, something that author and curator Kevin Power has described as a search for 'systems of correspondences, a constant pattern of echoes'.
A fully illustrated catalogue with a text by Professor Alex Danchev, School of Politics and International Relations at the University of Nottingham,will be published to accompany the exhibition. Available from early June.
Installation Views