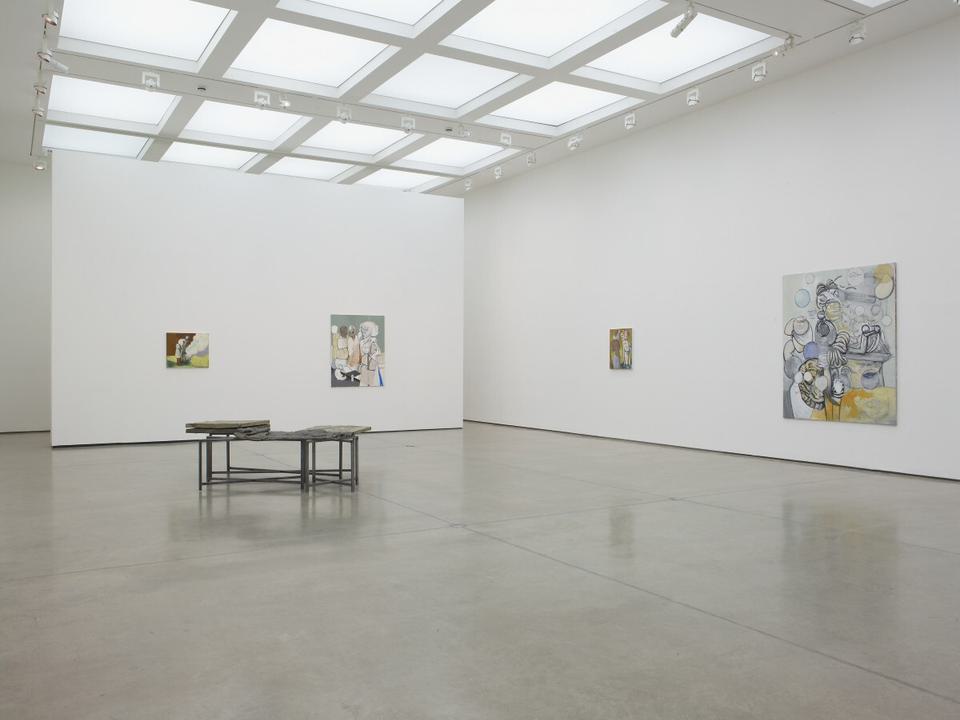 2 September – 3 October 2009
Dates
2 September – 3 October 2009
White Cube presents an exhibition of new paintings by British artist Neal Tait. This exhibition included paintings made over the past year that are diverse in theme, suggesting many fragmented narratives.

Tait is adept at using different painting styles to create works that are otherworldly and strange. He condenses historical periods, mythically transforming objects and people in visionary landscapes. Forms change seamlessly from living matter into static object and from animal to mineral, and scales are often disrupted so that in these works, the viewer enters a tangibly uncomfortable space.
The title of the exhibition, an irreverent take on the romantic notion of the rooftops of Paris, exemplifies Tait's interest in the process whereby mistakes or misunderstandings can open up different uses and fresh meanings. The paintings in this exhibition, executed in both oil or acrylic and tempera on canvas were influenced by early Modernist painting, in particular, the work of artists on the fringes that were overlooked by art history but equally by the automatic drawing and the lure of the machine age that drove the Surrealist movement. In particular, Tait references Léger's delight in the spectacle of the everyday – the inherent surrealism that occurs with the rush of modern life, where objects and people haphazardly collide. Tait has an irreverent, almost childish way with generic imagery, so that what appears at first glance to be quite a conventional composition – such as a still life of flowers and objects, or a domestic interior – is made strange with a distortion of scale and with characters that seem to slip in and out of different states. In one painting, for example a mythical, Puck-like creature with a head made of fruit and a long insect-like tongue slithers along the floor against a background of solid golden yellow. In another, a world-weary, melancholic stone head floats adrift on a vast sea, against a background of burnt orange, appearing like a lost monument from some past civilisation.

Machine-like objects and hybrid, modified bodies appear in various compositions, as well as the repeated motif of a lone, reclining figure. In some works, Tait employs a monochromatic scale and a fluid drawing technique that is sometimes delineated by a heavy black line that he works directly onto the canvas, changing and erasing the composition as the painting progresses. Tait also presented new sculptures in the exhibition. Several different sized tables are grouped together like a family, on which a range of white objects are placed – things that Tait has accumulated from the area nearby his studio, spray painted white or cast in pristine white plaster.
Neal Tait was born in Edinburgh in 1965. He has had recent solo exhibitions at ACME, Los Angeles (2008), Sies + Höke Gallery, Düsseldorf (2008), Tanya Bonakdar Gallery, New York (2007), and Museum Dhondt-Dhaenens, Deurle, Belgium (2006).