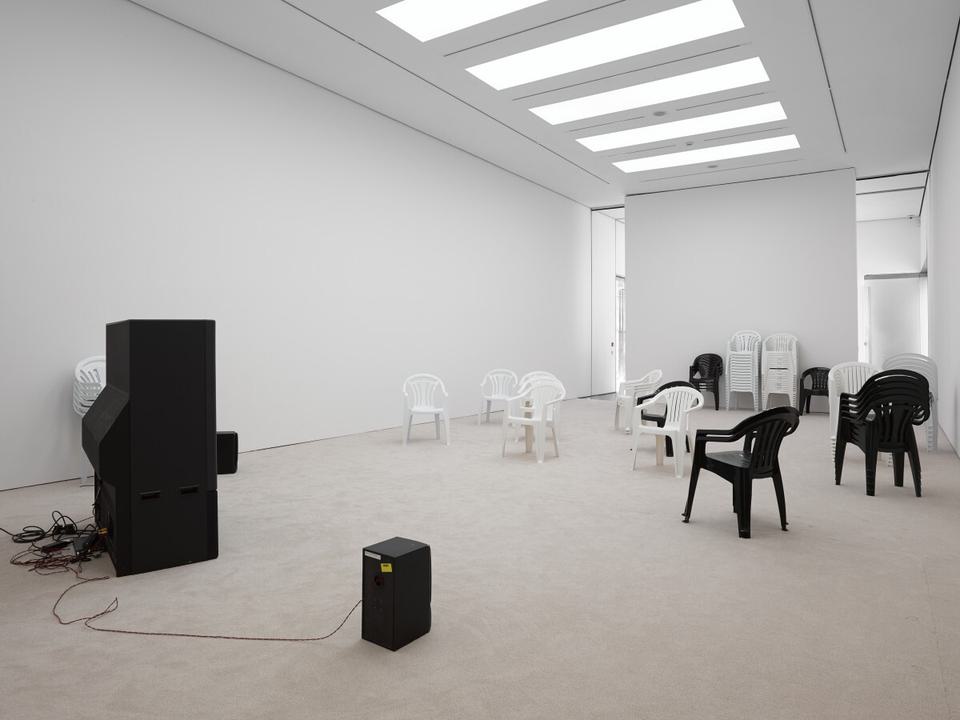 Inside the White Cube
6 June – 12 July 2014
Dates
6 June – 12 July 2014
Location
25 – 26 Mason's Yard
London SW1Y 6BU

White Cube presents an exhibition of paintings and films by Leo Gabin, as part of the Inside the White Cube programme. The Belgian trio, made up of Lieven Deconinck, Gaetan Begerem and Robin De Vooght, investigate the materials and rituals of contemporary culture by pulling together endless amounts of online amateur video footage to create a new kind of narrative. Leo Gabin are interested in how American pop culture is filtered and interpreted through online viewing; how young people use the media to capture their surroundings and express themselves. Using imagery and videos from both public and private spheres (social networking sites), the resulting works evoke feelings not only of despair and sadness, but also hope and joy.
The ground floor gallery featured a new two-part film, A Crackup at the Race Riots (2013-14), based on the 1998 novel by Harmony Korine. Set in Florida, the film brings together conflicting online footage of desolation and decay in the 'sunshine state'. Images of abandoned houses and empty malls are contrasted with ones of glorious weather and 'happy' places, such as Disneyland. Korine's funny, absurd, sad and poetic texts are converted to audio using text-to-speech software and provide the narration for the film. Set to a soundtrack of adapted/remixed pop music and other composed sounds by the artists, the film highlights both the realities and hardships of the 'American Dream'.

Leo Gabin created a viewing room for the screenings, choosing furnishings that reference elements taken from amateur films posted on video-sharing sites such as a rear projection TV, an early 2000s 'must-have technology' and often used as a backdrop for self-shot dance routines. With the gallery floor covered in cheap carpet and cluttered with the requisite white resin patio chairs, the installation questioned notions of truth – both that of internet realities and of this foreign interpretation of 'American life'.

In the lower ground floor gallery, a series of silk-screened, acrylic and spray painted canvases depicted images gathered from online footage. The paintings' highly expressive style and pixelated imagery serves to disrupt any sense of a clear narrative, creating parallels between the activities of making art and surfing the internet. Images of the Miami Dolphins NFL cap, the Ford sedan and McMansions are repeated throughout the paintings, as the artists look to demonstrate the power of iconic imagery, so widely shared across the internet. While these works, with their different abstract styles, remind us of Rauschenberg's 1960s collaged paintings, they also look to the future, and to the internet's influence on culture and vice versa.

Leo Gabin is a trio of artists consisting of Lieven Deconinck, Gaëtan Begerem and Robin De Vooght, who have worked together since 2000. All three were born in Ghent, Belgium, where they continue to live and work. They received their BFA's at the Royal Academy of Fine Arts, Ghent. Recent group exhibition include 'PRIVAT', Schirn Kunsthalle, Frankfurt, curated by Dr. Martina Weinhaert, and solo shows include 'New Holland', St. Petersburg, Russia; The Cultural Centre Bruges, Belgium; Peres Projects, Berlin; Elizabeth Dee Gallery, New York City and the Kunstraum Muenchen, Munich.