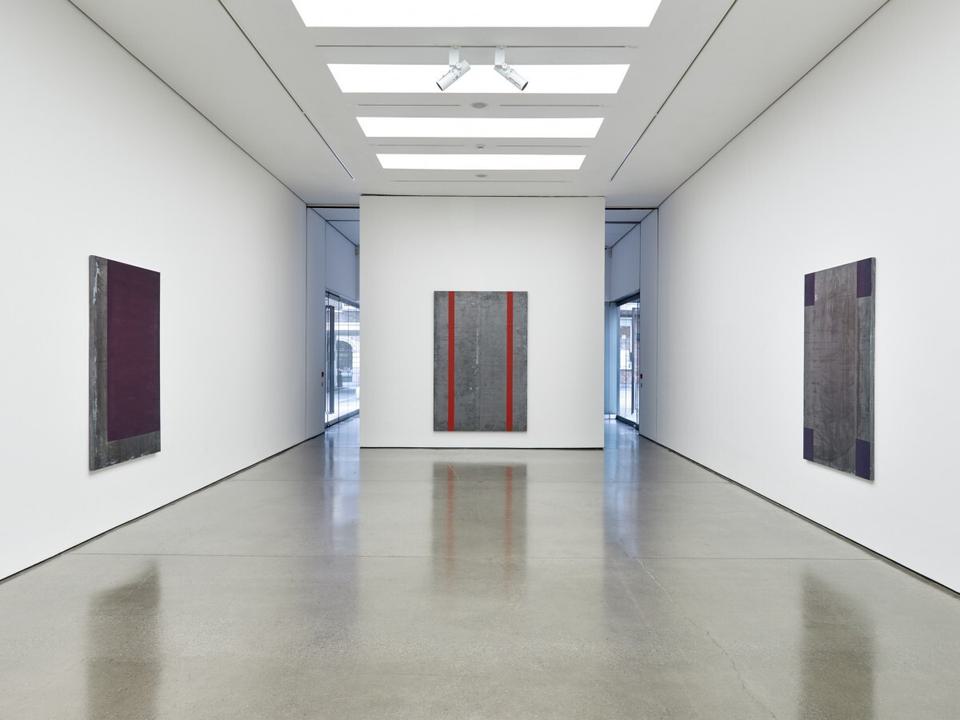 Dates
3 June – 11 July 2015
Location
25 – 26 Mason's Yard
London SW1Y 6BU

White Cube Mason's Yard presented an exhibition of paintings by the late German artist Günther Förg (1952 – 2013). One of the key artists of his generation, Förg's fluid, multidisciplinary practice spanned more than thirty years and included paintings, sculptures, photographs, installations and wall paintings. This exhibition focuses on his most well-known works, the lead paintings, which he began making in the early 1980s.

While Förg's work reflects the aesthetic legacy of Modernism, connecting in particular to the painting of Mark Rothko, Brice Marden and Barnett Newman, he resists their metaphysical aspirations, incorporating references to more formal and architectural concerns. As Paul Schimmel observed, 'Förg makes formal work which seems to eschew formalism and even undermine its purity', creating spatially-orientated, ambiguous objects that appear freed from the physical limitations of their own form.
In the lead paintings, geometric abstractions made with acrylic paint on lead sheeting, rolled or wrapped around a wooden panel or frame, Förg approaches colour intuitively, employing minimal and elemental compositional devices to reduce painting to its pure essence. Without relying on symmetry or asymmetry, and never using more than two colours, he bisects the paintings horizontally using two areas of contrasting colour, using a single block of colour set against bare lead ground or dividing a picture with single or double vertical lines. Untitled (1987), for example, comprises two blocks of solid red and white painted lead, and in Untitled (1992), a highly textured dark grey lead ground is split by a single, vertical purple line, recalling Newman's 'zip' paintings.

Förg has said: 'I like very much the qualities of lead – the surface, the heaviness… I like to react on things; with the normal canvas you often have to kill the ground, give it something to react against. With the metals you already have something – its scratches, scrapes.' In these works, the soft consistency of lead and its inert and heavy presence, qualities often associated with melancholy and danger, remain visible through the thin acrylic layer, acting like a barrier or skin that softens both the sides and edge of the painting. This effect, of something hand-made rather than hard-edged, is heightened by gestural brushstrokes and the natural oxidation of the lead which creates unfixed, variable expanses of texture and colour.
Förg frequently worked in series, using this approach to investigate similar concerns through different mediums. Although purely abstract, the compositions of the lead paintings echo the subjects of his architectural photographs where partial details of a building – such as windows and doors – are the focus, rather than a totality or whole. The relation of part to whole is emphasised by the multi panel works, such as Untitled (Group of 6) from 1994. These works, installed in a line to create a frieze-like effect, encourage us to consider the space between them, and the surrounding environment, as part of the extended field of painting. Playing with harmony and discord and yet adhering to neither, Förg's lead paintings create a sense of event and direct engagement with the viewer, optimising a new framework for visual experience.