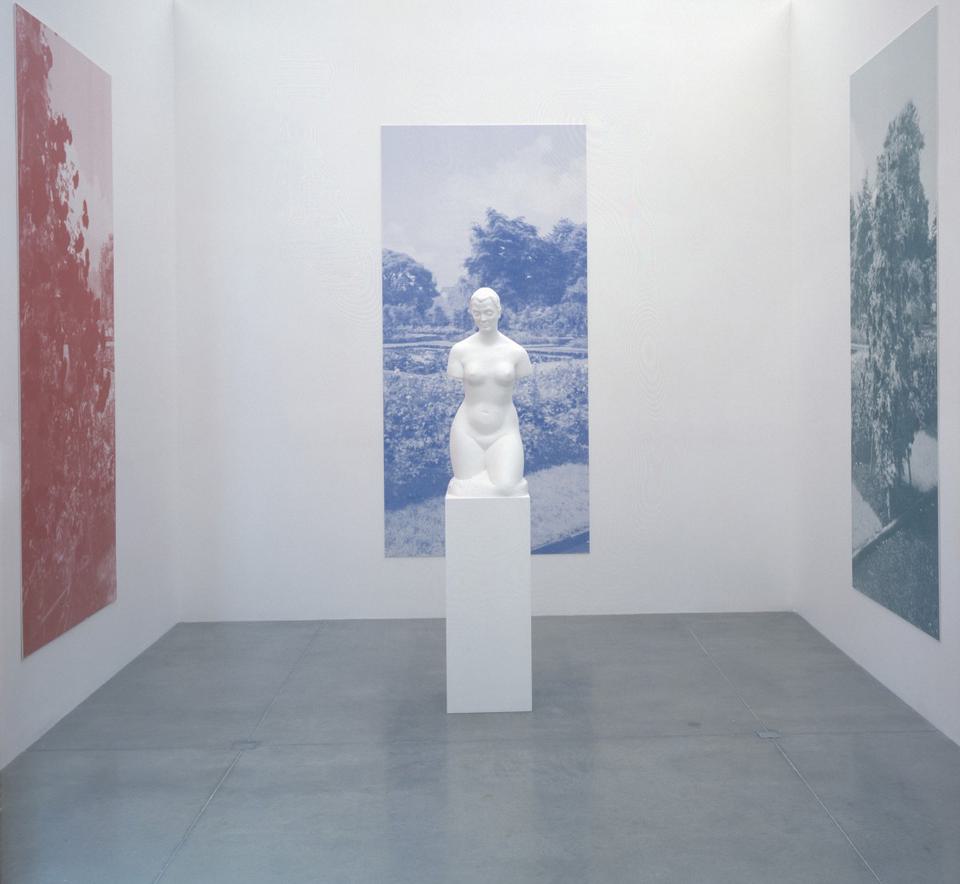 15 September – 20 October 2006
Dates
15 September – 20 October 2006
Fritsch is known for creating iconic objects, imagery and sculptural installations that imprint themselves on the mind. Her work creates a tension between the familiar and the uncanny, where humour is tempered by an incessant sense of unease.
In this exhibition Fritsch created a site-specific installation, transforming the exhibition space into a municipal park, or at least the memory of a park that she frequented as a child in the town of Essen. To create these mental landscapes Fritsch created works from postcards sent to her by her grandfather in the 1970s and 80s. These romanticized scenes are set within the industrial landscape of the Ruhr district, referred to by the artist as her 'heimat' or homeland. Transferred onto large, individually silk-screened panels, the single-colour matt painted surface is the result of a meticulous and extremely precise handcrafted printing process that appears deceptively simple. Each panel depicts the scene in a single colour, as if the other colours in the spectrum have faded, over time, by the bleaching of the sun to leave a trace, or a melancholic memory as if viewing the picturesque scene at twilight.

Fritsch specifically mapped out the space by dividing the gallery with two identical central enclosures, which surrounded the viewer with three large panels. Composed of imagery of detailed parkland, each panel, in its differing hue, provided an intimate backdrop for a single sculpture placed on a white pedestal. One was a pale grey vase, a perfect geometric form from Fritsch's imagination; the other a classical sculpture of a woman's torso rendered in pure white, carefully scaled down from a bronze sculpture Fritsch had known from her childhood. Fritsch created a pictorial world where the materiality of an object is distilled by memory and dream.