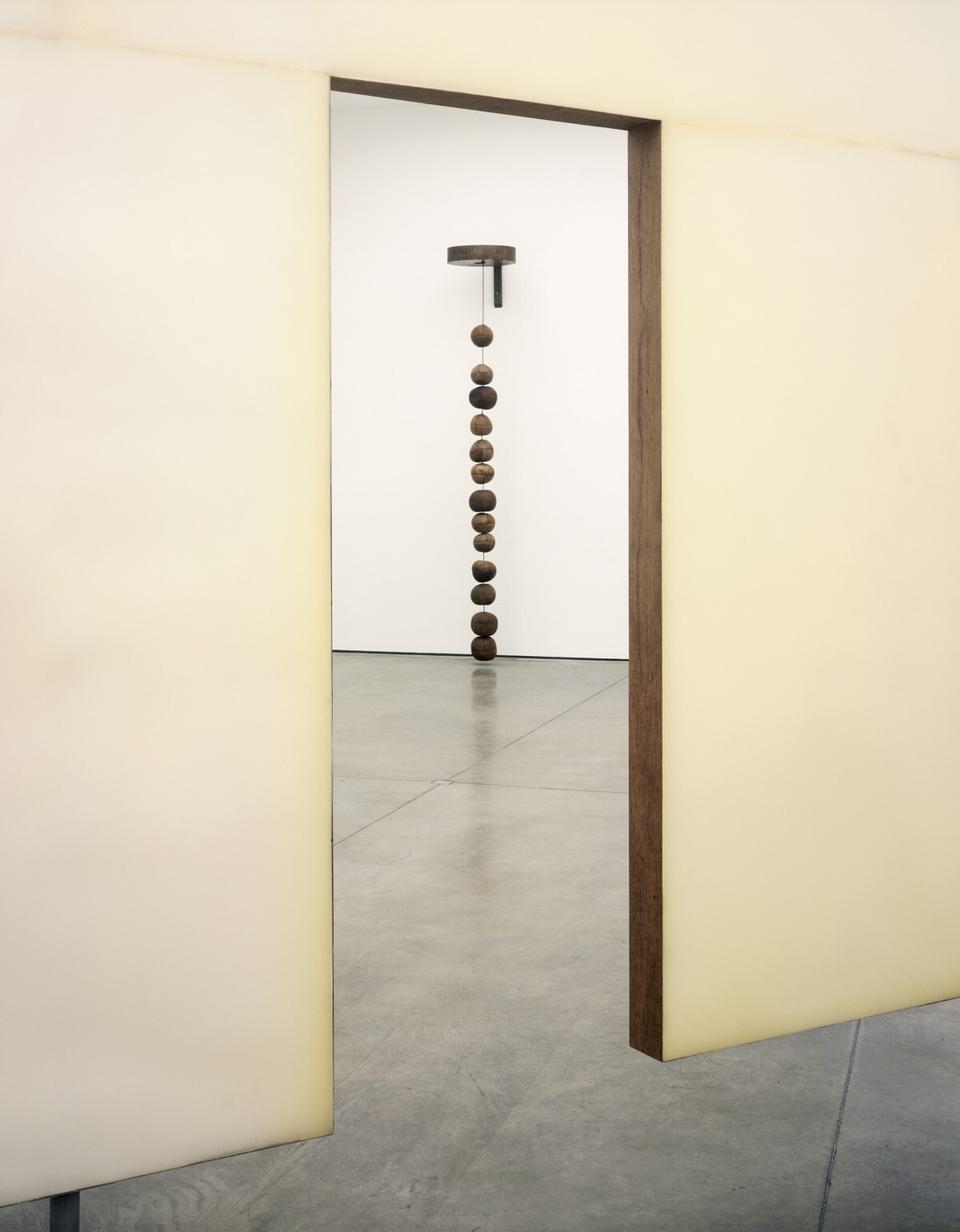 Dates
4 March – 8 April 2004
For his White Cube exhibition Polish artist Miroslaw Balka, known for his careful, resonant sculptural installations that often relate to his own body and to a collective sense of corporeality felt keenly through its manifest absence, exhibited a series of new work. Wax, metal, plaster and wood are some of the materials that he has used in either found and altered objects or simple constructions, which refer to everyday domestic rituals as well as personal and collective memories, imbued with a consciousness of mortality.
Balka has described his installations in terms of a 'sentence', each sculpture being words that through their collaborative poise and configuration create new, unexpected meanings. For this exhibition, he presented a series of related objects in foam rubber, steel, leather and wood. In the centre of the gallery, a suspended door made of foam rubber on a simple wooden structure, slowly rotated, its speed appearing strangely comforting and familiar since it rotates exactly one revolution per minute. The door is in some ways a portal inviting entry, but at the same time, leading nowhere since it is always in constant motion. In the corner of the gallery, a steel rope, threaded with worn leather 'medicine' balls – used in Poland for remedial exercise – also rotated but this time extremely, almost painfully slowly.
A small round platform rotated on the floor, covered with used brown linoleum (salvaged from the artist's own studio), having the appearance of leather or tarnished iron. The sculpture is pierced three times on its top, and behind each aperture is a disinfectant ball, their smell becoming discernible on close contact with the work. Balka is drawn to materials that have a history inscribed on their surface, whether it be through their use, or else, more metaphorically, through the stories or potential narratives that a particular material can suggest. Since the components of his sculptures are often reconstituted, the viewer is confronted with an immediate feeling of intimacy: the material trace of a physical, human existence.
At the end of the gallery, a steel guard-rope, wrapped with human hair, had a stifled and tragic presence. Like the suspended doorway, the rope is in some ways an invitation to look beyond the parameters of the object itself creating a perpetual suspense alluded to, perhaps, by the title of the exhibition – Karma – that hints at the notion of a cyclical personal destiny.
Balka accumulates stories in his work, mixing histories from his own life with abstracted and real ideas. He often uses the classical proportions of the human body to scale his work, placing his sculptures at very particular distances within a room, as if emotional engagement is manifested through felt, spatial dimension. (Occasionally, the titles of his works are simply certain dimensions taken from the artist's own body). He has described his work in terms of releasing the 'energy' contained in simple materials in the way that a considered cut or mark can be transformative and monumental.
In the first floor gallery, Balka re-presented his ash-room installation, entitled Dead End. The gallery was coated with grey, sooty ash, and transformed into a tomb-like space where emptiness becomes content and the walls are no longer containers of space but soft, textured objects with their own threatening presence. Like the artist's earlier work Soap corridor (installed at the 1993 Venice Biennale), Dead End becomes a kind of repository of potential narratives – both personal and political – without ever being reductive or descriptive of any one particular meaning.