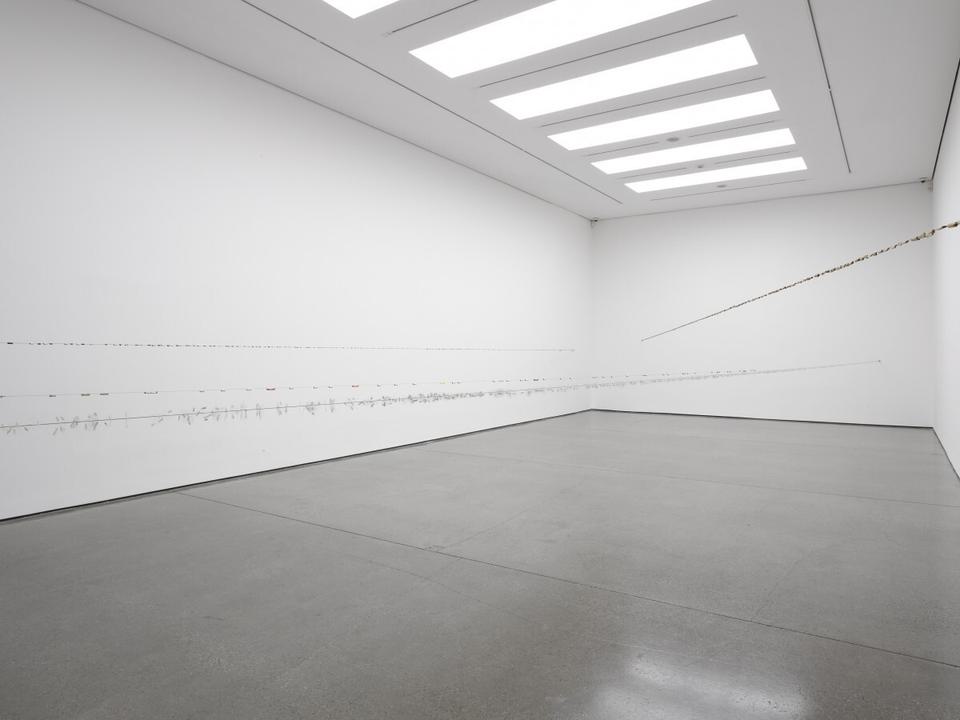 Dates
18 March – 14 May 2016
Location
25 – 26 Mason's Yard
London SW1Y 6BU

White Cube Mason's Yard presented 'Junkie', an exhibition by Jac Leirner. Although the sculptures and photography in this exhibition was new, they had their origins at a point in time around 30 years ago when Leirner began to keep the ephemera and objects, some of which are associated with her addiction to drugs. Gathered over several years, the objects used in these works were assembled and photographed during a cocaine binge over three nights in 2010.
Leirner's varied work includes sculpture, painting, installation, and works on paper, frequently featuring the residual matter that surrounds us in everyday life, re-presented to create new and unexpected associations. Stickers, turnbuckles, rulers, plastic bags, business cards, cigarette ends and even bank notes make their appearance in her sculptures, where they are amassed together to form a visual compendia, removed but not entirely dislocated from their original function.
In this exhibition Leirner continued to explore themes key to her work, including referencing specific moments in art history, particularly Brazilian Modernism. In this new series of photographs, small, surreal sculptures carved from lumps of cocaine, including a beautiful miniature head and a tiny heart are juxtaposed with objects found around the artist's house, such as dice, razor blades and tweezers. Printed onto strips of plywood, the images are laid out in a line, mnemonically, and presented horizontally along the wall, creating a series of associations and narratives that charts the passing of time and the haze and energy associated with taking drugs.
Shown alongside the photographs were a new series of wall-based sculptures that bring together items collected together over Leirner's past years of addiction. Colourful cigarette papers and cigarette boxes are mounted onto plywood supports incorporating the bubble section of a sprit level into their compositions. The whole ensemble seems to present a sense of connection and equilibrium that drugs might promise to an addict or, equally, art might bring to the viewer. However, they remain simply the evidence from everyday life, extracted, arranged and composed in the most visual and straightforward manner.
In the ground floor gallery, a group of suspended sculptures incorporated the butts and filters from used cigarettes and joints, strung onto steel cables and stretched across the exhibition space. As with the artist's earlier cigarette sculptures, when lined up together this colourful detritus takes on a subtle, almost celebratory beauty. Dramatic and elegant, these works document a compulsive habit as well as visualising notions of dependency, like umbilical threads that connect artist or consumer with the material source of addiction through their celebration of art and beauty.
Leirner will also produce an artist's book to coincide with the exhibition, documenting the entire series of photographs across 300 pages, designed by the award-winning Dutch graphic designer Irma Boom, and produced as a multiple.