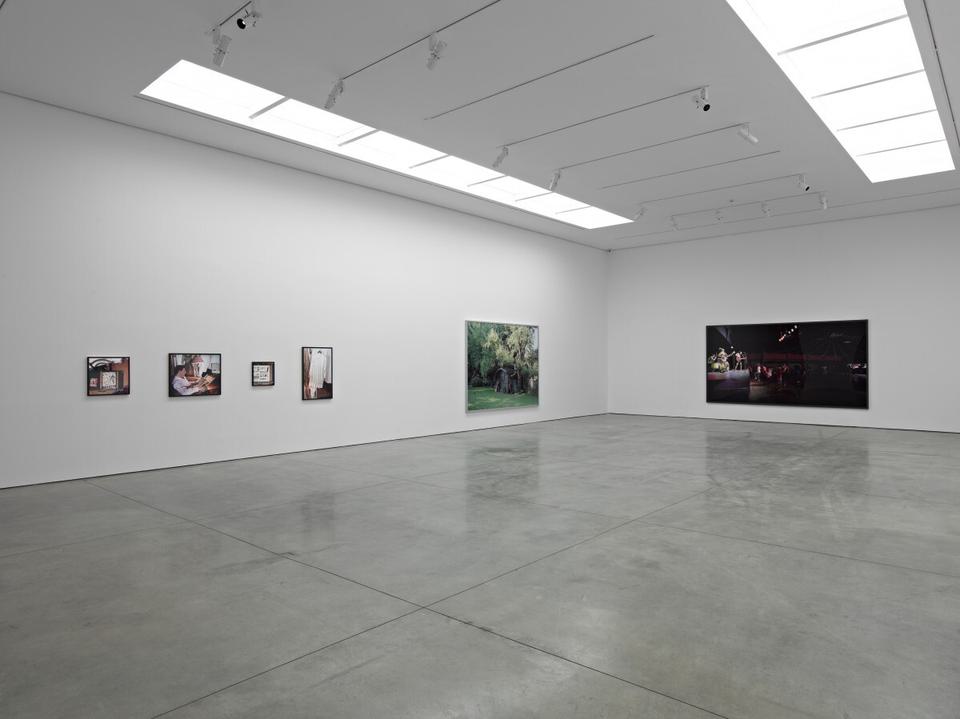 23 November 2011 – 7 January 2012
Dates
23 November 2011 – 7 January 2012
Location
25 – 26 Mason's Yard
London SW1Y 6BU

Widely considered one of the most influential artists working today, Wall is known for the diverse range of his approach to picture making, from large-scale photographs in colour and black-and-white often made in collaboration with the people who appear in them, to works on a more modest scale achieved with little or no intervention by the artist. The exhibition features two separate bodies of work: three photographs that Wall shot in Sicily in 2007 and, in the lower ground-floor gallery, seven new pictures.
Sicily 2007

In the ground-floor gallery, Wall showed, together for the first time, three documentary pictures of Sicilian landscapes. The composition of 'Hillside, Sicily' (2007) imbues the picture with a powerful downward motion, emphasized by the truncation of the slope, while the scale of the picture and stippling of the flora puts the work in dialogue with Modernist abstraction. 'Hillside near Ragusa' (2007) evokes an ancient pastoral setting, where shepherds have walked for thousands of years, the horizon punctuated by power pylons whose forms echo the trees in the foreground. A similar mingling of eras is revealed in 'Ossuary headstone' (2007). Surrounding a headstone designed to stand for timelessness, the world seems rough and temporary: weeds emerge from crumbling tiles and makeshift wires droop from a wall topped with fresh flowers.

New photographs

In the lower ground-floor gallery, Wall showed seven photographs that each feature a figure, or group of figures, many who appear to be playing or enacting a particular role. The title of Ivan Sayers, costume historian, lectures at the University Women's Club, Vancouver, 7 December 2009. Virginia Newton-Moss wears a British ensemble c. 1910, from Sayers' collection (2009) anchors the picture in a particular time and place, and yet the picture itself depicts a fusing of past and present, with the contemporary setting punctuated by the spectral presence of a model in a period ensemble. 'Boy falls from tree' (2010) is both an everyday event and the origin of a suburban fable, a misadventure that will become lodged forever into the fabric of the boy's identity. In 'Band & crowd' (2011) a trio plays their drums and guitars with fervent intensity to a sparse, partly disengaged crowd, while in 'Boxing' (2011) two boys exchange blows amid the measured calm of a middle-class living room. 'Young man wet with rain' (2011) depicts a figure caught in a moment of thought while seeking shelter from a rain shower, countless droplets clinging to his coat.

Jeff Wall was born in 1946 in Vancouver, Canada, where he lives and works. Group shows include 'Documenta 11', Kassel, Germany (2002), 'The Age of Modernism: Art in the 20th Century', Zeitgeist-Gesellschaft zur Förderung der Künste, Berlin (1997) and 'Documenta 10', Kassel, Germany (1997). Solo shows include ICA, London (1984), Irish Museum of Modern Art, Dublin (1993), Whitechapel Gallery, London (2001), Kunstmuseum Wolfsburg, Germany (2001), Hasselblad Center, Göteborg (2002), Astrup Fearnley Museum, Oslo(2004), Schaulager, Basel (2005), Tate Modern, London (2005), MoMA, New York (2007), Deutsche Guggenheim, Berlin (2007), Galerie Neue Meister, Staatliche Kunstsammlungen Dresden (2010)and Bozar, Brussels (2011). Jeff Wall, 'The Crooked Path', will be at Centro Galego de Arte Contemporánea, Santiago de Compostela, Spain until 26 February 2012.