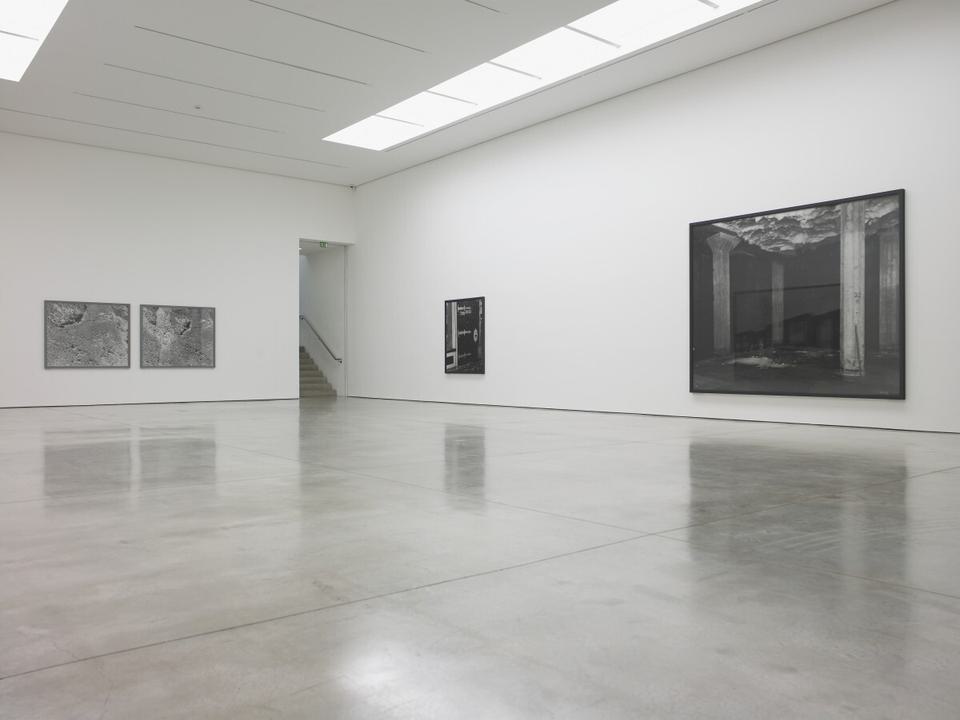 Jeff Wall (2007)
Jeff Wall
27 November 2007 – 19 January 2008
Dates
27 November 2007 – 19 January 2008
Location
25 – 26 Mason's Yard
London SW1Y 6BU

This exhibition of photographs by Jeff Wall featured six black-and-white pictures and three colour light-boxes. It was the artist's first exhibition in a private gallery in the UK since showing The Giant at White Cube, Duke Street in 1994, and his first in London since his celebrated retrospective at Tate Modern in 2005. In this recent group of pictures, Wall extends his exploration of the possibilities of realism and what he calls 'near documentary' in large-scale photography.
Although Wall is best known for his backlit colour transparencies in light-boxes, for the past decade he has pursued black-and-white photography with equal vigour. The largest of the new pictures, 'Men waiting', depicts a group of casual labourers clustered together at a gathering point beneath an expansive winter sky. 'Tenants' shows a moment of everyday life in a suburban social housing project. The residents go about their business in a building that looks both timeless – with its clapboard modernism constructed of cheap materials – and temporary. In 'War game' a group of boys turn an empty lot into a field of imaginary battle. 'Cold storage', 'Fortified door' and 'Rock surface' 1 & 2 are documentary photographs of unoccupied places.

In the light-box works, all documentary photographs, Wall captures the improbable presence of beauty in mundane subjects. 'Hotels, Carrall Street' depicts an inner-city hotel as builders gut it for renovation, while another urban landscape, 'Church, Carolina St.', presents an image of a modest Pentecostal church on a snowy winter day. Dressing poultry shows four people in a cluttered rural building slaughtering chickens and preparing them for market.

Jeff Wall was born in 1946 in Vancouver, Canada, where he lives and works. He has exhibited widely, including group shows 'Faces in the Crowd: Picturing Modern Life from Manet to Today', Whitechapel, London (2004), Documenta 11, Kassel, Germany (2002), 'The Age of Modernism: Art in the 20th Century', Zeitgeist-Gesellschaft zur Förderung der Künste, Berlin (1997), Documenta 10, Kassel, Germany (1997). Solo shows include ICA, London (1984), Irish Museum of Modern Art, Dublin, Ireland (1993), Whitechapel, London (2001), Kunstmuseum Wolfsburg, Germany (2001), Hasselblad Center, Göteborg, Sweden (2002), Astrup Fearnley Museum, Oslo, Norway (2004) and retrospectives at Schaulager, Basel (2005), Tate Modern (2005) and MoMA, New York (2007), which travelled to the Chicago Art Institute and is at the SFMoMA, San Francisco, 27 October 2007 – 27 January 2008. 'Jeff Wall: Exposure' is at the Deutsche Guggenheim 3 November 2007 – 20 January 2008.

To mark the occasion White Cube published Jeff Wall: Black and White Photographs 1996 - 2007, a catalogue that covers all of Wall's monochrome pictures to date, with an essay by Craig Burnett.