Dates
27 April – 25 June 2022
Location
25 – 26 Mason's Yard
London SW1Y 6BU

White Cube is pleased to present an exhibition of works by Jeff Wall at Mason's Yard. Comprising both new and earlier photographs spanning a twenty-year period, the selection foregrounds Wall's attention to the forms and methods of picture making and his prolonged observation of everyday life.
Since the 1980s, Wall has made documentary photographs alongside what he terms 'cinematographic' pictures, all of which emerge from similar processes of study and reflection. Trap Set (2021) was taken during mink season on a cold February day in the suburbs of Wall's native Vancouver. Animal traps, one of mankind's oldest devices, remind us of our original cunning intelligence. The equally cleverly designed Playground Structure (2008) depicts another contraption waiting for its users, in this case, children at play, possibly those living in the suburban houses in the background.

Like Trap Set, Pawnshop (2009) reflects the 'near-documentary' approach that has been a central aspect of Wall's work for forty years. The cubicles of the pawn shop's interior, which resemble confession booths or changing rooms, not only provide isolation and privacy but also perhaps reflect the almost ritualistic function of this emporium where people can borrow against the value of even small items of personal property, often as a last resort.

The exhibition includes several black and white prints, including Cold Storage (2007) and Burrow (2004). A new picture, A woman with a necklace (2021) shows a woman reclining languidly in a shadowy interior examining a sparkling glass necklace. Derived from Wall's own memories of his childhood home, this study in light and shadow, like all of Wall's black and white pictures, draws attention to the possibilities of picture making without colour, and to the intense luminosity that the monochrome offers.

Wall has said that his photographs encourage the viewer to write a text that he has erased in the process of making the image, that the viewer creates whatever narrative dimension the pictures have. Band & crowd (2011) involved 'open-ended orchestration' whereby Wall hired a band to play a concert in front of a sparse audience and recorded the results. The image is one of Wall's largest, taking in almost the entirety of the old and worn meeting hall. In Event (2020) two men in evening dress, seemingly attendees at a formal evening affair, are engaged in a confrontation. The subject originated with an incident witnessed by the artist, which he relocated to what is likely the ballroom or lobby of a hotel.

Several recent pictures in the exhibition were made in Los Angeles, where Wall also lives and works. Man at a Mirror (2019) features a man in a hotel room looking into a mirror on which a message has been written in soap. The camera angle ensures that the message remains indecipherable, and it cannot be determined if the man is its writer. Sunseeker (2021), and Mask maker (2015), also depict witnessed scenes. Sunseeker is an image of a woman dressed in black, sitting cross-legged on the roof of her car under strong sunlight. Face turned skywards and in a pose of meditation, she looks eccentric yet self-assured. In Mask maker a man dressed in a colourful outfit, decorates the half-mask he's wearing with a coloured pen, using his reflection in a shop window. The picture's spontaneous realism contrasts with its carnivalesque tension; the record of an action that is private, purposeful but almost alarming.

The subject of the large diptych Actor in two roles (2020) is simple almost to the point of being invisible: the transformation of an actor's appearance from role to role. Yet this transformation is at the root of all possibilities of performance. Wall undertook to produce a moment from two existing plays and worked with companies and artists in the 'little theatre' community in Los Angeles to cast, rehearse and design the productions. The pair of still images has the unique capacity to provide a simultaneous vision of the two different appearances, or identities, of a performer. Actor in two roles continues Wall's interest in subjects that cannot be contained within the single image. His multi-part pieces derive, paradoxically, from his history of intense immersion in the capacities of the unique pictorial image.

Jeff Wall was born in 1946 in Vancouver where he lives and works. He has exhibited widely, including solo exhibitions at Glenstone, Maryland (2021); Economou Collection, Athens (2019); Kunsthalle Mannheim, Germany, touring to Mudam Luxembourg (2018); Pérez Art Museum, Miami (2015); Stedelijk Museum, Amsterdam, touring to Kunsthaus Bregenz, Austria and Louisiana Museum of Modern Art, Humlebaek, Denmark (2014–15); Art Gallery of Western Australia, touring to National Gallery of Victoria, Melbourne and Museum of Contemporary Art Australia, Sydney (2012–13); Pinakothek der Moderne, Munich, Germany (2013); Centro Galego de Arte Contemporanea, Santiago de Compostela, Spain (2011); Museo Tamayo, Mexico City (2008); The Museum of Modern Art, New York touring to The Art Institute of Chicago and San Francisco Museum of Modern Art (2007); and Tate Modern, London touring to Schaulager, Basel, Switzerland (2005). Group exhibitions include 5th Shanghai Biennale (2004); Documenta 11, Kassel, Germany (2002); 12th Biennale of Sydney (2000); 24th Bienal de São Paulo (1998); and Documenta 10, Kassel, Germany (1997).
Installation views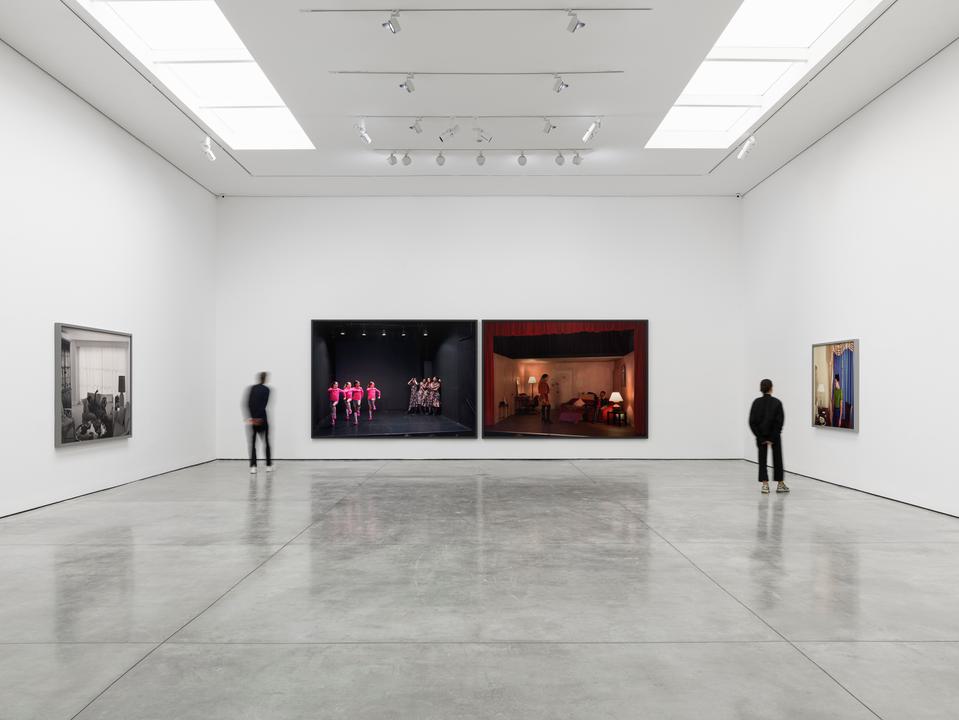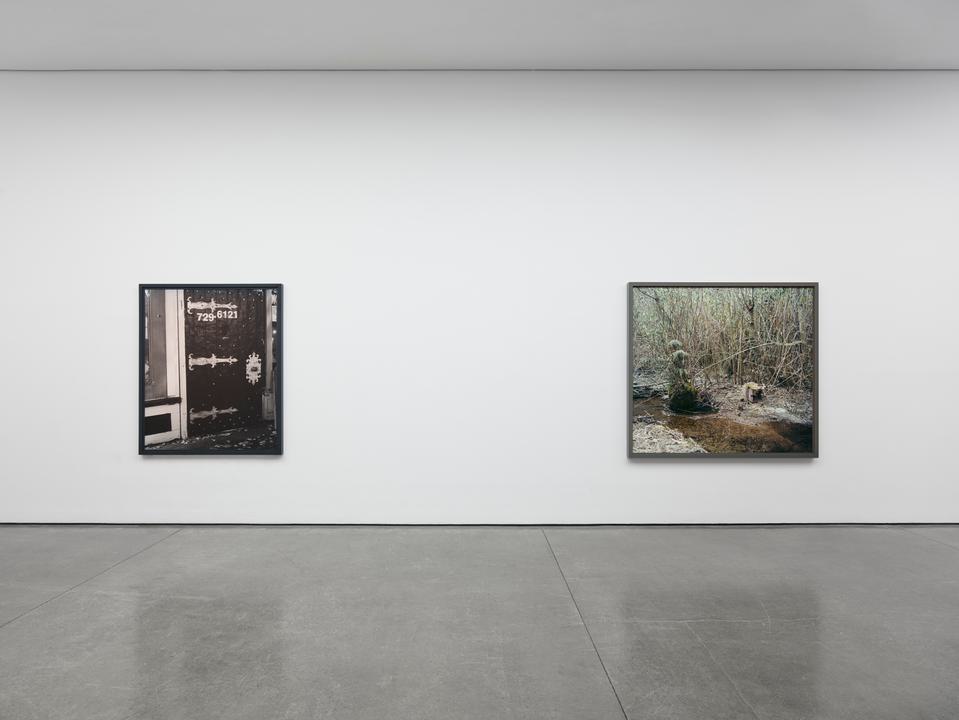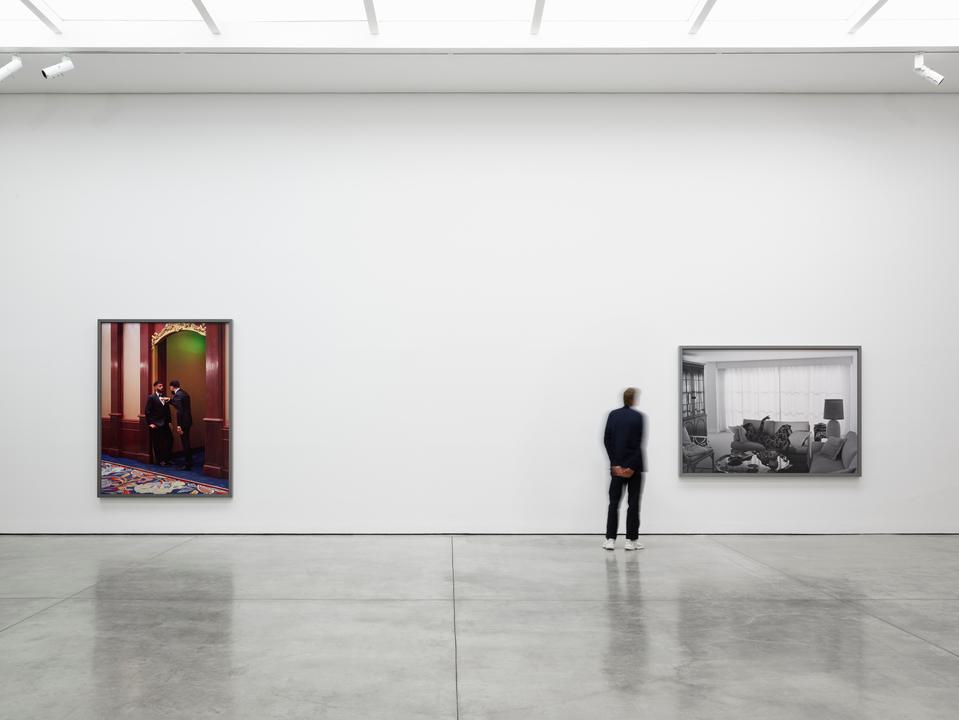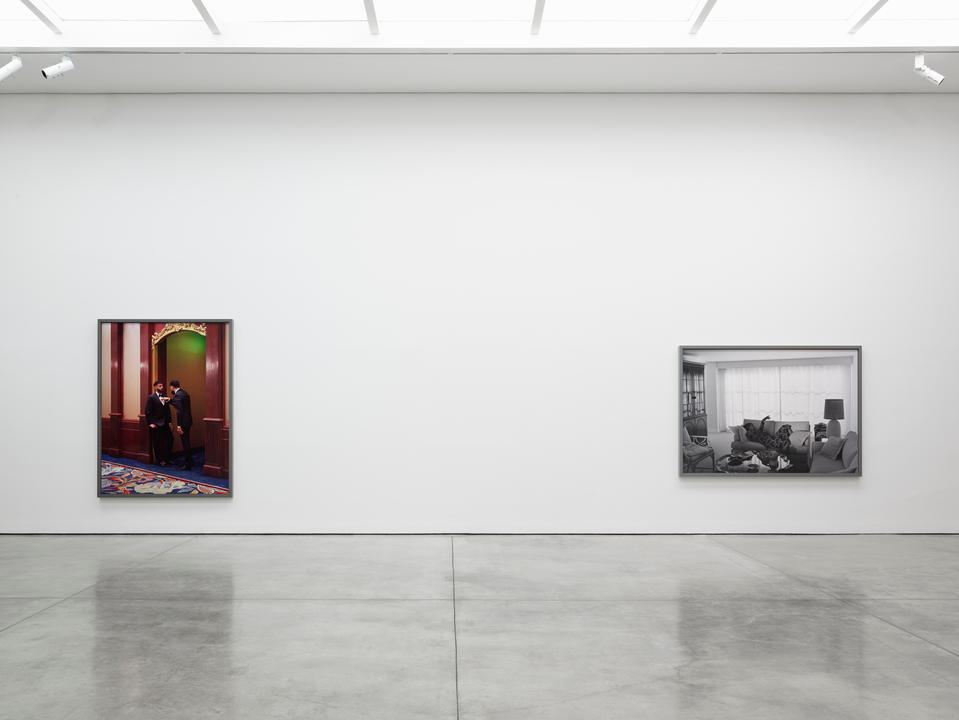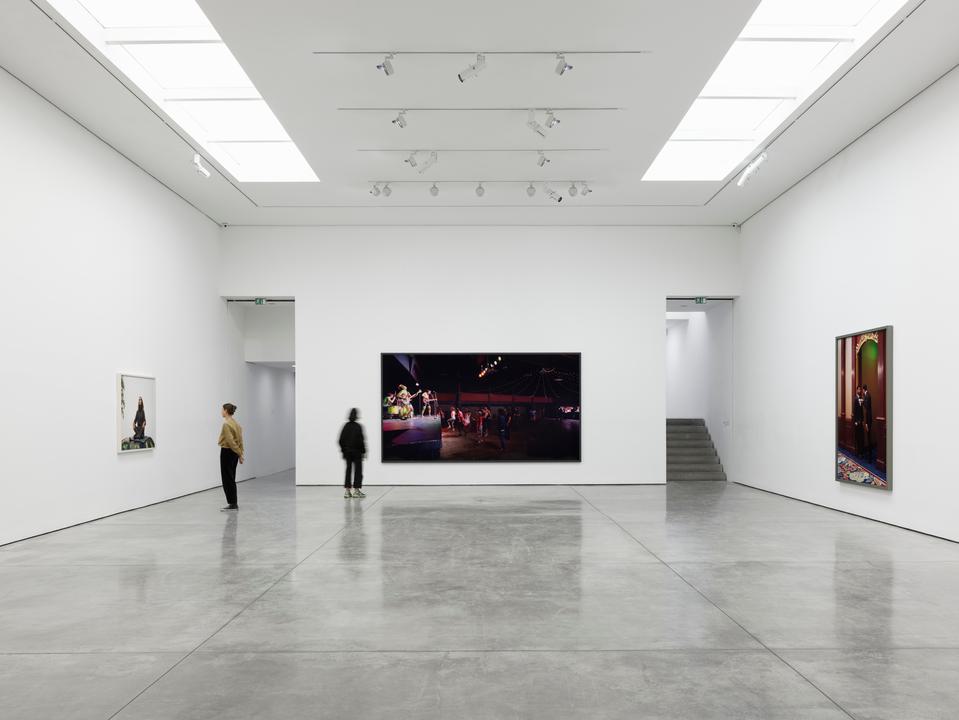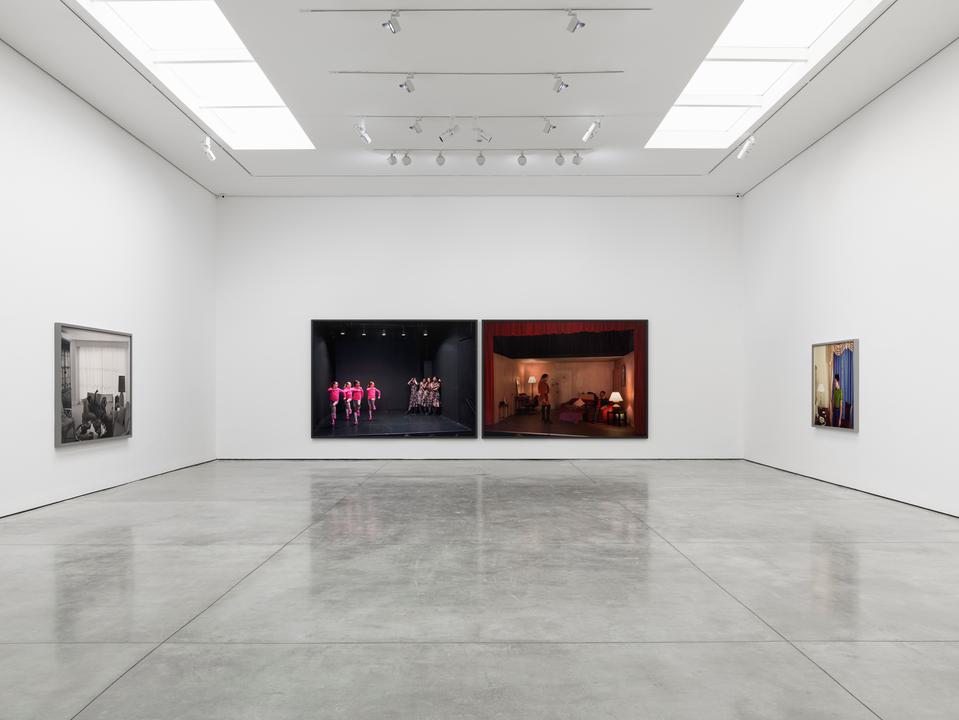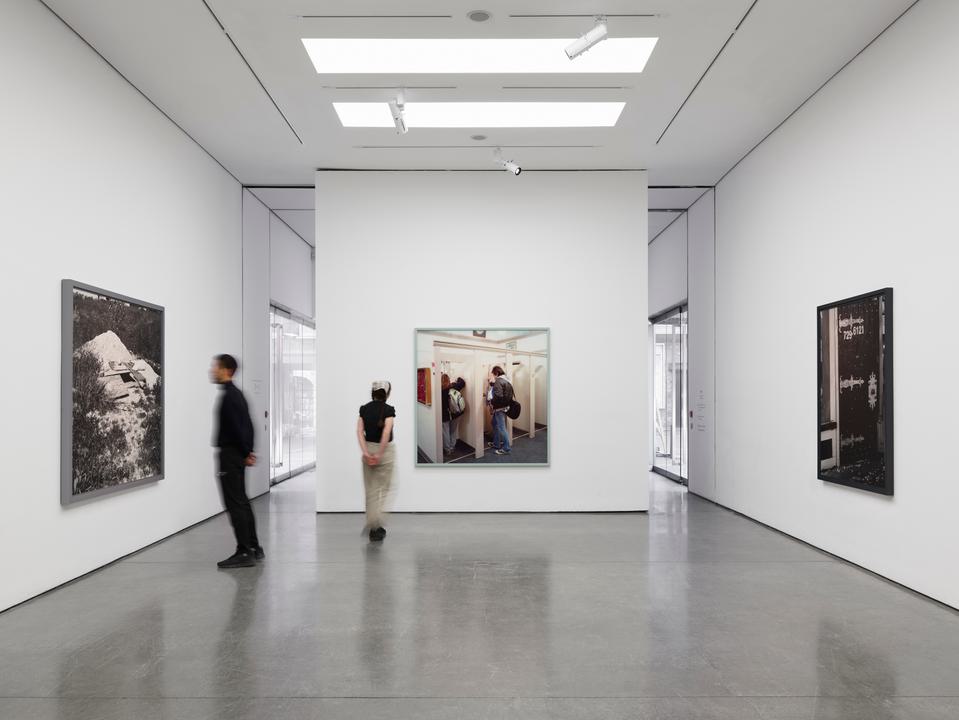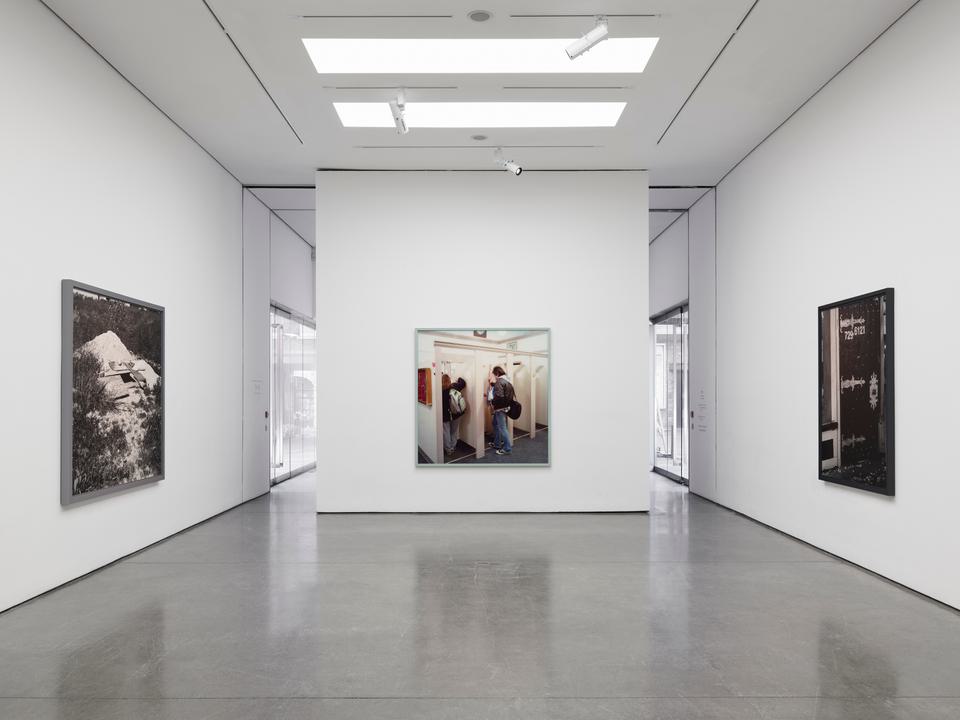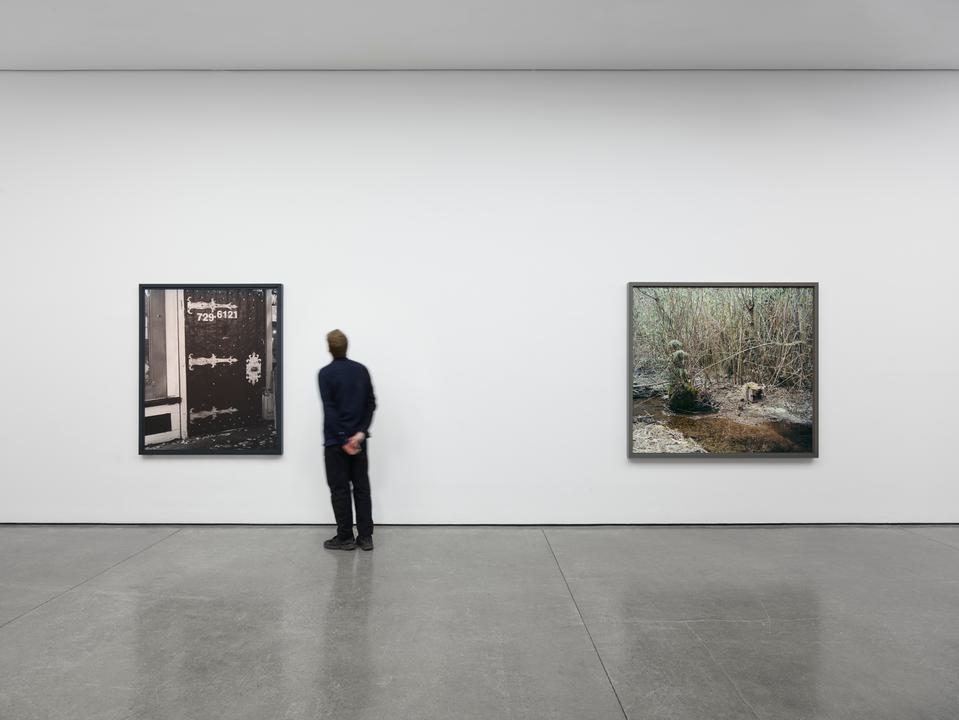 Film
In the Gallery: Jeff Wall at Mason's Yard
Jeff Wall discusses his photographs Band & crowd (2011), Sunseeker (2021) and A woman with a necklace (2021), which sit between documentary and performance.
---