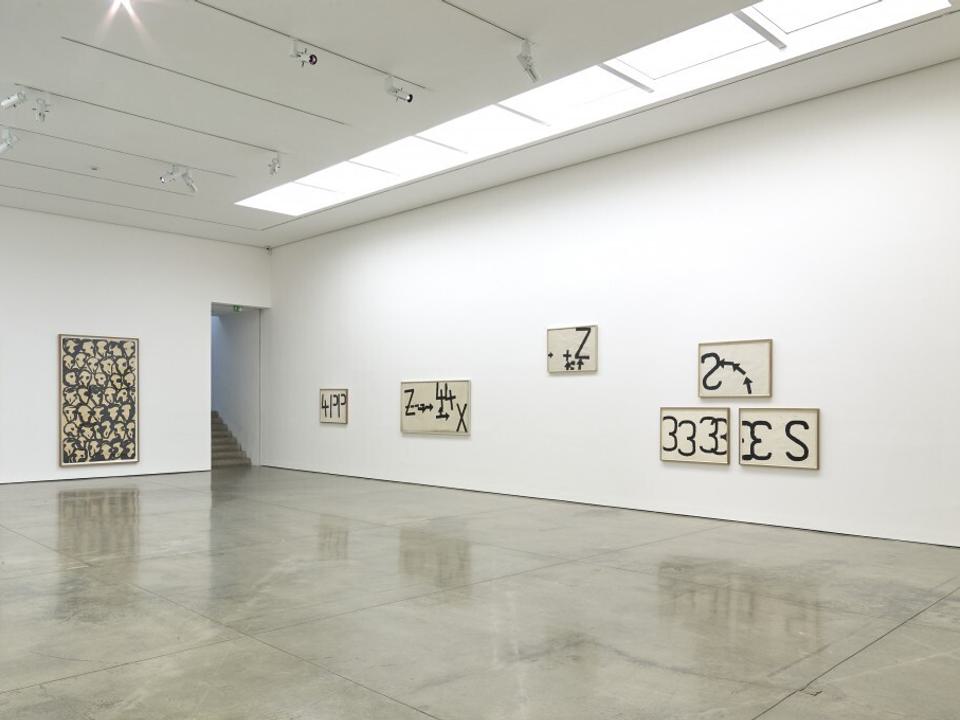 Jannis Kounellis (2016)
Jannis Kounellis
23 September – 29 October 2016
Dates
23 September – 29 October 2016
Location
25 – 26 Mason's Yard
London SW1Y 6BU

'...I search among fragments (emotional and formal) for the scatterings of history.'
White Cube Mason's Yard presented a major exhibition of works by Jannis Kounellis. This exhibition focused on Kounellis' very first works: the 'Alfabeto' series of works on paper and paintings. The exhibition was one of the most in-depth presentations to date of this historical body of work, offering a review of Kounellis' artistic development through a reconsideration of these early masterpieces. The selection also featured several other works on paper and early wall-based sculptures from the 1980s and 1990s.
Kounellis was born in Piraeus, Greece in 1936 but moved to Rome in 1956, where he still lives and works. Associated with the Arte Povera movement from 1967 onwards, his work is characterised by the juxtaposition of elements, including ready-made objects such as bed frames, doors and shelves and raw materials such as stone, cotton, wool, coal, fire and soot. Occasionally, he has used live animals in his work, most famously in Untitled/Twelve Horses (1969), shown at Galleria L'Attico, Rome, where horses were tethered inside the gallery space. Influenced by a broad range of artists, from Kazemir Malevich, Alberto Burri, Lucio Fontana to Jackson Pollock and Franz Kline, Kounellis has extended the boundaries of contemporary art, and in particular the possibilities of painting, making works that reflect the ever changing world around us while also deeply resonating with his own traditions and culture.

The 'Alfabeto' series of works on paper and canvas were begun in around 1958 while he was still a student in Rome. Using black tempera, ink, enamel or acrylic paint on a white ground of paper, cardboard or canvas – either singly or combined – they feature black stencilled numbers, letters, mathematical symbols and arrows. The first exhibition of these works, described later by Kounellis as 'a hermetic rhythmic writing in space' was titled L'alfabeto di Kounellis, and was held at Galleria La Tartaruga, the first gallery for contemporary art set-up in Rome. This was followed by two further shows in 1964 and 1966, and a third also in 1966 at Galleria Arco D'Alibert, Rome.

The letters, signs and numbers in these paintings are repeated, overlaid, fragmented or inverted, creating a new visual language. Always impersonal and regularized, the result of their stencilled application, they are painted in a textural and imperfect manner, reflecting both the hand-made quality of these and also the smooth industrial production methods used in the signs and advertising of the street. Kounellis has likened these works to frescoes, saying that: 'They were not pictures as such, all the canvases derived from the measurements of the house, in which I lived. They referred to the wall. In fact, I used to stretch the canvas or the sheet, right up to the limits of the corners of the wall, the painting ended there [...] it was like taking off a fresco, since the canvases or sheets had the form and breadth of the walls of the room [...]. The letters or painted signs, they came however from forms which I prepared out of hard cardboard. They were printed, not calligraphic but structural'. Jannis Kounellis, Works, Writings 1958-2000, Ediciones Poligrafa S.A.(2001), p.71

With these works, Kounellis moved his painting away from abstract formalism and towards a more conceptual discourse. Moreover, like other works from the period, they register a transformation occurring in Italy during the time, with the influence of American culture and specifically a culture of consumption; what the Italian art historian Giuliano Briganti has defined as 'a break with the past, a provocative action'. Following this series, Kounellis began to introduce found objects into his works, including actual street signs, creating a convergence of painting, sculpture and performance.

In two ink works on paper from the collection of Ileana Sonnabend and the estate of Nina Castelli (both Untitled (1980)), a crowd of faces appears like a detail of some greater scene, as if this bulging crowd is limited only by the edges of the paper itself. Several wall based sculptures in the exhibition, which date from the late 1980s and 1990s, feature Kounellis' signature combination of elements – wax, lead, burlap, steel, coal and fabric – exploring tensions between two and three dimensionality; expansion and containment. In Untitled (1990), a jute sack, several lumps of coal and a lithograph print are contained like a flat picture within an aluminium case. In Untitled (1996), a vertical steel column holds colourful cloth-rags that spill out of its regular divisions and in Untitled (1986), organic wax shapes on the surface of an undulating burlap sack have been adhered to steel panels. These two latter works reflect Kounellis' ability to combine materials to powerful effect, reflecting, as Rudi Fuchs has commented, the 'history in Kounellis' work of freely flowing shape and of allowing pliant material to find its own shape [...].' (Jannis Kounellis, Modern Art Oxford (2004), p.41).

The 'Alfabeto' works continue to have a deep connection with the later works of Kounellis' extensive career. They are often included, or at least referenced in his survey exhibitions, but have yet to be shown on such a complete scale.

His first solo exhibition was at the Galleria La Tartaruga, Rome in 1960. Since then, Jannis Kounellis' work has been widely exhibited at the Musée d'Art Moderne de la Ville de Paris (1980); Stedelijk Van Abbemuseum, Eindhoven, Netherlands (1981); Whitechapel Art Gallery, London (1985); Museum of Contemporary Art, Chicago (1986); Stedelijk Museum, Amsterdam (1990); Museo Nacional Centro de Arte Reina Sofía, Spain (1996); Tate Modern, London (2001); Galleria Nazionale d'Arte Moderna, Rome (2002); Museo d'Arte Contemporanea Donnaregina, Naples (2004); Neue Nationalgalerie, Berlin (2007); National Centre for Contemporary Art, Moscow (2011); Today Art Museum, Beijing, (2011) and Museum of Cycladic Art, Athens (2012).