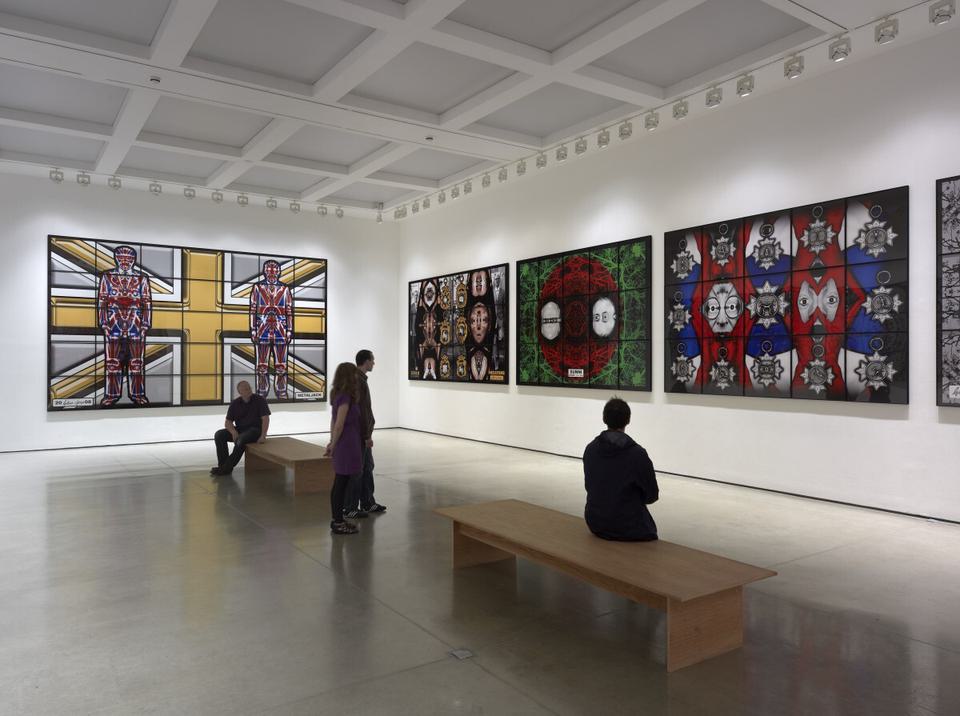 Dates
10 July – 22 August 2009
Location
25 – 26 Mason's Yard
London SW1Y 6BU

The 'JACK FREAK PICTURES' was shown in both the Mason's Yard and Hoxton galleries and comprised the single largest series of work ever made by the illustrious British duo. It was their third show with White Cube and the first in London since the monumental retrospective at Tate Modern in 2007.

According to the writer Michael Bracewell, "the 'JACK FREAK PICTURES' are among the most iconic, philosophically astute and visually violent works that Gilbert & George have ever created." The dominant pictorial element is the Union Jack, itself an internationally familiar, abstract, geometric pattern and a socially and politically charged symbol whose significance spans the cultural spectrum from contemporary fashion to aggressive national pride. Equally prominent, and linking the 'JACK FREAK PICTURES' to almost every work previously created by the artists, are Gilbert & George themselves in a variety of guises: dancing, gurning, howling, watching, waiting. Sometimes their bodies seem complete; other times they have been fragmented or contorted. Invariably they feature as both subject and object, artwork and artist; they are players in the epic and complex pictorial drama they have created.
Set in the East End of London where Gilbert & George have lived and worked for over forty years, the 'Jack Freak Pictures' bring numerous aspects of the modern world to life. Medals, flags, maps, street-signs, graffiti and other less immediately obvious motifs jostle for attention with the brickwork, buildings and even foliage of the contemporary urban environment in works that are densely layered and complexly nuanced to evoke (and sometimes conflate) a sense of past, present and future. They raise fundamental and rudimentary questions about religion, identity, politics, economics, sexuality and death. The 'JACK FREAK PICTURES' reaffirm Gilbert & George's status as pre-eminent Modernists and underline Robert Rosenblum's observation that "of the singularity of their duality in life as art, there is little doubt". Michael Bracewell's view that they are "visionary artists in the lineage of William Blake" rings truer now than ever before.

Gilbert was born in the Dolomites, Italy in 1943; George was born in Devon in 1942 and both live and work in London. Together they have participated in many important group and solo exhibitions including the largest retrospective of any artist to be staged at Tate Modern (2007). The exhibition went on to tour Haus der Kunst, Munich (2007); Castello di Rivioli, Turin (2007); Milwaukee Art Museum (2008) and Brooklyn Museum (2008 –09). They have had many other extensive solo exhibitions, including, Whitechapel Art Gallery, London (1971-1972), National Gallery, Beijing (1993), Shanghai Art Museum (1993), Stedelijk Museum, Amsterdam (1995-1996), Musée d'Art Moderne de la Ville de Paris (1998), Serpentine Gallery, London (2002), Kunsthaus Bregenz (2002) and Kestnergesellschaft, Hannover (2004-2005). They won the Turner Prize in 1984 and represented Britain at the Venice Biennale in 2005.
A fully illustrated catalogue, with an essay by Michael Bracewell  accompanied the exhibition.