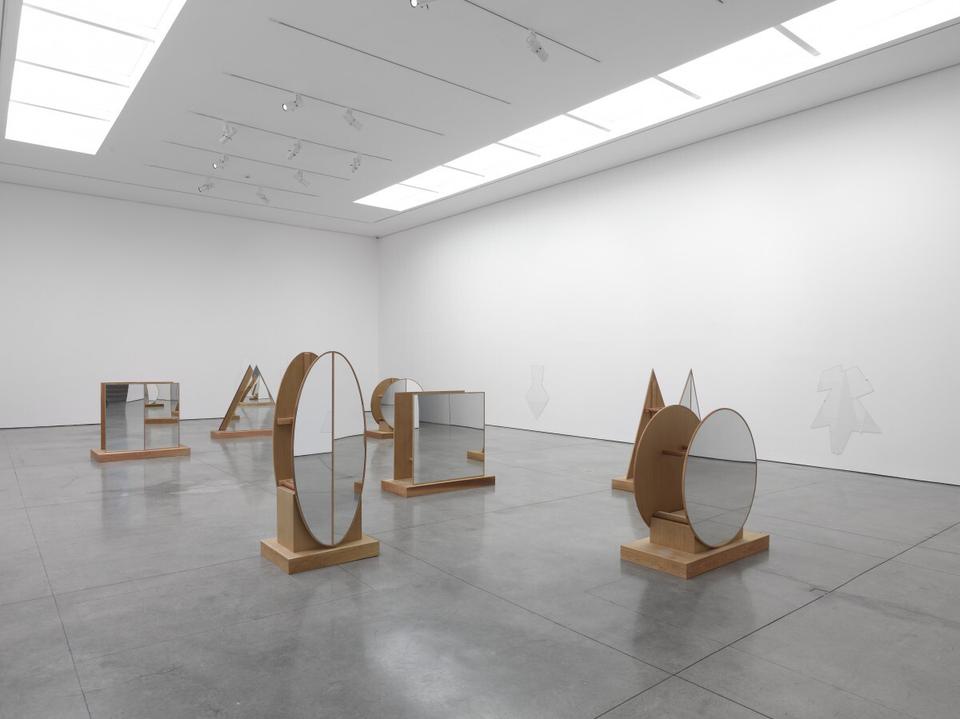 Josiah McElheny
Interactions of the Abstract Body
16 November 2012 – 12 January 2013
Dates
16 November 2012 – 12 January 2013
Location
25 – 26 Mason's Yard
London SW1Y 6BU

If the human body has scarcely changed since we started walking upright, the history of fashion shows that we have always sought new and extraordinary ways to transform it. Through exhibitions and performances such as 'An Historical Anecdote About Fashion' (1999) and 'The Metal Party' (2001), McElheny has explored how the constantly shifting forms of fashion can often reveal the core beliefs and assumptions of any given era. With 'Interactions of the Abstract Body' McElheny pushed these ideas further, creating a large and varied body of work that looks at how fashion and modernism have intersected and influenced each other, especially through the common language of the body. Crucially, McElheny animated this dynamic with the constant presence of a performer. By combining a continuous flesh-and-blood performance with static sculpture in the same gallery space, a first for White Cube, McElheny radically fractures the distinction between performance and exhibition.
The ground floor gallery featured a series of sculptures based in part on the vitrines that Carlo Scarpa designed to display plaster models (at 25% scale) of the human figure in the Museo Canova in Possagno, Italy. Within each of these steel, cedar and glass vitrines, McElheny has placed carved and cut glass forms that are based on designs or templates by a range of different artists and designers from the past century. Each glass assemblage, with titles such as The Space Age Body (after Cardin, Courrèges, and Gernreich) (2012) and The Uniform Body (after Popova and Rodchenko) (2012), acts like an interpretive 'model', a structure that reveals a range of potential cultural forces and historical interpretations of the human body, embedded in its form. Blown to incorporate threads of different-coloured glass in order to produce a moiré effect when the viewer moves around the sculpture, the glass vessels themselves seem to sway and undulate like cloth, defying the hardness of the medium.

In the lower ground floor gallery McElheny created a shifting, otherworldly space, animated by eight mirrored sculptures titled, when performed as a group, Interactions of the Abstract Body (2012). Each sculpture is a variation on a circle, square, triangle or ellipse and is individually titled after each shape – e.g. Interactive Abstract Body (Circle) (2012). Performers from the Trinity Laban Conservatoire of Music & Dance will wear these geometric, mirrored structures, transforming their body into a kinetic sculpture that moves within the gallery according to a pattern choreographed by the artist. At once comic and elegant, Interactions of the Abstract Body, reflects McElheny's interest in the oft-overlooked playful side of Modernism, from the Bauhaus parties to Francis Picabia's painting diagrams, such as Parade Amoureuse (1917), that animate the dialectic between the body and machine.
The gallery also featured a group of flat, transparent glass reliefs hanging flush to the gallery walls. Based on designs by Sonia Delaunay and Varvara Stepanova, these jaggedly geometric shapes are partly reflective, showing dimly on their surface the objects in front of them and yet each sculpture also alters the wall behind them, defining an almost pictorial space. Gallery goers and performers will both peer into and become reflected in these forms, so that bodies and implied bodies will multiply, creating a complex, intangible sense of space.
There was at least one performer in the lower ground space whenever the gallery was open. Each Saturday, all eight sculptures were set in motion by eight performers on at least one occasion during the day.
Josiah McElheny lives and works in New York. He has exhibited widely, including solo shows at ICA Boston (2012), Whitechapel, London (2011-12), Museo de Arte Reina Sofia, Madrid (2009), Moderna Museet, Stockholm (2007), Museum of Modern Art, New York (2007), Centro Galego de Arte Contemporánea, Santiago de Compostela, Spain (2002), Yerba Buena Center for the Arts, San Francisco (2001). Upcoming shows include 'The Light Club of Vizcaya: A Women's Picture', Vizcaya Museum and Gardens, Miami and 'Towards a Light Club', Wexner Center for the Arts, Columbus, Ohio.
A publication with a text by Ulrich Lehmann will be available in January 2013.