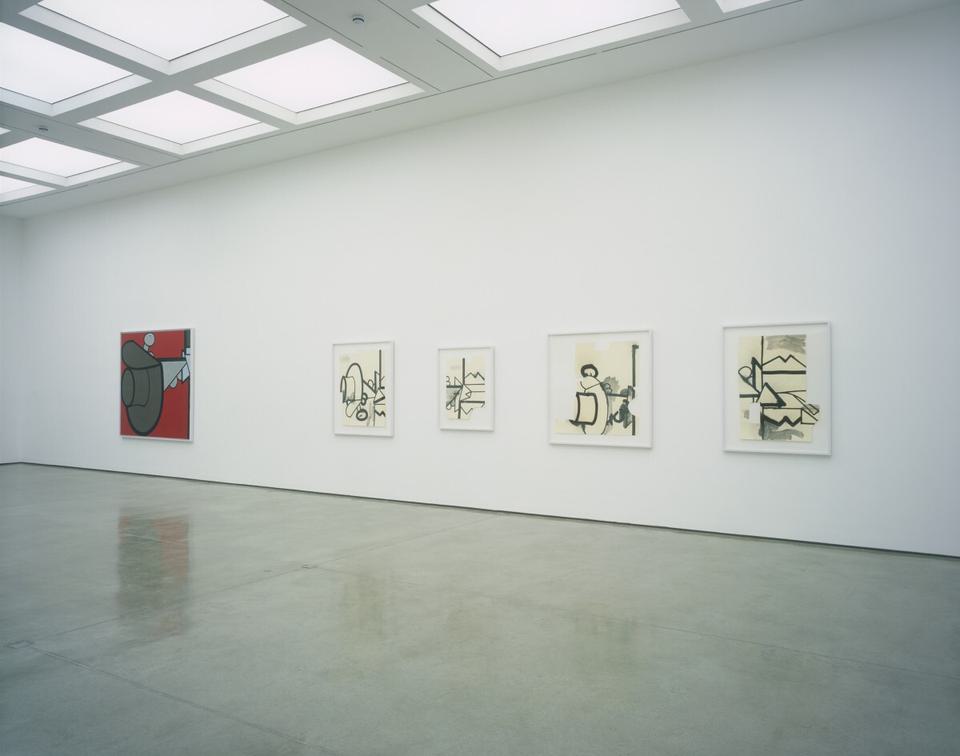 27 October – 9 December 2006
Dates
27 October – 9 December 2006
American artist Carroll Dunham, renowned for exuberant drawings and paintings that depict the libidinous energy, violence and restless anxiety of American culture, exhibited a new series of works at White Cube Hoxton Square.

In the early 1980s, Dunham created paintings that explored traditions of American abstraction, finding bodily forms such as knots, nipples and wrinkles in the wood grain that he integrated into the composition of each work. He then developed a semi-figurative language of organic forms that evolved, over the next decade, into recognisable figures that inhabit an amoral playground, where characters brandish their genitalia like weapons and bits of fleshy forms share the canvas with visceral marks and splatters of paint. This exhibition featured a series of five paintings titled 'In Red Space' and a sixth called 'Mule'. A group of drawings related to the paintings was also exhibited.
The series of 'In Red Space' paintings that formed the core of the show depict an American everyman in a blue shirt, grey suit and an iconic men's hat from another era. While the formal qualities of these canvases bring to mind the geometric abstraction prominent in mid-century America, the figure looks like a schematic diagram of the idealised 1950s Father, all buttoned-up and rigid. Despite his workaday appearance, his face has been transformed into male genitalia, his nose half phallus, half musical instrument, and his body and face flattened into jigsaw puzzle-like patterns. In a painting such as 'In Red Space (four)', the figurative elements are difficult to recognise, the suit reduced to a bar of grey along the right edge of the painting, the back of the head to a grey triangle with two bulbous appendages. The rich red background only underlines the rigor mortis of the figure and the air of repressed desire.

The figures depicted in the 'In Red Space' paintings have their counterpart in the relaxed and recumbent figure of Mule. Here the upright everyman, still topped by a brown hat, has been transformed into a figure of unhinged desire and appetite. The skin is sickly pink, the brushwork loose, the canvas smeared with muddy paint and cluttered with bits of debris. The central figure, so rigid in the In Red Space paintings, has been softened and stripped bare, revealing female genitalia, a gaping hole in the lower centre of the picture.