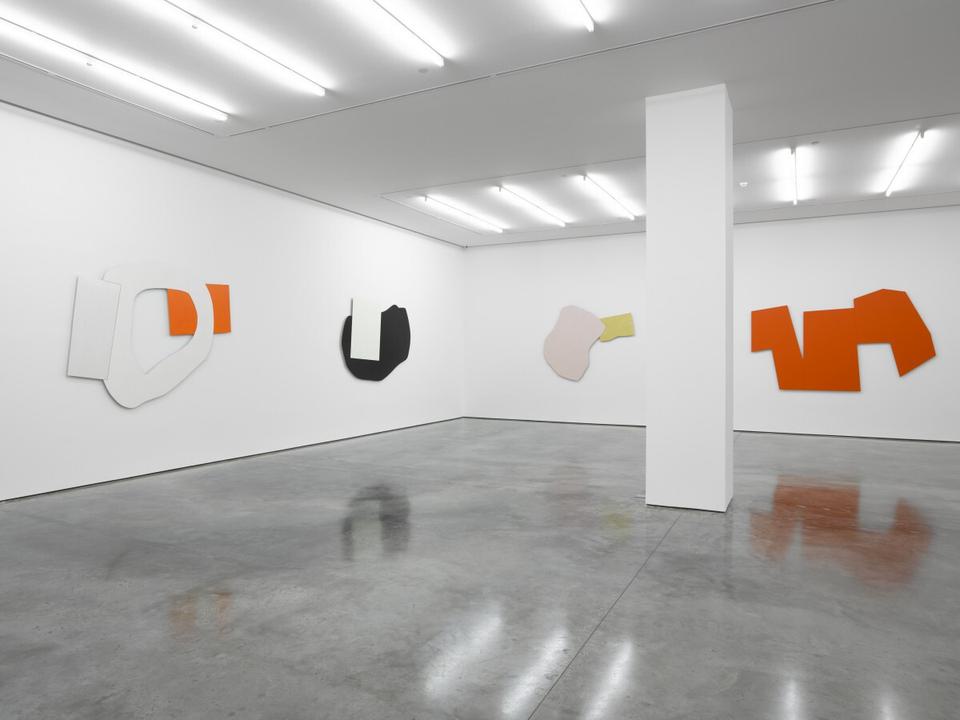 Inside the White Cube
15 July – 13 September 2015
Dates
15 July – 13 September 2015
Location
144 – 152 Bermondsey Street
London SE1 3TQ

White Cube Bermondsey presented an exhibition by the internationally acclaimed German artist Imi Knoebel for 'Inside the White Cube'. One of the foremost artists of his generation, Knoebel's multi-faceted oeuvre spans more than 50 years, incorporating drawing, painting, sculpture, photography, projection and installation. This exhibition, surprisingly his first ever in London (and first in the UK since 2006), included new and existing paintings and sculpture in acrylic on aluminium as well as a group of works made especially for the gallery's '9 x 9 x 9' space. In keeping with Knoebel's approach to making exhibitions, he conceived of the installation as a single work in itself within which the works interacted to create new dialogues about form, colour and space.
Knoebel's practice is resolutely formal, exploring the effect and power of colour and materials in ways that continue the gestures and investigations of Modernism, in particular drawing influence from the geometrical abstractions of Malevich and Mondrian. His work is open-ended, it rejects any notions of spirituality potentially attached to pure abstraction. 'I don't want to enter into [an] abstraction, into true non-representationalism' he has said . Frequently working in groups or series, Knoebel revisits certain themes and materials time and again at different points in his career. The works in this exhibition are all made from aluminium panels (first used in 1991) and reflect his practice of expanding and reinterpreting earlier subjects to form building blocks for new work.

A group of paintings (2014–15) continue Knoebel's rigorous abstraction working with organic and geometric shaped panels in combinations of two or three colours, sometimes possessing a fluorescent effect. Juxtaposed in various ways, these reliefs or object-like paintings test Knoebel's formal concerns contrasting hard edged with soft, coloured with neutral, and matt with reflective to vivid effect.

Other works continue the artist's exploration of architectural concerns. In MOLANI (2001), Knoebel returns to the motif of the window, while Amor Intellectualis Tafel DCCCLVI (2006/ 2013) uses white acrylic and mirrored glass to reflect the surrounding gallery architecture into its pictorial field. In Ort-Rosa (2013), Knoebel uses pale pink panels to create a semi-enclosure, like the corner of a makeshift room, enfolding the viewer and creating a sense of intimacy in its reflective zone of pure colour.

For the 9x9x9 space Knoebel conceived an entirely new work: seven 'Kites', large, quadrilateral paintings, all in white, hung at varying heights on its walls. Always fascinated by perception and the invisible, Knoebel's dramatic installation transforms the gallery into a light, introspective space.

Imi Knoebel was born in Dessau in 1940. He studied under Joseph Beuys at the Staatliche Kunstakademie, Düsseldorf, where he still lives and works. He has exhibited in major museums around the world including, most recently, Dia: Beacon, New York (2008), Neue Nationalgalerie, Berlin and Deutsche Guggenheim, Berlin (2009), Gemeentemuseum, Den Haag (2010), Museum der bildenden Künste, Leipzig (2011), Parkhaus Düsseldorf (2013), Kunstmuseum Wolfsburg (2014) and Museum Haus Esters, Krefeld (2015).

His work is represented in some of the most important public collections including: Dia: Beacon and Dia Art Foundation, Berardo Museum, Lisbon; Broad Contemporary Art Museum, Santa Monica; Hamburger Bahnhof, Berlin; MOMA, New York; MOCA, Los Angeles; Museo Reina Sofia, Madrid; MMK Frankfurt; Norton Museum, West Palm Beach; Sammlung Goetz, Munich , and many others.