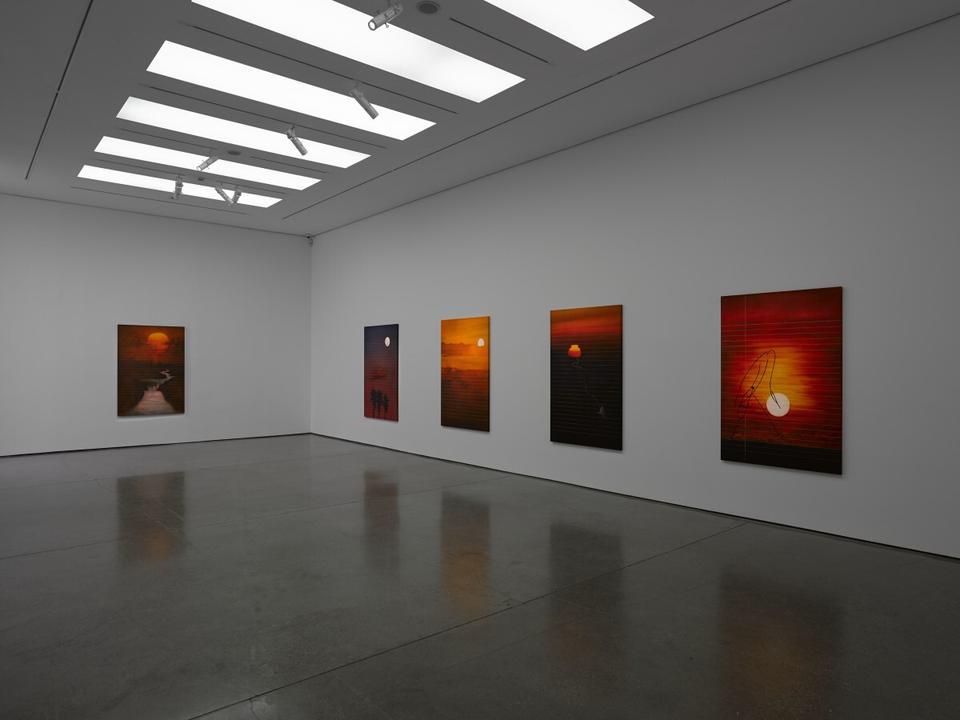 22 November 2013 – 25 January 2014
Dates
22 November 2013 – 25 January 2014
Location
25 – 26 Mason's Yard
London SW1Y 6BU

'Kunath balances the temper of his art on a knife's edge between postmodernism and nihilism, and then pushes it further, into a pictorial consciousness that seems part Fun House, part Las Vegas Rococo and part enquiry into the psycho-dynamics of visual language.' - Michael Bracewell
This was Kunath's second exhibition with the gallery and followed on from his first solo museum exhibition in the UK at Modern Art Oxford.

Kunath's work is fluid, operating in the area between consciousness and dreamscape, presenting a world of shifting realities, where fantasy and reality abruptly collide. His practice develops out of an accretion of objects, culled from both high and low culture, whose often unexpected meanings and possibilities are developed into a set of characters and objects that make their appearance – sometimes repetitively – across his painting, installation and sculpture. Michael Bracewell has described this process as a way to 'pioneer new hybrids of aesthetic status and cultural anthropology'. It allows for a cross-fertilisation of meaning that is neither ironically post-modern nor simply kitsch but somewhere in-between that is altogether more allusive and free.
Kunath's paintings in the lower-ground floor gallery continue this dark strain of surrealism, where a cast of sad and low-brow characters seem to float in space, through different spatial dimensions and where slapstick humour, pathos and metaphoric allegory are explosively combined. In I'm Still Here (2013) an artist looks on at a just completed floor painting of a larger than life dog, curled up asleep, a motif from other works that has now become monstrous, dominating the space and a metaphor Kunath's art, where paintings are finished only at the moment where they seem to take charge.
In the middle of the room, a group of frolicking sea otters, animals native to California where Kunath lives and works, are formed out of brightly painted ceramic. More akin to a junk store ornament, en masse and oversized, they create a kind of maritime underworld, dipping into and rising out of the floor as if it were the surface of the sea or a pool of water. Strangely emotive, they have been given human arms and feet and sport whiskers that have morphed into magnificent handlebar moustaches. This element, a direct reference to Friedrich Nietzsche, is typical of Kunath since although a small detail - a 'meaningless detail of a meaningful person' – it is charged with the combination of European symbolism and iconic American culture.
This sense of destabilisation, as well as the suggestion of a maritime underworld, continued in Kunath's 'Real Realities' paintings on the ground floor which depict richly coloured sunsets, overlaid with the markings of a standard A4 notepad, as if the romance of this highly sentimental image has been held in check by the organising principles of office stationary. The sunsets are sometimes caught behind the familiar postcard staple of a palm tree lined vista while at others, they are reflected in a perfectly calm sea. In another, a circular image of a Christmas card-like snowy landscape - a binary but equally idealised landscape - has been inserted on top. While the works point to Kunath's interest in the mechanisms of popular visual culture, in particular album covers, where collage is the stylistic trigger for a willing suspension of belief, they also call to mind the notion of a notepad scribbles – where something immediate, spontaneous and unmediated travels from the imagination to the pen in one continuous flow.
A fully illustrated publication, In My Room with texts by Michael Bracewell, Ory Dessau, Claire Le Restif and Paul Luckraft was published on the occasion of the exhibition by Walther Koenig.