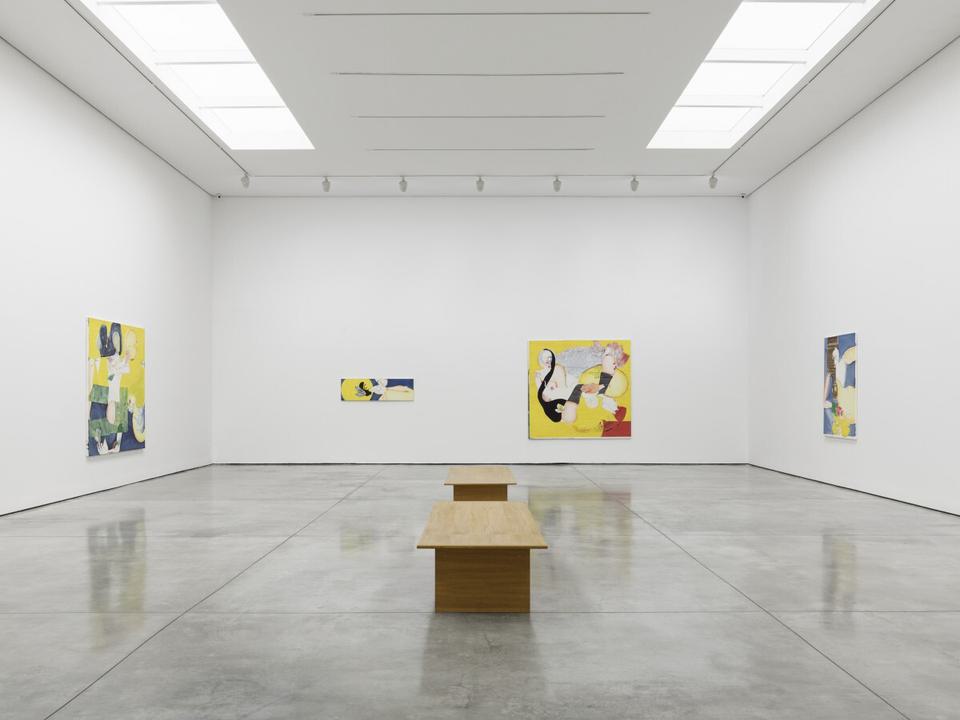 Hope Love Helium
5 November 2021 – 8 January 2022
Dates
5 November 2021 – 8 January 2022
Location
25 – 26 Mason's Yard
London SW1Y 6BU

'Hope Love Helium', the title of Magnus Plessen's most recent series of paintings, references both the human condition and the process of nuclear fusion that powers the sun. The images are imaginative responses to the ineffable dynamics of affection and connection, as well as the not entirely unrelated process by which stars have transformed hydrogen into helium and, eventually, all the elements in the universe.
As in Plessen's earlier work, these images defy conventional notions of realism and abstraction, figure and ground. They show painted traces of the paper templates and the adhesive tape used to plan their compositions, along with outlines of the stretcher bars that suggest an uncanny 'reversal', as if, as the artist says, their brushstrokes mark a direct encounter with reality. Thematically, however, they are the creative responses to new, quantum theories of nature's structures and energies.

Painted in bright yellows, blues and deep indigos reminiscent of the palette of comic-book Westerns, Plessen's images conjure a gravity-free world where archetypes hold court. In Untitled (Fig. 24) (2021), for example, schematic female and male heads square off around bright yellow spheres ringed by orange penumbras, which interlocking hands reach across. Closed or missing eyes call to mind dream states, and flowers and plants add ornamental grace notes. As animal, vegetal and other elements merge, each work speaks to a potential for metamorphosis, the transformation of one form of being into another.  
Their glowing spheres are based, in part, on the 2005 science-fiction novel Ball Lightning by Cixin Liu. In the book, a mysterious meteorological phenomenon is revealed to be caused by giant, basketball-size electrons that exist all around us, but become visible (and volatile) only when excited by thunderstorms. Plessen is intrigued by the idea 'that there might be a macro parallel version of the subatomic particles making up our world', and the possibility that the minute electromagnetic energies emitted by human bodies and minds might have wider reverberations.   
The 'Hope Love Helium' works follow Plessen's '1914−1918' series, which explored the ways the body was armoured for, and repaired after, combat during the First World War. Those earlier works, the artist says, expressed a 'mechanistic' world view. This new series counterbalances its predecessor's brutal pragmatism by focusing on the human capacity for transformative thoughts and emotions. 'In "1914–1918", you can think of the "joints" in the painting as machines. In "Hope Love Helium", you can think of them as energy.'
At a time when the world seems shadowed by dark forces, climatic, biological and psychic, Plessen seeks to create an antidote filled with light and love through images that he terms 'constellations of living fragments held in space by balls of energy'. He says, 'I'm reminded by the idea Brian Swimme lays out in his book The Journey of the Universe – that the stars are our ancestors. It is pure stress relief to imagine this, but it's also in tension with the importance we give to becoming a unique individual and find purpose and a partner in life'. Just as Cixin Liu's 'ball lightning' breaks the laws of Newtonian physics by passing through solid objects, Plessen's new paintings disrupt the boundaries between mind and matter.